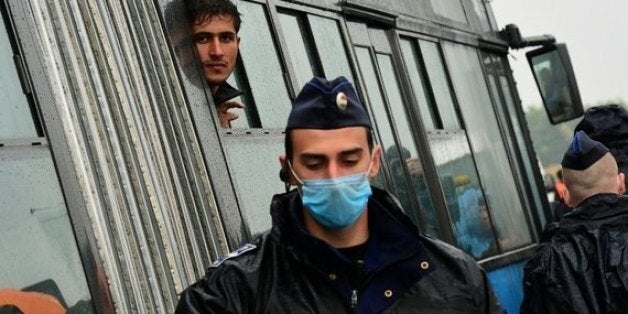 I met 26-year old architecture graduate Bahar in a café in central Athens. Her stomach was aching for three days now and the pain made her cringe every couple of minutes. It has been one month since she arrived to the city. Her trip made her walk from Iran to Turkey, where she took a boat to a Greek island and then a second boat to Athens. Here, she did not stay with many of the other refugees in one of the guest houses; instead she was renting a room in the city. She was alone on this trip to Hamburg, Germany and coming from Iran, she felt a bit uncomfortable sharing rooms with strangers from other countries.
That same night, we took Bahar to see a doctor working for the Greek Ministry of Health right next to the refugee camp. Like many refugees, Bahar was suffering from minor physical health problems. The belly ache, she later told me in good German, is most likely from the stress she was enduring: "I am anxious not knowing what will happen next. It makes my body hurt."
With political leaders in the Czech Republic accusing refugees not only as welfare opportunists or terrorists but also as carriers of infectious disease, it might be a good time to review and rebut some frequently-held (mis-)conceptions about refug​ee health.
​1. ​"Refugees contribute to the spread of infectious diseases in Europe"
No, they don't. According to the World Health Organization, there is no systemic association between migration and the increase of communicable diseases. The long journey to Europe does increase refugees' risks for food-related and waterborne diseases, in addition to measles. According to that same WHO report it is especially pregnant women, the elderly and children below age five who are at risk of respiratory diseases due to overcrowded shelters, lack of food and hygiene during the trip, as well as mental stress.
Those and other infectious conditions such as HIV, tuberculosis or hepatitis, however, are present in Europe, regardless of migration. And although 35 percent of new HIV infections are attributed to migrants, there is increasing evidence that it is acquired after arrival to Europe. According to the World Health Organization, exotic and rare viruses such as Ebola or MERS are more likely to be brought into Europe by tourists and health care workers than by migrants.
​2.​ "Refugees suffer from serious diseases that are difficult to treat"
As mentioned above, food-and waterborne infections pose the greatest risk to those making the journey to Europe. Food is often being prepared in unsanitary conditions with ingredients that might be contaminated. Water is not always sufficiently available which makes refugees more likely to drink unsafe water. This in turn leads to diarrhea being among the most common symptoms.
Respiratory diseases such as mild to serious colds, pneumonia and other conditions of the pulmonary tract are also likely due to overcrowded camps. Data from a Syrian refugee camp in Iraq from 2013 confirms this and shows that although 89 percent of doctor visits can be attributed to communicable diseases, those include minor and easy-to-treat conditions such as ear-and eye infections, skin infections, diarrhea and infections of the respiratory tract (62.9%).
​3.​ "Refugees are a burden on European health systems"
Every person that is being kept without legal status and that suffers from a health condition might not only become a bigger burden on the health system later on (due to progression of the condition) but also represents a health threat to others. In order to avoid the spread of communicable diseases, no matter if mild or serious, it is therefore of crucial importance to provide refugees and migrants with a status that will allow for full access to the health system. This presupposes a health care system with services that are open to all members of the society irrespective of race, gender or religion. It also requires countries to consider the language barriers newly-arrived migrants face and to make sure those don't come in the way of effective service provision. The latter holds especially for mental health services that are rarely used by refugees and migrants but that can have a crucial impact on overall well-being in the first months and years after arrival. Forty percent of the patients treated by Doctors Without Borders in the asylum centers in Sicily suffer from signs of post-traumatic stress disorder. Hence, the conditions suffered by current refugees and migrants are not any more harmful than those of the general European population. With regards to health, countries should see the high influx of refugees in the upcoming months as an opportunity to get rid of discrimination in health and to make their health systems more inclusive as well as adaptable.
Calling all HuffPost superfans!
Sign up for membership to become a founding member and help shape HuffPost's next chapter