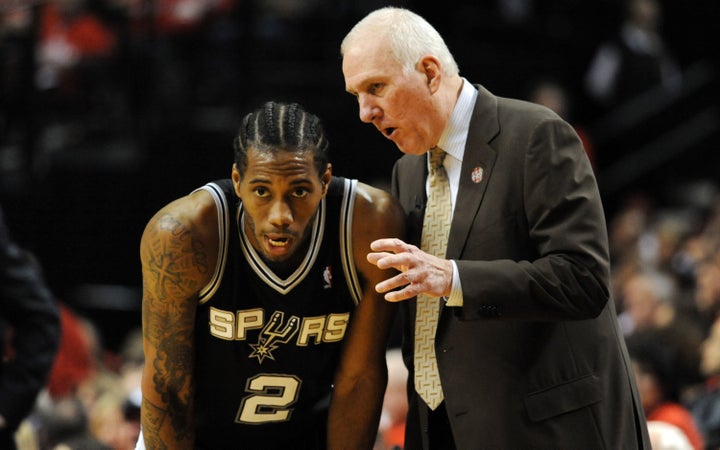 The San Antonio Spurs are too methodical. They're boring. Their head coach is a grouch. They win too much. They're not likable.
NBA fans have noted all of these gripes, and they'll probably continue to do so. Of course, when you've reached the postseason for 19 straight years and won five world championships since 1999, it really doesn't matter how you do it. Then again, the 2016 Spurs -- who've won a franchise record 67 regular season games this season -- have adapted and evolved into playing a different brand of basketball: An exciting, opportunistic, historically great style.
With that in mind, here are three of the biggest misconceptions regarding this year's Spurs.
They're Boring
This is not your older brother's Spurs. They don't run all that often, but only Golden State and Oklahoma City are more efficient offensively. Thanks in large part to an offense tailored around Kawhi Leonard and marquee free agent acquisition LaMarcus Aldridge, San Antonio spreads the floor extremely well, connecting on a sensational true shooting percentage of 56.4 percent. Moreover, it averages a stellar 18.9 assists per game, consistently appeasing the basketball gods by making the extra pass. So why settle for a good shot when a great shot is likely to become available?
It's not as if Gregg Popovich is opposed to running, which we explored in 2014. When the opportunity presents itself, the Spurs seize it, and they have plenty of capable decision makers to run the fast-break.
Lockdown Defense Isn't Fun
OK, have you seen Leonard play that side of the floor? He is a hounding specimen and ball-hawking menace who just earned his second consecutive Defensive Player of the Year award! Better yet, he's one of just three non-centers to ever accomplish that feat.
The 24-year-old is the league's quietest, most unassuming superstar. He guards the opposition's best offensive player nearly every night, and he makes life miserable every night.
As a result, the Spurs are able to play that side of the floor on a string. Help is never required for Leonard, a rare luxury for a head coach to cater his defense around. With the timeless Tim Duncan anchoring the paint, Pop's crew ranked first in the league -- surrendering the fewest points allowed -- by a full 3 points over Utah. Leonard's presence is invaluable: The Spurs secured a defensive rating of 94.9 with him on the court and 99.2 when he wasn't, according to NBA.com/Stats. Moreover, the Spurs ranked second in the NBA in effective field goal percentage against. The record-breaking Warriors, not surprisingly, were first.
Leonard -- who guards off the ball just as hard as on the ball -- is flanked on the wing by another stalwart, 28-year-old swingman Danny Green, whose "3-and-D" game embodies precisely what Popovich asks him to do.
No 3s, No Fun
OK, so the Spurs don't hoist the long ball like Steph Curry and the Dubs. In fact, San Antonio attempts fewer than 19 3-pointers per game, which ranks 25th in the league. But that doesn't mean its offense isn't a whole lot of fun to watch either.
San Antonio is an offensive juggernaut that actually relies on many of the same principles as Golden State, albeit without the reliance on the triple. Spacing, screening, dribble hand-offs, unselfishness, off-ball movement, as well as the high pick-and-roll are crucial. Perhaps most importantly, so too is the pass.
The Spurs' offense, with the nearly 19 assists per game, produces spectacular results -- highly efficient basketball that stymies even the most insuperable defensive units. Their 108.4 offensive efficiency (the number of points a team scores per 100 possessions) is the second best clip of the entire Popovich era.
Speaking of the Popovich era, the culprit to much of that success has been future Hall of Fame point guard Tony Parker. At 33 years old, Parker doesn't possess the same burst or attacking ability that once made him so special, but he remains a dynamic playmaker who has been buoyed by Aldridge. The two-man game has long been a staple of the Spurs. Duncan's egoless nature has allowed Aldridge to become a focal point in screen-and-roll with Parker, who discussed Duncan and plenty more with The Huffington Post in 2014.
As a whole, San Antonio ranks second in adjusted field goal percentage, overall field goal percentage and 3-point accuracy -- the Warriors rank first in all three categories. The Spurs play a tremendous brand of team oriented, two-way basketball, and they've never been more entertaining to watch.
Related
Popular in the Community