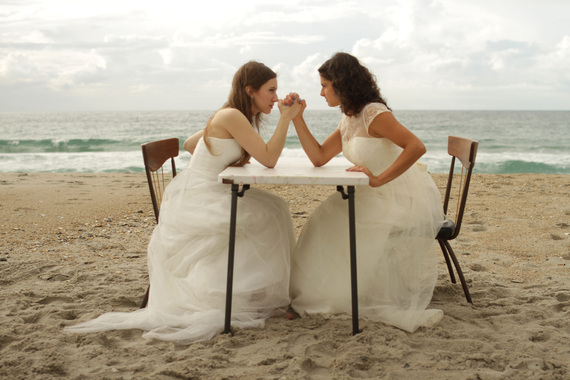 I'm sitting in an airy warehouse in Red Hook Brooklyn filled with plush white beach-house furniture, rustic chandeliers, and freshly cut dogwood branches. The space is an old converted ice cream factory used for weddings and other events but will soon be transformed into a charming ballroom for a new immersive show, Debutaunt. Director and choreographer of the show, Mary John Frank, twirls and moves swiftly in front of me as she maps out the three act structure of the immersive dance-based show. Between rehearsals she takes a beat to sit down and answer a few questions.
TR: Tell us a bit about Debutaunt. What is it?
MJF: Debutaunt is an interactive dance-based show where audiences are invited to attend a debutante ball. Guests are divided into teams or "families" and encouraged to root for a specific debutante. Thematically the show explores coming of age rituals, tradition, and the notion of being presented or being on display.
TR: Why is the title of the show Debutaunt and not Debutante? Tell us about the "taunt" part of title.
MJF: The show pokes fun at the notion of arrival. In my twenties I had the mentality that, "when I get this job, or that boyfriend, or when I make more money, then my life can start!". I was living in the future and missing the good stuff that was right in front of me. When I learned that we actually never arrive, that life is a process, things became more interesting and I was able to show up for my art and the people in my life in a more genuine way. The joke, or taunt, is on the debutante characters who are future tripping and waiting for specific milestones, in this case their "debut", in order to feel validated.
TR: What inspired the concept and how did this show come to be?
MJF: About a year and a half ago I saw The Glass Menagerie on Broadway starring Cherry Jones. I was particularly moved when Amanda put on her old debutante dress and entertained Laura and the gentleman caller. The image of Cherry Jones in the debutante dress performing heightened feminine gestures stuck with me as did themes in the play like time, aging, and memory. Shortly after seeing the performance, I went home to Texas for the holidays and experimented with some movement in my old debutante dress. My parents were concerned! The experiment turned into a short dance film called Lady in Waiting, and making that short allowed me to dig into the themes and choreography for Debutaunt.
We did our first run of the show last October at King's County Bourbon Distillery and audiences seemed genuinely interested in the experience and the concept. This was really exciting to us, and when an opportunity came up to do the show again we decided to go for it with the goal of strengthening the narrative and deepening the characters.
TR: Even an offbeat show in Brooklyn is quite a feat to stage. Who did you work with to get this mounted?
MJF: I've been working with friends and producers, Bettina Barrow and Lydia Thew. Bettina has been a close friend since childhood and my writing partner for almost a decade. We have a book to film project coming soon that explores themes similar to those in Debutaunt. Lydia is a talented producer for CNBC and has a background in finance. The three of us have been raising funds since last July through our fiscal sponsors, The Field. Our venues, King's County Distillery and Atelier Roquette, have been great to work with and helped us out, big time, by providing rehearsal space. I also got to workshop the idea and make many of the films at a dance on camera residency at Cucalorus Film Festival. We have also had performance and rehearsal support from SILO, Triskelion Arts, Lightbox, and Communities In Schools.
TR: You are directing and choreographing the show as well. Tell us about your work as a choreographer. Did you always dance?
I danced growing up and stopped in college when I was struggling with body image issues. Instead of pursuing dance, my first job out of college was an assistant gig in film. From there, I moved to Los Angeles and worked in production at studios like Paramount Vantage and Warner Bros. During that time, dance gradually made its way back into my life and I was eventually ready and able to make it a priority again. I began looking for choreography opportunities and taught at dance studios wherever they would let me. When I turned thirty, I took a major leap of faith, left my production job at Warner Bros., and started freelancing. I am now choreographing, directing, teaching, and blending dance and film whenever I can.
TR: How does dance function in the show? What type of dance is it?
MJF: Much of the movement was inspired by black and white cotillion photographs, contemporary dance, and Esther Williams-style synchronized swimming moves. Because the girls are wearing large white dresses, we rarely see their legs and a lot of emphasis is on the placement of the arms and the movement of the upper body and head. Structurally, dance serves as a transition between scenes in the show. It also functions as a means of expression and storytelling for our characters during their debutante ball and, ultimately, it unites the cast and audience at the end in a communal dance party.
TR: Since much of the show involves movement, how did you develop the characters and the script?
MJF: Some of the scenes were scripted in advance and some came from improvising in rehearsals. We have a really smart and curious cast who have been open to all kinds of improv, movement, and writing exercises. Regarding our characters, we have five personalities: the perfectionist princess, the competitive ice queen, the people pleaser, the rebel artist, and the fish out of water who does not want to participate. I've basically taken all of the traits that I think hold us back as humans and put them into these characters. For example, the perfectionist, Beatrice, is a control freak and is constantly telling everyone what to do and how to do it. Everything is measured and calculated and directed. Her movement style is precise and quick. Her bossiness is coming from a good place ("we need some order here!") but she irritates the group and this keeps Beatrice separate from them. Eventually all of these wacky personalities have to learn to function harmoniously in order to stand up to the Mistress of Ceremonies, Martha McMillen.
Some of the performers have started Instagram accounts for their characters for fun. If you'd like to get to know them early check them out: @catherineelizabethjane, @cecefitx , and @melanieannewinslow.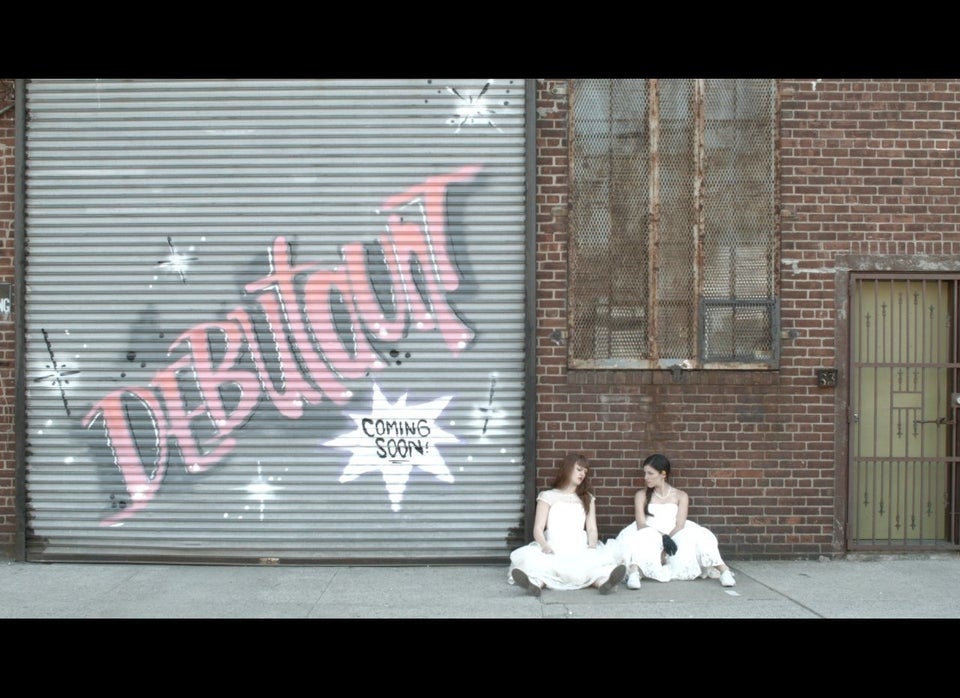 Debutaunt
TR: In the script, you described Martha McMillan as a "steel magnolia who leads with a contagious smile and an iron fist". Tell me more about this character.
MJF: Much of the Martha character comes from the negative voices in my head (with some major polishing from producer/writer, Bettina Barrow). The negative voices say nothing is enough and that I always need to do more, try harder etc. The voice is insatiable, risk-averse, and narrow minded. Martha is tricky as she delivers some pretty cutting comments, but with a smile. She is hard on the debs because she wants to protect them from the harsh realities of the world. She has had a challenging life and is convinced that by being Mistress of Ceremonies at the deb ball, year after year, she is instilling some kind of hope and order. Martha pushes the girls a little too far in this run and eventually they revolt.
TR: You have spoken very highly of your cast. Is there anyone in particular you want to give a shout out to?
MJF: All of them! I'm listing the cast here so readers who are still with me will look up these talented people: Melanie Comeau, Elizabeth Dunn, Rachel Guest, Brittany Posas, Cara Seymour, Cecily McCullough, Beck Hartke, Catherine Cobb Ryan, Julian Devine, Teddy Tedholm, Taner Van Kuren, Michael Spencer Phillips, and Donna Fish. Read more about them here.
TR: Who are some other artists that inspire you?
MJF: Pina Bausch, specifically the way she blended dance and theater and how her dancers embody human emotion so vividly. Mary Oliver for her poems The Journey and The Summer Day. I am also inspired by Wes Anderson and Christopher Guest and filmmakers who create very specific worlds for their actors to explore. Lena Dunham for her book, Not That Kind Of Girl. I re-read the "condom in the tree" passage whenever I need a laugh and dose of honesty. Kurt Vonnegut for Who Am I This Time? and other shorts. Bruce Weber whose photos are just fun - smoking, naked on a beach - it doesn't matter. He makes me feel like we are all free to do whatever and that it is okay to take a nap in the middle of the day.
I also have some talented friends and peers whose work really inspires me like photographers Victoria Will and Amanda Jasnowski. Filmmaker, James Ponsoldt. Screenwriter, Natalie Krinsky. Also, choreographers like Shannon Gillen, Celia Rowlson Hall, Chihiro Shimizu, and Dana Katz. Stellar humans and creators!
TR: How do you want to see Debutaunt grow?
MJF: I would love for Debutaunt to find a more permanent home in a convenient location so more folks can see it. Creatively, I am interested in continuing to deepen the script, the choreography, and I would love the time and budget to dig into the film projection piece of the show. We are also looking to enhance our team and hope to bring on a producer who has experience in live and immersive theater for the next run
TR: Do you think there is a place in today's world for the traditions and culture of the debutante?

MJF: I'm not really sure to be honest. I recently went to some debutante presentations in Texas to research and was expecting to think, "This is elitist and weird and white and why did I participate in this when I was twenty-one? And this tradition should become extinct!"... however, I was surprised to find that I didn't actually feel that heated about it or observe anything particularly noteworthy or offensive while I was there. The parties are certainly extravagant and some of them take place at country clubs so can be viewed as pretentious; however, I noticed that the girls were all very grateful to be there and respectful. The fathers were proud and doting and it seemed like a sweet exchange between fathers and daughters in that particular community.
I actually left with an appreciation for the warmth and friendliness of Texans and I was reminded of how nice manners can be really attractive! I know it would be way more exciting to give you some dirt, but I didn't leave with much, other than feeling I had just observed a somewhat bizarre ritual that ended in a dance party.
TR: What's next for you after the show?
MJF: After we open, I'll be directing video content for some online magazines, choreographing a film project, and teaching dance and dance for camera at studios and universities. For now I'm doing my best to stay focused on the show and getting people to come and see it. I hope you will join us!
Related
Popular in the Community