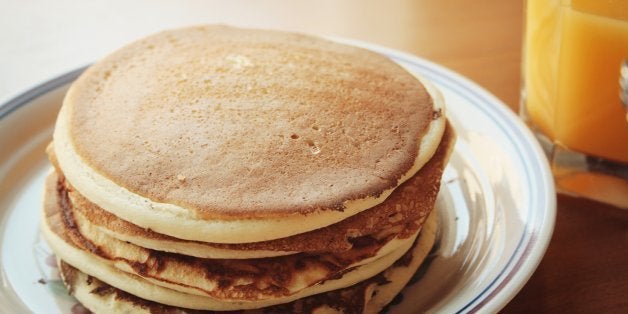 Growing up, there was nothing better than Sunday morning pancake breakfast. It was a weekly tradition I always looked forward to. Consequently, pancakes still have a special place in my heart. Sure, I'm a fan of French toast and waffles too, as I'm an equal opportunity eater, but pancakes for breakfast (regardless of what Donkey says in Shrek) just seem right.
Everyone has their own opinion on who makes the best pancakes in town. When it comes to classic, no-nonsense flapjacks, Du-par's, John O'Groats, and The Original Pantry are popular institutions. Recently, I decided to hold an impromptu decadent hotcakes challenge. And the results were sweetly surprising.
The odds-on-favorite was The Griddle Café on Sunset Boulevard, beloved for its delicious, over-sized and overindulgent portions. The first time I ever ate at The Griddle, I had pancakes and swore that I would work my way through their entire array of sweet pancakes, that is until I tried Mom's French Toast -- a Griddle Café original made with egg-dipped bread, griddled and topped with powdered sugar and whipped butter -- the best in town!
The young upstart was Myke's Café tucked away in sleepy Pacoima in the San Fernando Valley. Specializing in gourmet pancakes made fresh and dusted with powdered sugar, they're almost like The Griddle of 818 area code, which really isn't fair as they're completely doing their own thing, including creating the badass Bro Snicker Burger.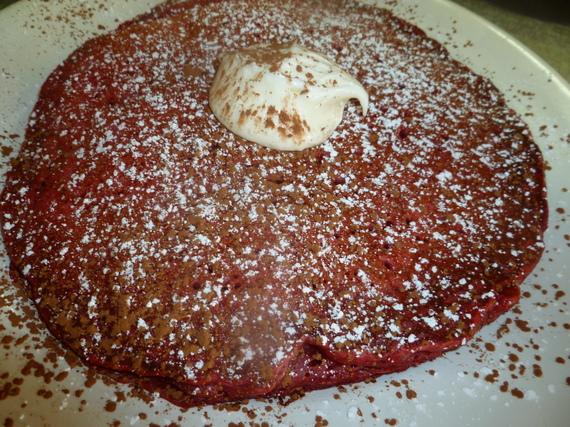 Throwing in wildcard pancakes from Vegan Glory, and International House of Pancakes, we feasted on pancakes big and small.
From The Griddle, we had their A Time To Love -- a streusel, butterscotch chip, and caramel filled original, topped with powdered sugar, whipped cream, and caramel; along with the ever-popular "Red Velvet" panCAKE topped with swirls and swirls of cream cheese icing.
"Leave your diet at the door," says Griddle owner and founder Jodi Hortze. And she's not kidding, as it's nearly impossible for anybody to finish one of her glorious oversized stacks. "The Griddle Cafe's 'A Time to Love' pancakes are almost better than sex because they take you so close to that place of pleasure, and oh so quickly, at that," Hortze said.
From Myke's Café, we went with the popular Berrylemonicious, made with raspberries in buttermilk pancakes topped with lemon curd -- a favorite of Chef Rafael Andrade -- along with his Notre Dame Killer -- Southern red velvet pancakes with cinnamon and topped with cocoa powder and cream cheese frosting.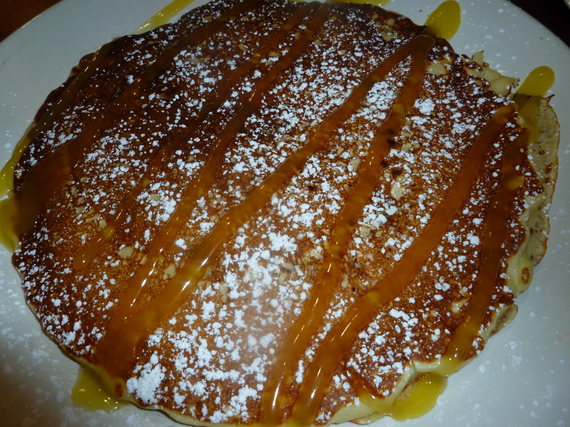 At Vegan Glory, I opted for the Kamut Pancake served with maple syrup and vegan margarine, a favorite of mine, and added bananas and walnuts into the mix. And from IHOP, we had the New York Cheesecake Pancakes, four fluffy buttermilk pancakes loaded with rich cheesecake pieces and topped with strawberries, powdered sugar and whipped topping.
Needless to say, we had our work cut out for us.
As we started to ravenously devouring pancakes, all the pre-game chatter ceased immediately. It was a whirlwind of red velvet and lemon curd and strawberries. By the end, food coma laid waiting but we had a winner.
The favorite proved to be Myke's Café's Berrylemonicious pancakes. One judge said they had the texture and fluffiness down. "It's not too sweet, but has plenty of flavor. They make me feel like I could eat a full plate of them and not feel terrible afterward. It's like eating breakfast food instead of dessert."
Second place was a very close call but The Griddle's "A Time for Love" narrowly beat out the Notre Dame Killer. Vegan Glory and IHOP each received one first place vote.
"I felt the IHOP cheesecake part was inventive and the cake itself better," another judge reflected. "Although I would've preferred fresh fruit than the canned strawberry on it, IHOP still my number one as hard as that is to say."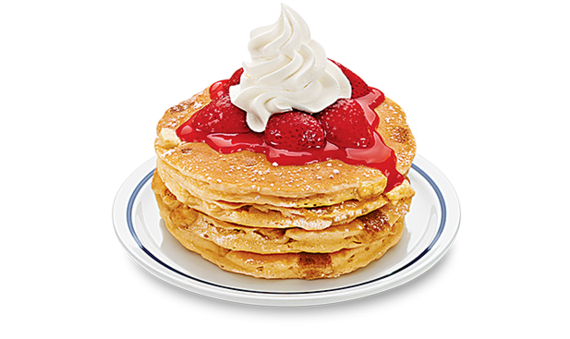 Hearty, decadent and so very pleasing, pancakes are the comfort food of breakfast, but they're definitely not just morning fare. Some of these proved perfect for dessert and all of them overwhelmed and delighted. Congrats to Chef Rafael Andrade of Myke's Café on his win and daring delights.
Myke's Café is located at 13171 Van Nuys Blvd in Pacoima.
The Griddle Café is located at 7916 Sunset Blvd.
Vegan Glory is located at 8393 Beverly Blvd.