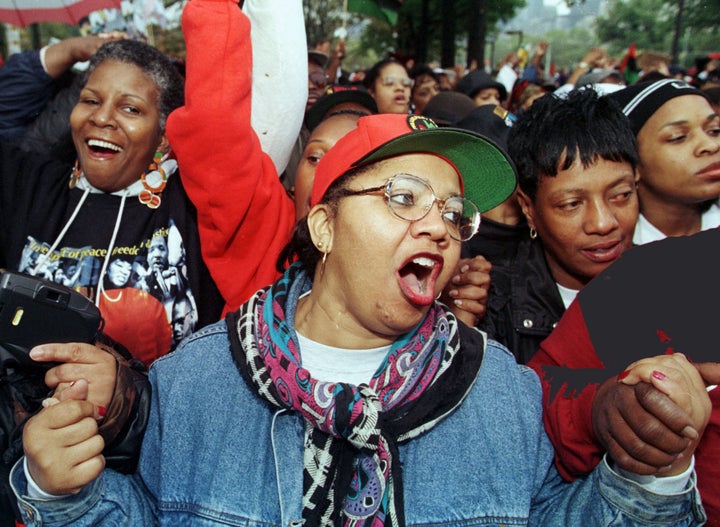 In the weeks following Donald Trump's presidential victory, feminists around the country began planning an act of large-scale resistance. They originally christened the event the "Million Woman March." But a march of that name, organized by black women for black women, had already taken place ― 20 years earlier.
On Oct. 25, 1997, hundreds of thousands of black women gathered on Philadelphia's Benjamin Franklin Parkway in a show of solemn sisterhood. The original "Million Woman March" centered on black women and their aspirations toward socioeconomic and political power. Grassroots activists Phile Chionesu and Asia Coney organized the event, and in the march's mission statement, they affirmed black women's right to all the spoils America had to offer:
"By acknowledging and applying the strength and resources that exist within the United States and throughout the world, we will rebuild to strengthen our foundation. It will take the procurement of mechanisms that will bring about the appropriate solutions."
The Million Woman March was to be a companion of the Million Man March, in which over 400,000 black men marched "to convey to the world a vastly different picture of the Black male" and stress self-help, commanded the nation's attention in 1995. The Million Women March two years later was born from general criticism surrounding the precedent march, which was coordinated by the Nation of Islam and bore some of the Nation's patriarchal gender politics.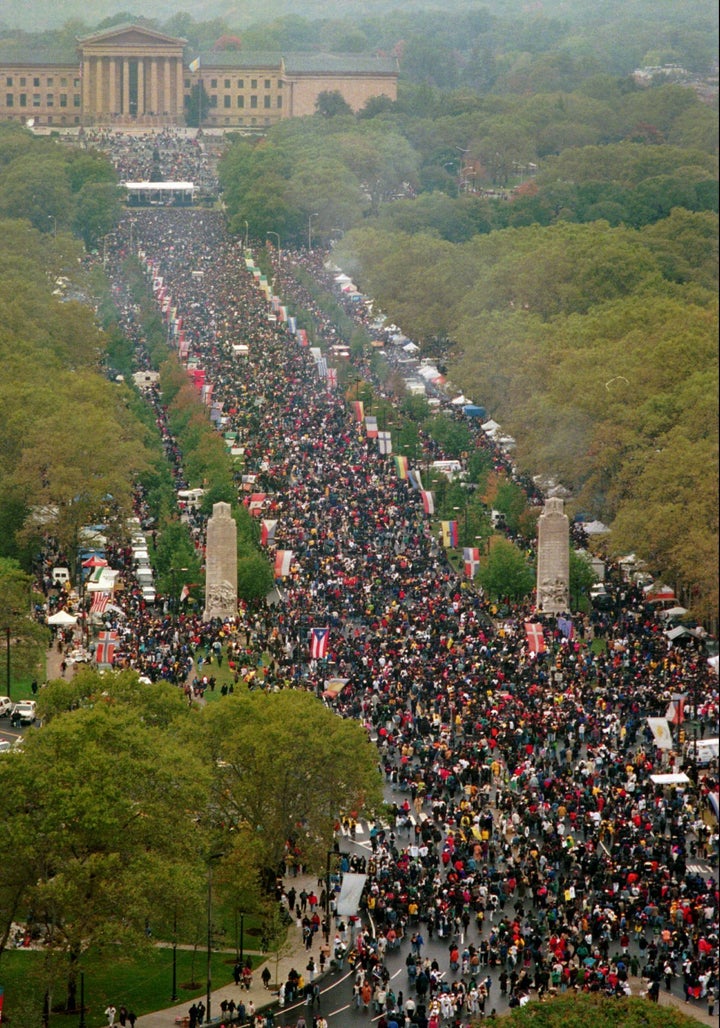 In a public statement denouncing the "retrograde politics" and male-dominated models for rebuilding black families, activist Angela Davis declared: "Justice cannot be served by countering a distorted racist view of black manhood with a narrowly sexist vision of men standing 'a degree above women." In the coming years, she'd express optimism about the 1997 march, expressing hope that it would serve "as a way of articulating political struggles that will help both men and women move in progressive directions."
But while the Million Man March, gargantuan in size and personality, was awash in news coverage and ultimately hoisted into the pantheon of civil rights acts, the Million Woman March has been decidedly understated in comparison. Though estimates show attendance at each march was similar in size, the Million Woman March isn't typically a subject in history class curricula and many don't even know the march took place, despite being one of the largest gatherings of black women in U.S. history.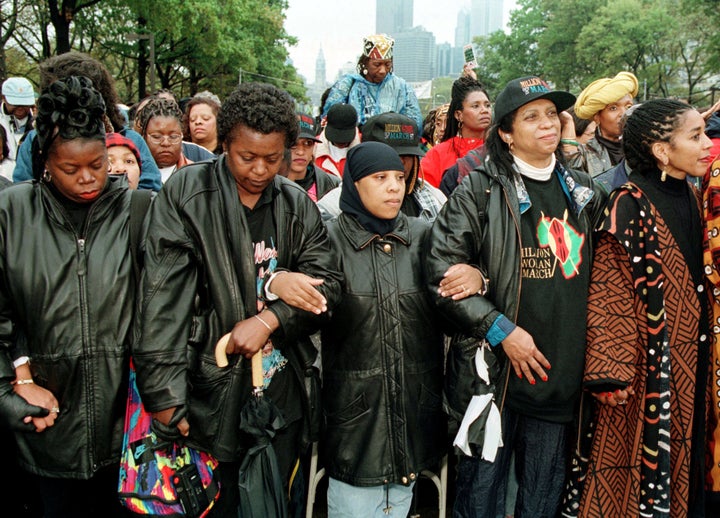 But even at the time of the original Million Woman March, the women who coordinated, spoke at or attended the event seemed to be aware that their efforts may fall on deaf ears. The organizers' PR strategy, which was somewhat skeletal, was generally confined to online promotion and word of mouth; it didn't rely on the heft of traditional civil rights organizations to heighten the event's profile. According to a New York Times feature published days before the event, Chionesu and Coney elected to go with a grassroots promotion approach to underscore "one of the march's main objectives, solving local problems without calling on elected leaders and mainstream groups."
Their skepticism of the traditional avenues to power and access revealed these women's individualism and assertiveness, and it showed a keen understanding of black womanhood and its role in politics that almost seems prophetic in hindsight. Decades before "listen to black women" became a common refrain in today's progressive dialogue, black women were listening to themselves when it seemed no one else would. The Million Woman March of 1997 provided space for that.
Reflecting on the 1997 Million Woman March with any seriousness requires an admission that its participants, in the most sobering of ways, appear to have predicted the future: They pictured a world where their political movement is both necessary for their existence and undervalued by the broader public.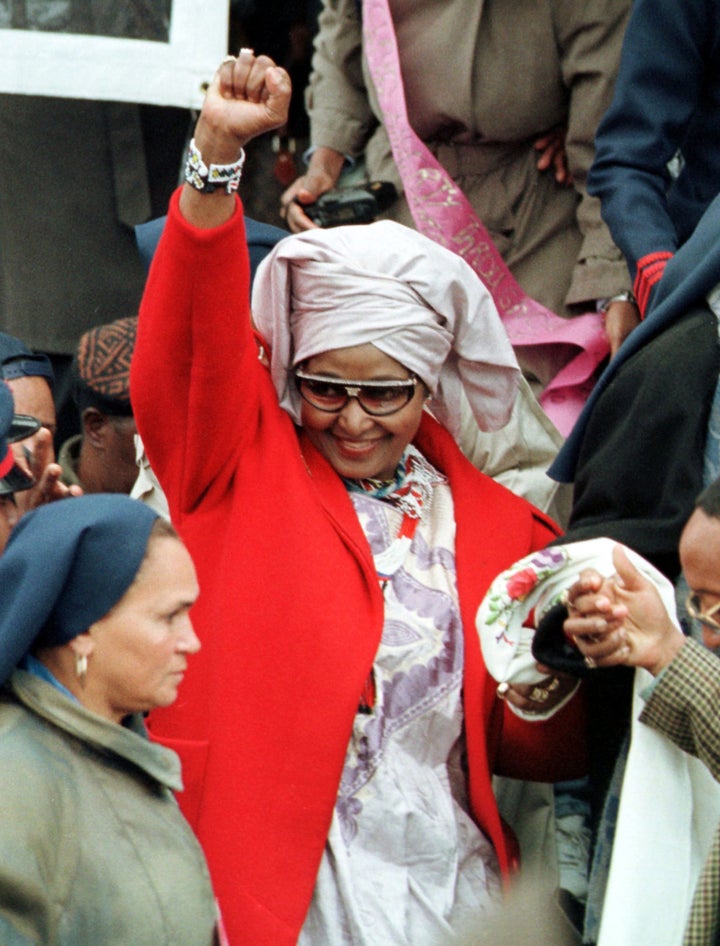 The event speakers themselves represented a gamut of black thinkers and artists across the ideological spectrum, from Rep. Maxine Waters (D-Calif.) to Winnie Madikizela-Mandela; Jada Pinkett Smith to Ilyasah and Gamilah Shabazz (daughters of Malcolm X) and more. Among them were environmental activists, advocates for reparations, family counselors, members of Congress, and prison reformists; which is to say they were, even 21 years ago, a composite that is almost identical to the progressive movement today. And one can't be faulted for wondering what our current political landscape would look like if their policy prescriptions were heeded when they first were offered, rather than two decades later.
The Million Woman March was predictive in that way, and if "listen to black women" is to mean anything substantive, it will require that we not only listen to black women in the here and now, but also the black women in our past. Their political impact remains with us even if they themselves have inexplicably been erased from our national memory.
Popular in the Community