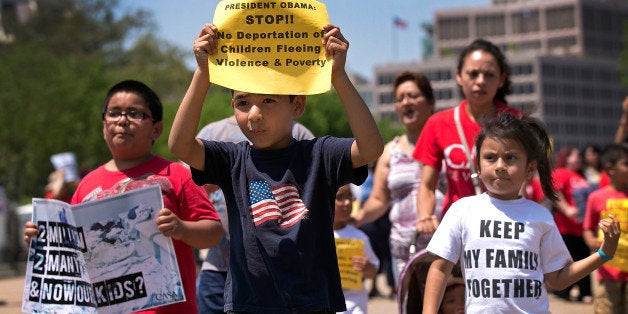 Many people in the U.S. may feel no connection to the Central American children pouring across our southern border, but they should feel a tie to the countries they are fleeing.
U.S. intervention in El Salvador, Honduras and Guatemala may seem like a hazy memory now, but these countries used to feature prominently in our headlines. The civil war in El Salvador, for example, began in 1980 when I started high school, and only ended in 1992.
During much of that time the El Salvadorian people were subjected to death squads and massacres by their government -- which was backed by the U.S. When I was a sophomore, President Reagan came into office, and America began spending billions in El Salvador. According to the national organization Committee in Solidarity with the People of El Salvador, the U.S. spent more than $6 billion on direct military assistance to El Salvador's repressive regime.
Americans may vaguely remember Oliver North, Iran/Contra and the Sandinistas in Nicaragua, but have forgotten that, as The Guardian outlined in a retrospective piece on the conflict, "Contra guerrillas backed by President Ronald Reagan used Honduras as a base to attack Nicaragua's Sandinista government in the 1980s." From there it built; the U.S. continues to have a presence in Honduras, including military bases. It also failed to stop a coup in 2009, which overthrew a democratically elected president and further destabilized the country.
In 2011, Representative Howard L. Berman of California, the ranking Democrat on the House Foreign Affairs Committee at the time, wrote to then Secretary of State Hilary Rodham Clinton asking her whether the "U.S. was arming a dangerous regime." One year last the United Nations said the murder rate in Honduras was the highest in the world. Americans may feel that the children coming out of Honduras, like the kids coming out of El Salvador, are not our problem, but our fingerprints are all over Central America.
As for Guatemala, last year the social anthropologist Irma Alicia Velasquez Nimatuj, a member of the K´iche´ ethnic group, published an Op-Ed in the New York Times making clear that the inequalities in her country "were exacerbated in 1954 when the United States, in the name of anticommunism and in the defense corporate interests of the United Fruit Company, helped depose the democratic government of Jacobo Arbenz Guzmán."
It's easy to find the hidden history of our involvement in this region, but harder to find anyone talking about this legacy. I remember as a student learning about the sanctuary movement in the 1980s, when churches, nonprofits and many average people in the U.S. tried to help thousands of people fleeing violence in Central America. Now I have my own child, and I don't see a country that has learned greater compassion, but a much harsher world. I see my fellow citizens blocking buses carrying innocent children to safety in Murrieta, Calif.
Enrique Morones, the director of the group Border Angels, described on MSNBC and other news outlets how he rushed to the scene in Murrieta and saw buses surrounded by hostile Americans. "The children are terrified," he said. "That's not what this country is all about ... It was very very shameful."
If we are burned out as a nation, with our own wars, crumbling infrastructure and wobbly economy, are 9-year-olds the ones we should be yelling at? As I listen to the news this summer, while driving my own child to a summer camp program where she will paint, swim and play soccer, I keep thinking about these children and the past, present and future of our American legacy.
Support HuffPost
The Stakes Have Never Been Higher
Popular in the Community