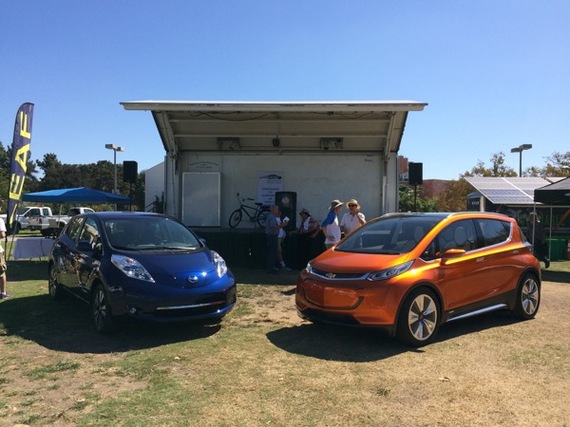 In December, when gas prices were the lowest they've been since 2009, U.S. consumers bought more electric vehicles than in any month ever. That month, 13,650 drivers bought or leased a new Nissan Leaf, Tesla Model S, Chevy Volt, Ford Fusion Energi, BMW i3, i8 and X5, or the many other models available. These fortunate people and their families will rarely, if ever, stop at a gas station. The December sales height marks a more than 10-percent increase from last December, which previously held the record for highest monthly sales of electric vehicles.
Gasoline prices averaged only $2.40 per gallon for U.S. consumers in 2015, down from an average of $3.34 per gallon in 2014. Overall, U.S. electric vehicle sales in 2015 suffered from these low gas prices (about a 5-percent decline in 2015 over 2014 EV sales) in addition to other market factors, such as the plug-in Prius (one of the top-selling plug-in models) halting its production and the several month wait consumers endured for the new Chevy Volt and Nissan Leaf models. With these challenges, the December surge is notable, especially given that the average U.S. gasoline price in December dipped down to just $2.01 per gallon.
At the Consumer Electronics Show in Las Vegas this week, automakers are debuting exciting new EV models. Chevrolet announced its new Bolt with a range of around 200 miles, a charging time of a little over a half hour, and a price tag of in the mid-30s before consumer rebates and tax credits. Volkswagen introduced plans for its 233-mile range BUDD-e electric van. While "based on the roomy interior design of the iconic microbus that was popular among hippies during the 1960s," according to U.S. News, this van has the latest and greatest technology -- smartphone integration and a voice control system that gives passengers in different seats the ability to make requests on elements like temperature.
Jay Cole, the editor of InsideEVs, told me this week that he has high expectations for the U.S. EV market in 2016, especially for the Tesla Models S and X, the Sonata plug-in hybrid, and the Volvo XC90. He added that the BMW X5 plug-in alone looks to contribute more than 500 car sales per month. "Heck, we thought the Audi e-tron was going to give us a nice pop in October...but it finally got its certification to sell at the end of December. It could be a sleeper hit too." And Cole, like me, is really excited for how consumers will respond this year to the new Volt, Bolt, and Leaf.
Plug-in electric vehicles are a clean, affordable choice over the gasoline-fueled conventional vehicles that are leaving our air dirty, our families sick, and our climate in peril. Even when considering the emissions from the electricity sources used to charge the vehicles, nationwide, EVs are significantly cleaner than conventional vehicles.
December's record-breaking EV sales (after a strong November showing too) demonstrate that 2016 could be a big year for EVs and their happy drivers. I think we're headed in the right direction, but we need to do more to pick up the pace.
Photo courtesy of Jeff U'ren.
2016 Nissan Leaf (left) and the Chevy Bolt EV Concept Car at Los Angeles National Drive Electric Week event September 2015.
Popular in the Community