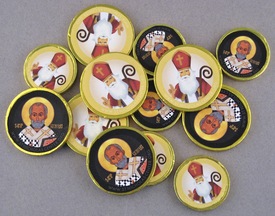 Christmas tree or Chanukah menorah or both? December portends heated Christmas/Chanukah-dilemma conversations for an increasing number of interfaith families. In my many decades of work as a congregational rabbi, I convened numerous meetings about Chanukah pride and counseled many interfaith families on settling their differences. The glinty, chocolaty geld for St. Nick's and the similar gelt (foil-wrapped chocolate coins) for Chanukah may help dissolve some of these annual tensions.
St. Nick's Coins Save Family
My husband and I happened upon St. Nicholas traditions in chocolate-suffused Belgium in December of 2006. As we savored Belgium, we learned that St. Nicholas, the patron saint of sweets, journeyed distances to reward children with gold-covered chocolate coins. The festival associated with his birth in Asia Minor, December 6, 270, has been relished in Western Europe since the thirteenth century. One of the St. Nicholas Golden Legend miracle stories, written in 1275 by Jacobus de Voragine, archbishop of Genoa, records that Nicholas tossed bags of gold coins to an impoverished father in order to provide his daughters with dowries, thus saving them from prostitution. Today, rituals related to celebrating the feast day of St. Nicholas in Belgium, the Netherlands, Germany, and the United States use gold-covered chocolate or geld. Youngsters collect chocolate coins from their shoes on the morning of December 6, following the previous night's "visit" by St. Nicholas; or as the Dutch say, Sinterklaas (later Santa Claus). I realized that these traditions might explain Chanukah gelt or vice versa.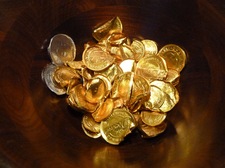 Money and Chanukah go even further back. In ancient Israel, striking, minting, and distributing coins expressed Chanukah's message of freedom. After the rededication of the ancient Jerusalem Temple, Syria's King Antiochus VII said to Simon Maccabee, "I turn over to you the right to make your own stamp for coinage for your country" (1 Maccabees 15: 6). In time, the custom evolved into giving coins at Chanukah. The word "Chanukah" came to be associated with the Hebrew word for education, chinukh. That gelt supported Jewish learning. In the days of the Chasidic leader, the Ba'al Shem Tov (1698-1760), rabbis often traveled to distant villages to give instruction to illiterate Jews, generally refusing payment. However, at Chanukah, the instructors accepted coins and food as tokens of gratitude. Chanukah gelt paid for Jewish education. Chocolate coins for Chanukah became customary.
St. Nick's geld surprisingly and sweetly flows right into Chanukah's chocolate gelt. These Christian and Jewish golden coin stories, each originating from the Mediterranean area, each of them centuries old, each with inspiring accounts of courage and liberation, also indulge and nurture a love of chocolate. Unwrap these Jewish and Christian customs to melt away some of those December dilemmas.
Calling all HuffPost superfans!
Sign up for membership to become a founding member and help shape HuffPost's next chapter