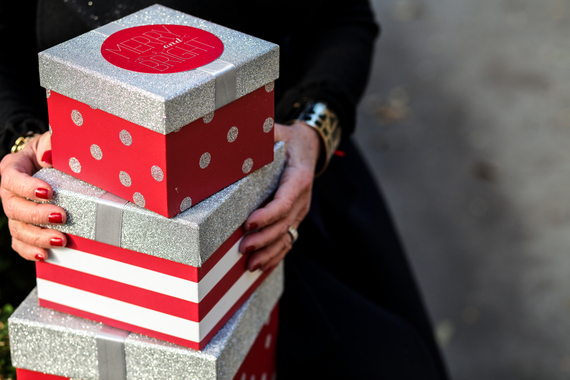 December, to me, is the most romantic month of the year for several reasons which I would like to tell you about!
I love the holiday season! I feel a boundless awakening mixed with emotional wonderment. The spirit of giving and family togetherness makes my heart sing. The enjoyment of gift giving fits the times. Looking for the perfect gift for a loved one, feeling the excitement when I finally find it and then tucking it away until the moment I present it to that someone I love. It is the perfect time to teach the value of giving to children and grandchildren; that giving a gift is more important and heartfelt than getting a gift.
I live in a condominium with my husband, Shelly and our dog, Orchid on the 71st floor overlooking 'my beautiful Chicago'. When I leave my building I am surrounded by beautiful tree-lined streets with lights all aglow sparkling like twinkling stars. Festivity fills the air.
I notice young and old walking arm-in-arm, laughing with friends and family, and carrying brightly colored packages filled with loving gifts. I hear the ringing bells of the Salvation Army, the sounds of Santa Claus chuckling with little ones. I am wide-eyed and frenetic when I look into the beautiful storefront shops, with a multitude of beautiful items. I feel so joyful, I begin to move up my gait as I chart my course through the maze of happiness. December is the most romantic month of my year.
I love the religious part of the holidays. I notice the beautiful wreaths on the church doors; I listen to the church bells ringing and children singing; I see Christmas trees and Menorahs brightly lit and aglow. I am sure, by now, you can understand why I think December is the most romantic month of my year.
On a very loving note, Shelly and I celebrate our wedding anniversary each December. I choose the month because the month of December romances me!
December and I fit hand-in-glove because I am a romantic in every sense of the word: I am passionate about everything! I am over the top sentimental. My mind thrives on beautiful thoughts and beautiful things! I am starry-eyed and a cockeyed optimist. I am most impractical with romantic notions on just about every subject! And quite frankly, I think it is a wonderful way to be. As my darling husband says, "my wife has a utopian outlook on life but she is anything but dumb!" And I say, "It is lovely to be starry eyed, yet grounded".
I am writing this story at 26,000 feet on American Airlines as it makes its way to our home in Southern California. Shelly, is to my left reading a mystery novel, my forty-three pound pooch, Orchid, is lying at my feet sound asleep, snoring and I am beginning to daydream about the past; glorious (with hills and valleys) twenty-five years of my romantic adventure as the wife of Sheldon Good. I am starry-eyed because it has been a great ride and I am a visionary, cognizant, of the fact we are now twenty-five years older.
If all my wishes could come true, I would wish I could to go back and re-live every day since we first met. I know I cannot and tears well up in my eyes as a quarter century of memories flash and flood my mind and heart. I think of the love and adoration, the adventures and yes, even the tragedies we have lived through as husband and wife, and best friends.
But, I wipe away my tears forcing myself back into the present. I begin to smile. I am content. I am grateful. Our family is safe and sound. I am loved. My cup is full. It is December, my favorite month of the year!
I now play a number's game in my head...because I am a romantic!
Today is December 11th. 11 days from now, it will be December 22nd, my anniversary. I add the numbers 11, 11 and 22. They equal, by chance, the number 44! In Chinese folklore all double numbers bring good luck! Romantic notions on every subject! My Utopian romantic starry-eyed thoughts come full force. I absolutely know this is our good luck omen. What a great anniversary gift. Double luck.
The flight attendant comes by and asks me to turn off my computer. We are landing. I hurriedly take a moment to say a few words to you.
I want to wish you and your families a very happy holiday season! I appreciate each and every one of you! I want to end this blog with this: May your days over this holiday season be merry and bright and romantic to a fault! May you give and get tons of love from your family and your friends with kisses and hugs galore. Dine on love, and the magic of December, darlings!
For more Good Morning Stories, click here.
REAL LIFE. REAL NEWS. REAL VOICES.
Help us tell more of the stories that matter from voices that too often remain unheard.