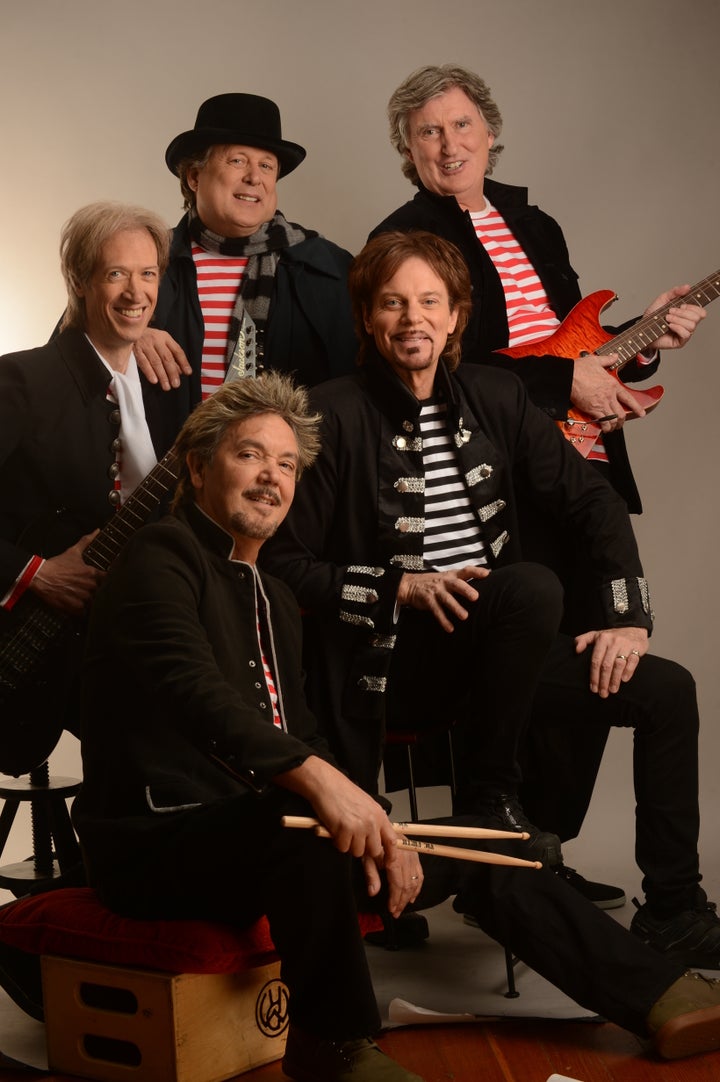 Silicon Valley is a shining beacon of innovation and wealth. The area is home to mammoth technology companies like Adobe Systems, Apple, LinkedIn and Google. Yet those left out of the tech boom in the Bay Area have suffered serious consequences. Grammy-nominated recording artist Robert Berry saw an opportunity to help.
"People have good jobs here but when you fall through the cracks it is almost impossible to pick yourself up. December People brings awareness to the problem because people don't even realize how big the problem is in Silicon Valley," explains Berry. The core ethos of December People is to fight poverty and homelessness by raising awareness of communities in need.
Featuring members of Boston, The Greg Kihn Band, Sammy Hagar, The Tubes, and Ambrosia, December People takes the holiday songs that everyone loves and performs them in the high-energy style of rock 'n' roll. "A Classic Rock Christmas" performed by December People include such beloved holiday tunes as "Silver Bells" and "Auld Lang Syne," which are staged to generate hunger awareness, collect food and support partners like United Way.
It takes a village: Robert Berry enlisted the help of like-minded, kind-hearted fellow rockers Gary Pihl, Jack Foster, David Medd and David Lauser. These musicians spend November and December on the road to advocate for fundraising and local food pantries in the heartland and urban cities across the U.S. "We are trying to figure out how to make a bigger difference," describes Berry.
December People kicks off their 2016 season November 19 in Monterey, CA. This year, upcoming shows are scheduled for Butte, MT; Topeka, KS; Reno, NV; San Jose, CA; and other U.S. cities. Concertgoers are encouraged to bring cans of food and clothing items like socks to the venue and partner locations in the community to be donated to those in need. A percentage of all ticket sales benefit the homeless and local charities.
Music is an occasion to put an accent on activism. David Lauser, a drummer for Sammy Hagar, became hooked on this style of music while binge-listening to December People songs on a long road trip. "These are such clever arrangements. There are melodies of the songs that resemble The Who or Tom Petty, and then there are three or four arrangements within a tune. Imagine a rock song you've heard your whole life with holiday lyrics."
December People builds face-to-face connections with problem-solvers in the community. "It's pretty incredible. I see baby boomers, millennials and young kids. They are all smiling and singing along. Even teenagers, who don't sugarcoat their critiques, think this is good music," observes Lauser.
"At the December People shows, we walk from the stage to the lobby where we see barrels and barrels of food ready for distribution. There is nothing more rewarding than being able to thank our fans, take a photo or sign their CD," reflects Robert Berry.
Now in its sixth smash year, December People have helped donate enough food to feed thousands of people and create awareness while uniting volunteers with local food bank organizers. David Lauser reveals how December People uses the way people consume music and entertainment to bring them into a cause. "We go to low-income housing communities and get the residents the food and clothing they need. We deliver truckloads of food to underprivileged kids. I see the looks on their faces and the appreciation in their eyes, and it really blows my mind."
Art may be how we decorate space, but music is how we decorate time. How will you commemorate this holiday season? "December People are lucky to do this and we've been fortunate. We want to spread that love," declares Berry. December People inspire us to strike the right chord when it comes to giving and rockin' the beat.
Related
Popular in the Community