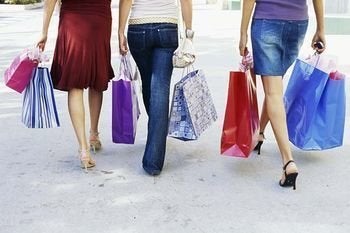 Despite Federal Reserve chairman Ben Bernanke's expectations of only moderate economic growth this year, Americans are less worried about losing their jobs and more willing to spend money.
This change in attitude is reflected in the numbers. The Commerce Department reported that retail sales were up in December, the sixth month in a row, making for the strongest holiday sales retailers have seen in recent years.
Sales rose 0.6 percent last month to $381 billion, lifting sales for the year by the largest amount in more than a decade.
Speaking to the Senate Budget Committee last week Ben Bernanke expressed the hope that "a self-sustaining recovery in consumer and business spending may be taking hold."
Despite the private sector adding 113,000 last month and 50,000 jobs in November, Chris Christopher, the IHS Global Insight economist who conducted the analysis, expects the unemployment rate, currently 9.4 percent, to remain above 9 percent in 2011.
"Businesses are hiring people, but they're not hiring them at a fast enough rate because they're waiting to see consumer spending increase more. They're still a little hesitant," Christopher said.
Consumers are hesitant, too, according to Scott Hoyt, Senior Director of Consumer Economics at Moody's Analytics.
"There's an abundance of evidence that consumers are being more conscious of their spending, certainly in comparison to before the recession," he said.
Bernanke expects this cycle of hesitance to continue impacting the economy for years to come.
"It could take four to five more years for the job market to normalize fully," he told the Senate Budget Committee.
The increase in retail sales came mainly from auto dealerships, gas stations (because of price hikes, not increased demand), building material stores and health stores. Online and mail order retailers, as well as gardening and furniture businesses, did surprisingly well.
Retail sales for department stores fell 1.6 percent in December after jumping 2.9 percent in November, according to IHS Global Insight's analysis.
This drop in December may have been the result of the desperate measures some stores took to attract consumers in previous months with Walmart, Gap and Sears staying open on Thanksgiving Day and luxury retailer Neiman Marcus, known for their hefty price tags, opened bargain outlets.
Related
Popular in the Community