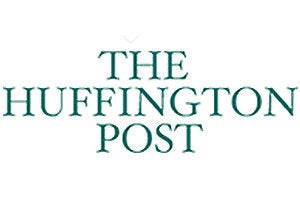 Here are some of the top current shows throughout the Western United States as selected by our editors and writers. All close before the end of the year, so catch them during the holiday season or you will miss out.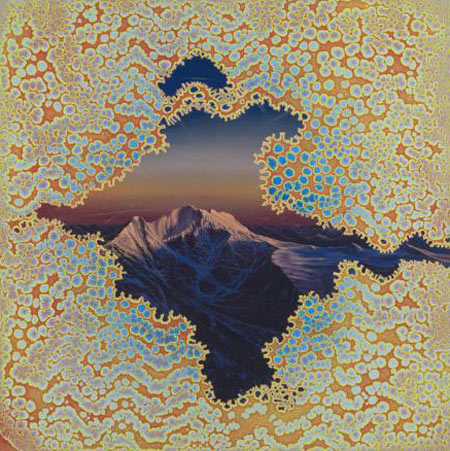 Shane McAdams, "Synthetic Landscape 23 (Curve of the Earth)," 2010, mixed media on canvas over panel, 24 x 24", at Elizabeth Leach Gallery.
"Micro Chasm" is a particularly succinct title for Shane McAdams' current exhibition, as the works integrate microscopic forms with macrocosmic landscapes: chasms, canyons, waterfalls, and mountainscapes, many of them inspired by the Brooklyn-based artist's childhood in the southwest American desert. With conceptual invention and technical virtuosity, he combines semi-abstracted imagery that evokes the biological sciences with old-school landscape painting of the Hudson Valley School lineage. In years past, McAdams drew and painted abstractly, incorporating diverse media such as Elmer's glue, resins, pigments, even ballpoint pens, in exultant compositions that exploited surface and materiality as ends in themselves. More recently, his long-standing fascination with geologic topographies compelled him to marry his material explorations with finely brushed paintings in a series he calls "Synthetic Landscape."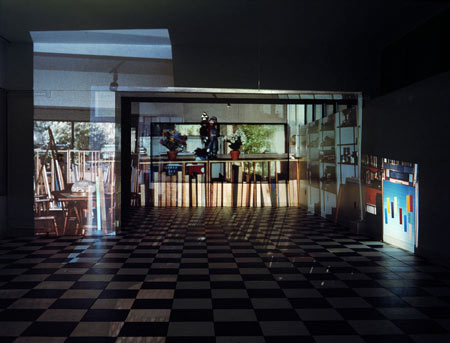 Augusta Wood, "Downstairs (1985, 1991, 1999, 2008)," 2009, chromogenic print, 29 3/4 x 39", at Angles Gallery.
Continuing through December 23, 2010
Angles Gallery, Culver City, California
"I have only what I remember" is a surprisingly beautiful show of crisp color photos made from interior projections in Augusta Wood's grandparents' former home. Wood projected slides spanning over five decades -- from the '60s to the present -- on walls throughout the now empty rooms, combining anywhere from two up to six slide projections per chromogenic print. Wood's grandparents were both painters themselves, and so it's appropriate that one of the most visually complex photos (though each image delivers its own caliber of complexity), "Downstairs (1985, 1991, 1999, 2008)" appears to feature the former layout of the painters' studio recreated on the walls of the same space. There are separate projections of the couples' painting storage racks, one of them set into the very same formerly active alcove at the end of a black-and-white-tiled floor. It's a mesmerizing image, as is "To The River (2002, 2006, 2008)," which brings the outside in. In mixing and matching vintage images and making them the stars of their own photographs, Wood manages to both summon and dispense with nostalgia simultaneously.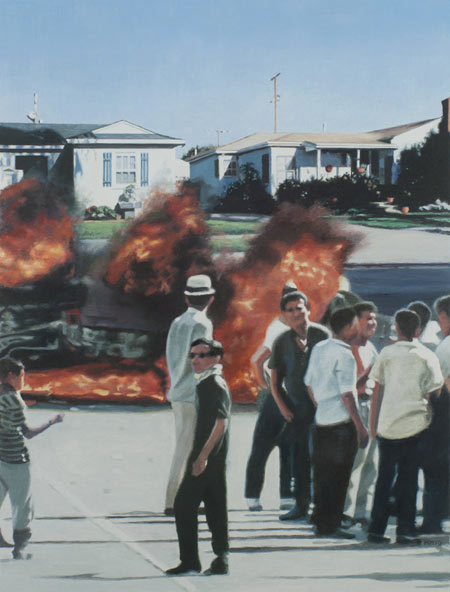 Martin Mull, "Neighborhood Watch," 2010, oil on paper, 13' x 10'', at Samuel Freeman.
Continuing through December 18, 2010
Samuel Freeman, Santa Monica, California
Although you may know him as Roseanne's gay boss or the voice of Father Donovan on American Dad, Martin Mull was actually an artist long before he ever made it to the screen, and from the looks of his new show, "Split Infinitives," he spends at least as much energy on his paintings as he does on being a funny guy. The paintings are not so funny - "Comedian" is a black and white oil on linen of a man hunched over watching TV; behind him a woman is lying on a low bed with an arm thrown over her eyes like something hurts. Like the photo it was taken from, the man's face is a blaze of white TV reflection. Not surprisingly, Mull tweaks and reconstructs the idea of a Hollywood set by constructing his not-quite-seamless content using bits and pieces of photographs gleaned from found and personal sources. Like grimly detailed storyboards, the implication of narrative adds suspense, but it is the relationship between the men and women in each work that really provokes.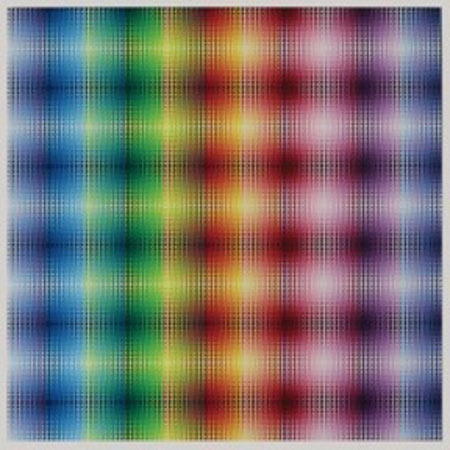 Susie Rosmarin, "Spectrum #10," 2010, acrylic on canvas, at Dunn and Brown Contemporary.
The paintings of Susie Rosmarin are evidence that Op Art and all of its visual effects have sustained longevity. At forty-five, the painting style seems to be hale and hardy, and doing what it always has done: bring visual perception to bear on form through optical illusion. It thus follows that Rosmarin's work is not so much old fashioned, but sticking to a well trod path. They are safe and easy to swallow and understand. There is no bucking the system of art or capitalism here, but rather reinforcing predictable boundaries. This is not to say, however, that Rosmarin's paintings are not well made. She applies thin lines of acrylic paint using tape to demarcate the adjacent space on the canvas. "Spectrum #11" is a large grid of intricately layered lines of color that seem at once woven together, but just as readily free standing as if in the digital realm. There are twenty squares of color, shifting from green to blue to pink to yellow.
Ultimately, Rosmarin's paintings are a matter of the formalism wrought by color theory shot through the prism of steady and well-honed craft. Perhaps not such a bad thing, these are paintings that shine in their sense of perfect craft rather than any substance or engagement with thinking or politics beyond the decorative.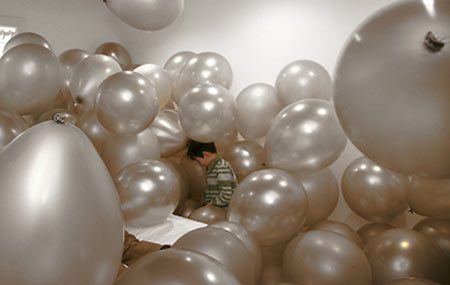 Martin Creed, "Work No. 360: Half the air in a given space," silver 16" balloons, dimensions variable, at Western Bridge.
Continuing through December 18, 2010
Western Bridge, Seattle, Washington

Martin Creed is a Scotland-born artist who won the U.K's prestigious Turner Prize for a set of lights going on and off ("Work No. 227"). In his first solo show in Seattle, "Open/Closed, Big/Small, Full/Empty, On/Off," Creed shows four similarly-minded pieces of what could be called minimalist performance art. Familiar objects -- a lamp, a curtain, a bunch of balloons, a pair of dogs -- are put in the service of art. Two live animals occupy the gallery; this is "Work No. 591." As the title suggests, one is big, and one is little (an Irish Wolfhound and a Chihuahua, respectively). Another piece is, simply, a lamp switching on and off. The space of one room is full and empty of silver balloons. And a huge curtain opens and closes before an outsized window. The dichotomies of the show's title are illustrated via these slow-moving sculptures in a compelling exhibit with quite a lot of negative space, a strong sense of quiet, and a generous dose of playfulness. Creed's art does force a reaction, his uncanny wit asking us to contemplate the question, not look for the answer.

-- Adriana Grant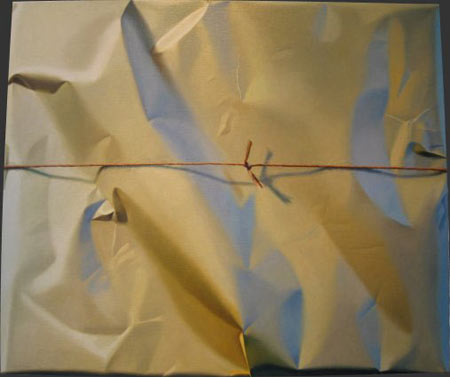 Yrjö Edelmann, "Dimensional Analysis Yellow Powder Fields," oil on canvas, 33 x 38", at Craighead-Green Gallery.
Continuing through December 29, 2010
Craighead Green Gallery, Dallas, Texas

Swedish painter Yrjö Edelmann possesses a painterly dexterity virtually unrivaled by his contemporary peers. He gives us enigmatic packages to be left sealed with twine or tape. They make us want to peer inside, to literally tear apart the veil that separates us from their sealed content. "One Thing Should Be Remembered: This Artwork in Green" is quite nearly redundant; it's quite plausible that forgetting it is impossible. It's too jewel-like, too perfect in it's evocation of the promise of a gift. Likewise, "Magnetic Fields Energy In Pink" is enough to engender a rabid impatience in viewers. Surely we must clutch and tear and grab at the ineffable center that's concealed. These aren't paintings. They're gifts with hallowed centers. One might ardently wish to take and tear these pieces. But, alas, the center must hold and remain unsullied and unseen. These works are analogous to Keats' "unravish'd bride of quietness." They're gorgeousness is aligned with their inaccessibility.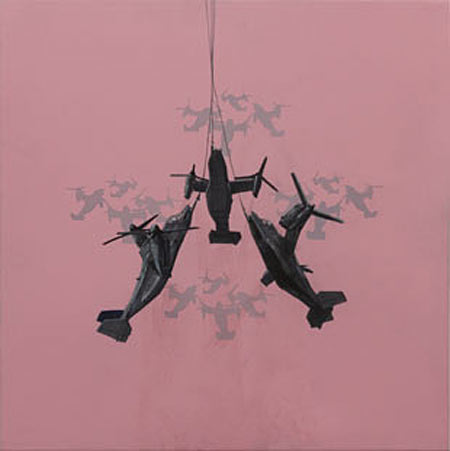 Darren Hostetter, "Clusterfubar 1," 2010, acrylic on aircraft aluminum, 12 x 12", at Sam Lee Gallery.
Continuing through December 11, 2010
Sam Lee Gallery, Los Angeles, California
The work of Darren Hostetter is a specialized humor akin to Mel Brook's handling of the Spanish Inquisition as an aquatic song and dance number (from his film History of the World, Part I). Military helicopters pirouette in mid-air against a serene pink background. Intricately painted machines built for war, defy gravity and are temporarily suspended from reality. We see more examples as fighter jets connect to create snowflake patterns. Designer logos decorate the exterior of suicide vests and bombs function as computer circuitry to provoke both funny and serious commentaries on how America is characterized by much of the world. A dark and entertaining ploy that humor seems apt to address.
The issues of importance for Hostetter range from social politics to terrorism. How these issues arise in one painting is up for debate and is indicative of the show's title, "Clusterfubar," an acronym (fubar stands for "fucked up beyond all recognition") used to characterize the current socio-political environment. The highly detailed works are painted on an aluminum normally used for building aircrafts. While the images draw the viewer in, it's the juxtaposition of concepts that creates a conceptual mess. Dangerous and symbolically aggressive images are transformed into designed scenarios that appear ridiculous. In this way, Hostetter's work is ironically reminiscent of the dark comedy, Stanley Kubrick's Dr. Strangelove, where the officers are reminded that "... you can't fight in here... This is the War Room".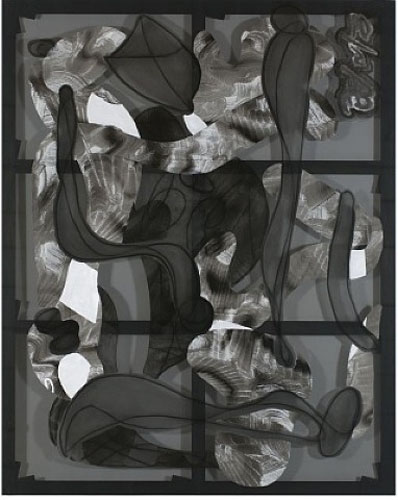 Christian Bonnefoi, "urekaVIII-8, m/m," 2010, mixed media, 98 ½ x 78 ¾", at Riva Yares Gallery.
Continuing through December 20, 2010
Riva Yares Gallery, Scottsdale, Arizona

The organic forms in Christian Bonnefoi's mixed media works seem to pop off the surface when viewed from a distance, yet adhere to the artist's canvas when viewed close. Another artist might leave the viewer in a cloud, but French artist Bonnefoi imbues a frankness into his work that turns out to be quite inviting. Bonnefoi exhibits six pieces from his 2009-10 "Eureka." The 6-foot-wide pieces use acrylic, cut paper and other media in collage fashion on stretched dark mesh fabric.

The improvisation of the pieces is joyful, despite the mostly dark paint and shadows. The interconnected pieces of cut paper seem to spring out from the mesh in sinuous forms resembling bird wings, fish, snakes, eggs and other elements of nature. Bonnefoi lets the viewer in on his trick: under the see-through mesh are window-pane-like stretchers. All ingredients work together - even the white walls of the gallery - to reveal shadows and depth. It's as if the forms jump through the windowpanes to revel in the essence of painting.

-- Deborah Ross
ArtScene and Visual Art Source are the in print and online resources to fine art galleries and museums in Southern California and the Western United States. Visit us online or pick up a copy for complete listings of art venues and editorial Reviews, Recommendations and Previews of the best current exhibitions. Be sure to visit our Openings Calendar page so you can plan visits to the latest exhibitions--of wherever you may be in the Western States.
Want to opt-in for a free subscription to stay current every day on our Weekly Newsletter, as well as new shows, events and (if you are an artist) artists' calls? It's easy.
REAL LIFE. REAL NEWS. REAL VOICES.
Help us tell more of the stories that matter from voices that too often remain unheard.