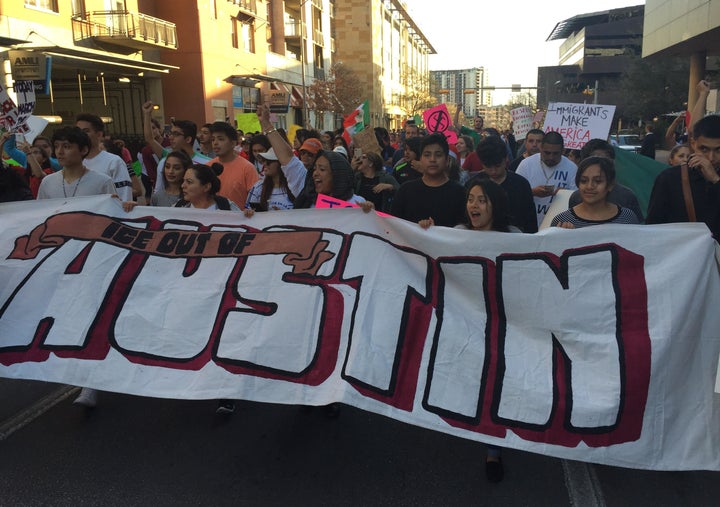 Last month, U.S. Magistrate Judge Andrew Austin confirmed what the immigrant community and advocates have long suspected. February's mass arrest in the Austin, Texas area of more than 50 immigrant community members by Immigration and Customs Enforcement (ICE) agents was orchestrated in retaliation for Travis County Sheriff Sally Hernandez's policy limiting the use of voluntary immigration detainer requests in the Travis County Jail.
On February 1, Sheriff Hernandez had implemented her policy responding to voices of immigrant community members and the will of Travis County voters. Travis County is now one of hundreds of communities around the country that limit ICE-local law enforcement collaboration, putting it firmly on the right side of a growing mountain of legal opinions that say warrantless detainer requests violate the Fourth Amendment.
Before Judge Austin's announcement ICE had previously stated that its operations were "routine" to the media and local officials. The revelation in open court that ICE had been untruthful adds to what immigrants and advocates have claimed for years — that ICE regularly lies to immigrants, local officials, and the media.
As Gerald Daugherty, the conservative voice on the Travis County Commissioner's Court, told the Austin American-Statesman, "I'm sorry that ICE lied to me because they told me there was not a target, and I have to think a judge is telling the truth."
Infamously, ICE has used deceitful tactics in its operations for some time. During immigration raids conducted in Atlanta in early 2016, ICE agents deceived immigrant families by misrepresenting themselves as police officers searching for a criminal (who they depicted in a photo of an African-American man) according to a report by the Southern Poverty Law Center.
And just last month, ICE issued a document intending to shame local Sheriffs who didn't comply with all ICE detainers. But that document was riddled with errors. Sheriffs across the political spectrum expressed outrage.
Sgt. Ray Kelly of the Alameda County, California Sheriff's Office told the East Bay Express: "Just to make sure we're doing our job right, we looked into ICE's detainer list, but we could not find the specific case that corresponded in our records with what ICE listed," said. "When we contacted ICE to do a follow-up, they were unable to provide us with the name of the person, and nothing matching that date and time was in our records."
And what should the response be to an agency that lies to the community and public officials? Gerald Daugherty says he'll "probably make a phone call to ICE and say, 'I'd rather you be completely honest with me whenever I ask you a question.'"
But that's not good enough.
Officials at every level of government should rethink their relationship with an agency that openly deceives public officials and uses its power to terrorize the community for political ends.
Local governments certainly should not enter into new 287(g) agreements to deputize local police as immigration agents, as 18 communities, including 13 in Texas, are considering. Instead, local enforcement agencies should cut ties with immigration enforcement, including declining ICE's constitutionally questionable detainers on people in their jails or sharing information with the agency beyond what is required by federal law.
Popular in the Community