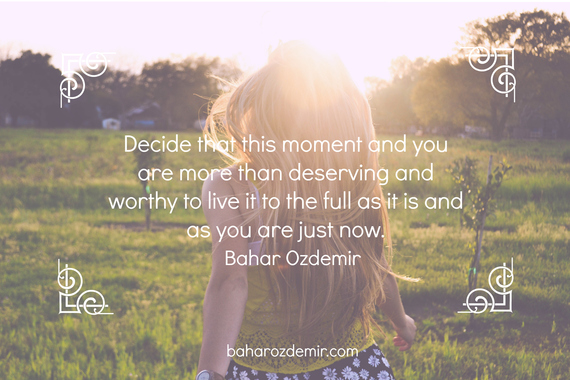 Sometimes we live our lives kind of on autopilot. Moments slip by and we forget that the present moment is the one that really counts. And sometimes we are waiting for something to happen or change before we can have that life we really really want.
Are you waiting for your real or happy life to begin? What needs to happen for you in order to live your life to the full?
Do you have to have a partner? Do you have to lose/gain some weight? Or make an x amount of money? Is something in the way? What is it for you?
What if you decide to stop waiting for that life? What if you decide that now is all you've got?
And that you decide that this moment and you are more than deserving and worthy to live it to the full as it is and as you are just now.
Allow yourself to live your life to the full now, not somewhere in the future.
Not only allow it, but also take the responsibility to live your best life. It depends on your decision and your decision alone. It doesn't mean there will be no downs. There will be, but you know what? Imagine them to be like the waves of the ocean and you learning to surf the waves better. Your life is meant to be inspiring, empowering, passionate, a blessing or whatever your deepest desires are for your life.
Stop waiting. Decide to live that real life now. And live it to the full.
For soulful insights and inspiration delivered straight to your inbox, visit www.baharozdemir.com and drop your emailadress to join the tribe.
HuffPost's GPS for the Soul app is based on two truths about human beings. First: We all have a centered place of wisdom, harmony and balance within us. Second: We're all going to veer away from that place, again and again and again. What we need is a great course-correcting mechanism -- a GPS for the Soul -- to help us find our way back to that centered place, from which everything is possible.
Because no one knows better than you what helps you de-stress and tap into that place of peace inside yourself, it's important for you to create your very own GPS guide -- a personalized collection of whatever helps you course-correct. Email us at GPS@huffingtonpost.com and we'll set you up with your very own HuffPost blogger account to share your guide on the site. If you're already a blogger, we encourage you to upload your personal guide today. We can't wait to see what you have to share.
REAL LIFE. REAL NEWS. REAL VOICES.
Help us tell more of the stories that matter from voices that too often remain unheard.