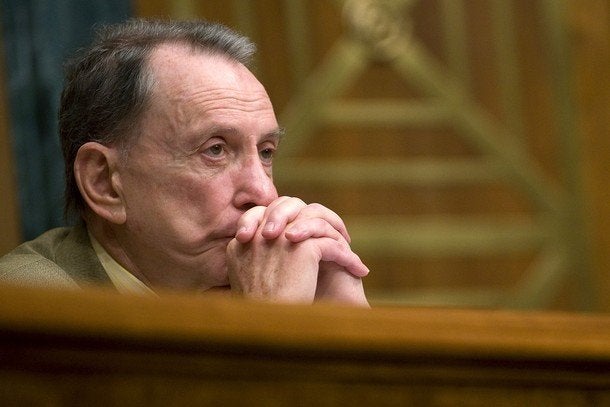 Sources with knowledge of Sen. Specter's decision to switch political parties say that efforts will be made to ensure that he will not face a primary challenger from a Democratic candidate in the 2010 Senate election.
The overtures were likely a necessary precondition to get the long-term Pennsylvania Republican to cross party lines. But they do not mean that Specter will have the full backing of the party apparatus or some of the major constituencies that traditionally back Democratic candidates.
Sources in Pennsylvania and Washington say Specter's party switch was aided by two major factors: his precarious electoral position as a Republican with Club for Growth header Pat Toomey challenging him in the primary, and the relatively thin Democratic field in the state -- despite the strength of the state party.
"There was no real big Dem that has committed to running in the primary against Republican Arlen Specter," said one Pennsylvania Democrat on the Hill. "There never really was a Democratic opponent."
Abe Amoros, the Deputy Executive Director at the Pennsylvania Democratic Party, declined to comment, saying he would let Gov. Ed Rendell go first. Officials at the DSCC, similarly, were quiet in the hours after Specter's announcement. But longtime observers of Pennsylvania politics and Democratic strategist both conceded that Specter was likely promised the nomination for 2010.
"He is too smart to do this without some overtures and feelers and so forth," said Michael Smerconish, the longtime conservative radio talk show host.
"It seems crazy that he wouldn't have the race cleared for him ahead of time," said one well-connected Democratic strategist.
That said, the strategist pointed out, Specter did put one line in the speech announcing his party switch that suggested he was still prepping for a primary push back.
"I am taking this action now because there are fewer than thirteen months to the 2010 Pennsylvania Primary," he said, "and there is much to be done in preparation for that election."
Moreover, the labor community is not certain to offer their support for Specter if he does not change his position on the Employee Free Choice Act along with his party title. And in his announcement on Tuesday, Specter stressed that on the unions' legislative priority he still stood in opposition.
"Workers and unions base their support on issues, not on candidates, or deals," said one union official in D.C. "Thousands of PA workers have been holding grassroots events all across PA calling on Specter to support the Employee Free Choice Act. They will continue to do so. Who they will support in the election will be based on these issues."
And yet, without a Democratic candidate to challenge Specter in a primary (or a legitimate third-party ticket) it is hard to see where labor might throw its support.
REAL LIFE. REAL NEWS. REAL VOICES.
Help us tell more of the stories that matter from voices that too often remain unheard.