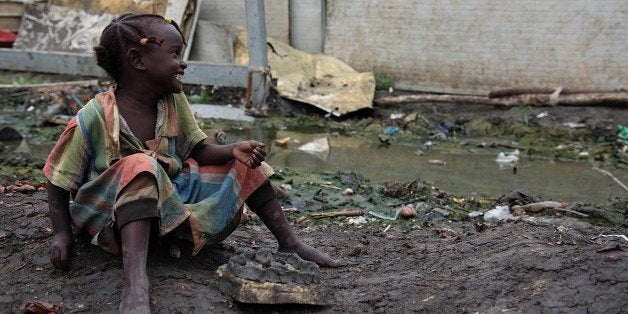 After more than two years living and working to deliver aid with the International Rescue Committee in South Sudan, I woke up on December 16, 2013, to the sound of gunfire outside my window: Fighting had broken out overnight in Juba, the capital city of the world's newest country.

Within weeks, massive fighting was raging across three of the country's 10 states, hundreds of thousands had been displaced from their homes and thousands killed. The intensity of the crisis, coupled with the growing number of displaced families caught in the deadly conflict, left the humanitarian aid system straining to support those most affected and at-risk, including the aid workers themselves. Only four months later, in April, two members of our staff would be killed in a horrific attack on a UN base in the town of Bor, where thousands of South Sudanese civilians had sought shelter.

The IRC was able to begin responding to the needs of tens of thousands of displaced people within the first 72 hours of the crisis. With critical support from the Office of U.S. Foreign Disaster Assistance, we provided primary healthcare, emergency water and sanitation and protection for those most affected by the violence. Yet, in what has become a problem across the humanitarian sector, quickly getting enough money, goods and people into the country to support our programs became a more difficult task -- in part, because of over-stretched resources across an increasing number of concurrent emergencies globally.

With so many disasters -- Central African Republic, Syria, Iraq and the Ebola outbreak in West Africa, to name a few -- and such huge needs, it's hard to keep the world's attention in one place for more than a 24-hour news cycle. Once a media darling following its secession from Sudan in 2011, it seems South Sudan now bounces in and out of the headlines according to how bloody the latest battles are. On August 5, another six aid workers were killed, making South Sudan one of the most dangerous places in the world to deliver aid -- yet this tragic news barely made a blip on the radar.

Now, with food insecurity rapidly increasing but fighting less prominent, I fear many are sitting on their hands, awaiting an official declaration of "famine," before doing more. The problem with this is that with each day that passes, more and more people are facing starvation and dying. The UN estimates that 50,000 children in South Sudan could face death in the next few months and 3.9 million at risk of extreme food insecurity. We know that by the time famine in Somalia was declared in 2011, half of the 250,000 victims had already died. We are seeing the same trend of events occurring in South Sudan now.

IRC staff in the country tell me local populations are already scavenging in forests seeking berries, twigs and bark. Already people are wading into chest-high water to gather water-lilies, which contain no nutritional value, as their only source of food. Already people are eating husks of last year's corn harvest.

In Ganyliel, a remote corner of Unity State, tens of thousands of people have fled into a village where the IRC has been working for 20 years. Our staff -- many of whom have been with us for over 10 years -- opened their doors to these fleeing families, but are now facing a hunger crisis alongside the displaced. The World Food Program is delivering food by airdrop to Ganyliel, but can only afford to drop food rations once a month that are meant to last 15 days. The IRC, too, is having to fly in food rations to help feed our own staff so they can continue providing life-saving care to their neighbors and friends.
With needs so great already, it shouldn't take an official declaration of the F-word to make the world take note. Although the odds often seem insurmountable, I see each day what we can accomplish: children treated for malnutrition, cash grants given to families to purchase food in the market, groups of women helping each other cope with the horrors they have seen and felt. This is what the world needs to remember when it seems there are too many hopeless crises and that we can't possibly ever do enough.
This post is part of a five-part series produced by The Huffington Post, USAID's Office of U.S. Foreign Disaster Assistance, and the NGO alliance InterAction to commemorate World Humanitarian Day. World Humanitarian Day (August 19) honors aid workers who have lost their lives helping the millions of people affected by disasters around the world. This past year has seen four large-scale "Level 3" humanitarian crises -- Syria, Central African Republic (CAR), South Sudan and the Philippines -- that are stretching the capacity of the humanitarian system. To learn more about these crises, visit here. For more information about USAID's Office of Foreign Disaster Assistance, which is celebrating its 50th anniversary this year, visit here; further information on InterAction can be found here. To follow the conversation on Twitter look for #WHD2014.
REAL LIFE. REAL NEWS. REAL VOICES.
Help us tell more of the stories that matter from voices that too often remain unheard.