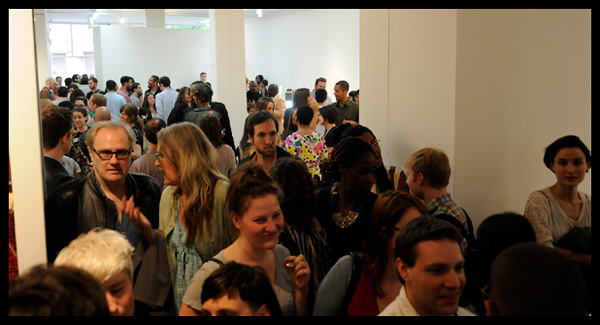 The Cool CROWD at the Young Curators, New Ideas IV Show(Photo by: Lafotographeuse)
As much as I would like to consider myself a champion and oftentimes patron of young artists, I must admit that whenever I receive an invitation with the words "group show" emblazoned across the top, my body slightly tenses up. Don't ask me why this involuntary physical flinching and overall sense of foreboding overtakes my very essence, it just does. Perhaps this happens partly due to my psychological aversion to large crowds, to which group shows seem to innately draw. Or perhaps it is my dread or fear of being underwhelmed on a larger scale by artists who remain relatively unknown for good reasons. I am sure many of you have attended one or two group shows where the selected artists always seem to be a bit too over-zealous and decide to show the world all of their offerings at one time. This is a common mistake with group shows that can lead to a lack of cohesion and a disaster of grand proportions.
But recently I found myself in a fearless and daring mood. Therefore when I received an invitation to the Young Curators, New Ideas IV show, where the onus for cohesion and point of view lay primarily with the curator, I decided to risk turning up for the festivities. And am I glad I did.
The Young Curators, New Ideas IV was presented by the Meulensteen gallery and organized by Mr. and Mrs. Amani Olu. The exhibition includes 12 curators showcasing works from 29 artists covering two floors and 7,000 square feet of space. While each curatorial approach takes a unique position, there is a pointed interest in experimenting with the group exhibition format, re-imagining established mediums, objects, materials and concepts, as well as investigating contemporary issues and how they are resolved (if at all) in an art context.
Upon entering the show I was greeted by the personable and knowledgeable co-organizer, Mr. Amani Olu. Mr. Olu it turns out is an independent curator, writer, essayist and co-founder/executive director of the Humble Arts Foundation, which is committed to supporting and promoting new art photography. This impressive young gentleman is also a proud member of the New Art Dealers Alliance (NADA). With the help of Mr. Olu and his attentive staff, I was able to circumvent the hundreds of people that turned out for this momentous occasion and meet almost every curator as well as artist in attendance.
Some of the curatorial highlights in the show included Rachel Cook's presentation of Not-Not-Not Image-Objects which explores how the photograph can act as a flattened object and a phenomenological spatial intervention; Jenny Jaskey's film presentation deals with dislocations of time and place in the built environment; and Tiernan Morgan's exhibition focuses on the visualization of American Power.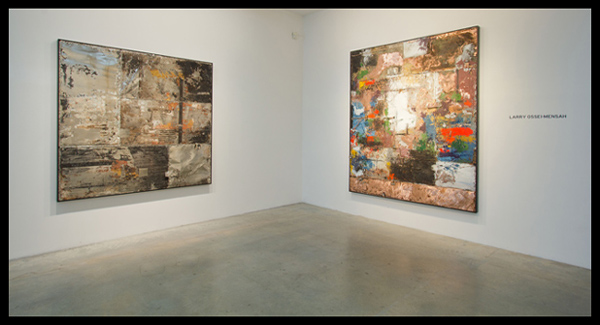 Beautiful Refuse: Materiality by Larry Ossei-Mensah featuring Hugo McCloud (photo by: Eli Ping)
My personal favorite was Mr. Larry Ossei-Mensah's Beautiful Refuse: Materiality, which investigates the use of unconventional materials and processes derived from an international sample of urban and industrial developments. While another standout was Stephanie Roach's Losing My Religion, which surveys two artists and mines their respective references to art historical iconography and pop culture and their expression of the intersection between the holy and secular.

Not to be missed efforts include: All the Boys and Girls, curated by Jordana Zeldin and brings together two artists who have transformed personal documents and discarded family artifacts into new objects that invite us to reflect upon the irrevocability of time passed, its losses, and memories. The artists in Calder Zwicky's Sigils created sexual talismans using everyday objects -- blurring the lines between the spiritual, the profane, the sexual and the social. The Artist Is Not Present by Susi Kenna and Tali Wertheimer consisted of sculptures and installations that present unexpected experiences, distortions of senses and peformative directives to re-examine what falls under the purview of contemporary performance art. In The Arrow that Quits the Bow, Court Square (Lisa Williams, Ceren Erdem and Jaime Schwartz) presents pilot press..., a DIY mobile publishing house run collaboratively by Jen Kennedy and Liz Linden that is dedicated to an ongoing investigation of what 'feminism' means in contemporary society.
While visitors have until Aug. 24, 2012 to see this brilliantly curated show at the Meulensteen gallery, I would only ask that you swing back and let me know your thoughts. I for one am glad I conquered my fear of group shows and applaud these Young Curators for a job well done.
Calling all HuffPost superfans!
Sign up for membership to become a founding member and help shape HuffPost's next chapter