The winner of our first annual Declutter for a Cause challenge (conceived with Peter Walsh) rallied her friends and neighbors for an epic town-wide yard sale that brought her community closer—and helped her family heal from unthinkable tragedy.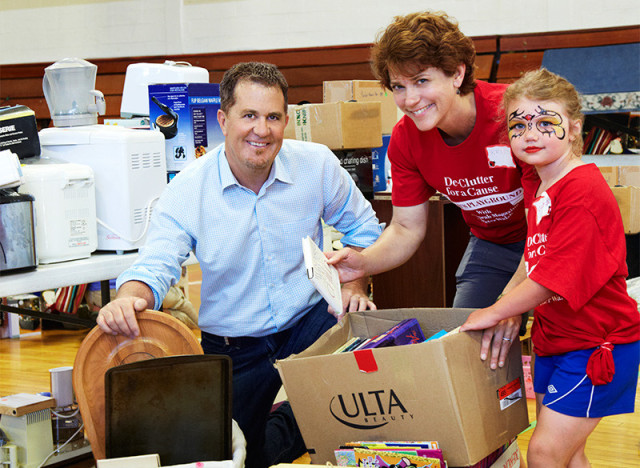 Peter Walsh, Kristi Bates and her daughter, Caroline Mallio, pitching in at the sale.
The e-mail arrived late at night, thumbed hastily on an iPhone from the ski condo in Vermont where Kristi Bates and her kids were staying with her sister's brood. "On Father's Day of 2012, my brother-in-law, Matt Mallio, was diagnosed with leukemia," it began. "Less than two weeks after he was diagnosed, his 10-month-old son, Aidan, died in an accidental drowning in their backyard."
Bates, of Westford, Mass., told the story of a family blindsided by a series of gutting events -- the kind that expose the thin, arbitrary line between life-as-usual and life-will-never-be-the-same. She was writing because she wanted to channel her grief into something positive.
"To honor the memory of my young nephew," she continued, "and to help our family heal, we are rebuilding the young children's section of an older, local playground. Our goal is... to have a dedication by late September, when my brother-in-law should be healthy enough to attend."
It was just one of hundreds of moving messages that O received in response to our March Declutter for a Cause challenge, which encouraged readers to plan a large-scale declutter-athon to support a charitable cause -- and promised to send organizing whiz Peter Walsh to work his magic on one exceptional event. Bates, who had already been raising money for the playground through smaller initiatives, had written at the suggestion of her sister, an O subscriber.
"As soon as I hit 'send,' I thought, 'Oh, expletive, what if they pick me?'" she recalls with a laugh. A busy mom of two who runs her late father's custom bottle-opener business, Bates had scant event-planning experience ("Well, aside from my wedding"). But Walsh thought he spied in her e-mail a latent type-A planning streak. "Not only did she want to create an enduring monument to a child for the benefit of her whole community," Walsh says, "but she was obviously a woman after my own well-organized heart." After talking to her, he felt sure she had the requisite blend of confidence, optimism, resourcefulness and efficiency -- call it get-to-it-iveness -- to stage the most ambitious yard sale her New England town had ever seen. Together with O, he decided to help Bates Declutter for a Cause. "I feel like I just won the $300 million Powerball!" she wrote when we told her (adding, with typical attention to detail, "I just spent $5.99 on a Website URL!")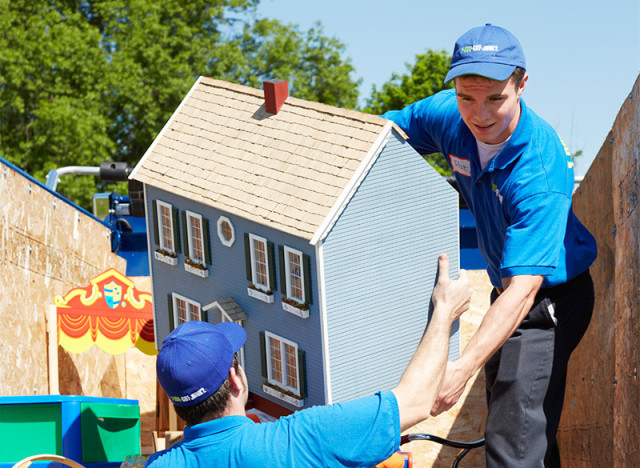 Movers from 1-800-GOT-JUNK? unloading cargo.

A Plan Takes Shape
The date was set for June 1, a Saturday when the weather would be warm but the kids would still be in school, meaning families wouldn't yet have left on summer trips. O watched in amazement as Bates whipped dozens of friends, relatives, neighbors, soccer moms, teenagers, town officials and local restaurateurs (not to mention her husband, Andy, and children, Colin, 8, and Caroline, 6) into an event-planning frenzy. She appointed 12 committee members -- some friends, others acquaintances or friends of friends -- to oversee marketing, a silent auction, cleanup and more. She found a (free) location: the Abbot School, a gorgeous, red-brick public elementary with a large gym and plenty of outdoor space for tents. She finagled storage units (also free) to collect the truckloads of clothing, appliances, furniture, glassware, framed prints and baby gear that would soon be streaming in from friends' and neighbors' houses. She filed permits and insurance forms and advertised donation drop-off dates on a Facebook page. She even secured 150 free T-shirts for volunteers from 4imprint.com. Her e-mails arrived in O in-boxes at all hours of the day, between school pickups and doctor's appointments, and long after her family had gone to bed. "Two and 3 A.M. was the new normal in our house," sighs Andy, affectionately.
With several weeks to go, Bates and her troops began sorting and pricing donations at the storage facilities, at friends' houses, and in her own living room, which had become command central. Pizza was involved. Terri Delaney, Bates's neighbor and the volunteer chair, worked with high schools and churches to get her teenage helpers community service credit and offered her pool for a pre-event bash. Then Walsh stepped in with another crucial piece of the puzzle: support from 1-800-GOT-JUNK? After he sent an e-mail to the junk removal service's CEO, whom he'd gotten to know through his work on The Oprah Winfrey Show, three local franchises generously offered 17 trucks -- staffed with plenty of muscle -- to transport donations to the Abbot School and remove excess items after the sale. "You just don't realize how much people are willing to help until you ask," marvels Bates, who had become increasingly bold in soliciting free goods and services. As donations piled up, she sent a Facebook message to Store Supply Warehouse, asking for clothing racks -- and within two days found them sitting outside her garage. She recalls, "It got to the point that, when people would say no, I'd be like, 'What?!'"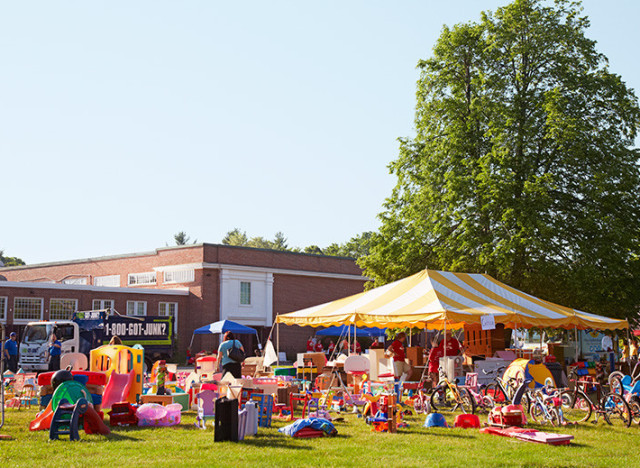 A sea of furniture, bicycle, kids' toys and more.
Euphoric Calm: The Day Before the Sale
At an empty Starbucks in a strip mall off Westford's main drag, Bates is radiating a sturdy, almost dewy good health that belies her 48 years. Her eyes are wide, her mass of auburn curls cut short and sensible; she is both brimming with energy and preternaturally composed, as if preparing to run the 400 meter hurdles. Between phone calls from volunteers ("Where are you now? Okay, I'll meet you there"; "I'll be back at the house at quarter of, then I've got to go back to Littleton"), she clutches an iced coffee and sinks into a chair; it's the first time she's paused in weeks. "This is probably the calmest I've been," she admits. "It's an excited, euphoric calm. At this point, what's done is done."
She tries to explain what drove her to add the event -- which has mushroomed into an undertaking beyond her, or O's, wildest dreams—to her already full schedule. "After Matt was diagnosed, after Aidan drowned, these things were all we talked about," she says, her tightly coiled energy softening, her tone almost matter-of-fact, in the way of someone who has cried out all her tears. "What to do for Matt and [his wife] Sara, what to do for their older son, Michael. And that becomes overwhelming." Aidan had survived two days after being pulled from a koi pond in the Mallios' backyard, and Matt, still reeling from his leukemia diagnosis, had checked himself out of the hospital against his doctor's orders to be with his wife and son in a different hospital. In the weeks after her nephew's death, Bates and her family babysat Michael, 4, and made countless trips to Matt's bedside. But still Bates felt helpless. Until, about three months after the accident, she approached Matt and Sara with her playground idea. "They were still so overcome with grief, but touched," she recalls.
For Bates, the fund-raising process has given structure and focus to an incomprehensible situation. "Obviously we are still working on getting Matt better," she explains. "But sometimes, when things are tangible, it's easier to deal with them. What is grief? This is a playground. We're building a playground."
Bates glances at her watch. She'll soon be off to the Abbot School to meet the trucks and a clutch of shockingly eager teenage volunteers, who will hoist stacked cases of Doritos and Poland Spring water from her trunk while Bates fields more phone calls ("You rock, Cathy!"). Meanwhile, Delaney, loud and youthful in a blond ponytail and denim skirt, will unload plastic bins of clothing from a borrowed white van, pausing to admire a zebra-stripe dress as window blinds, a KitchenAid mixer and a Yamaha keyboard stream by her into the gym courtesy of men in blue polo shirts from 1-800-GOT-JUNK? Tomorrow's volunteer schedules will be passed around, and everyone will have a task and be cheerfully and efficiently executing it. That's when Bates, the beating heart of this organized chaos, slightly dazed behind her minivan, will flash a tight smile to no one in particular, as if to say, "Here goes nothing."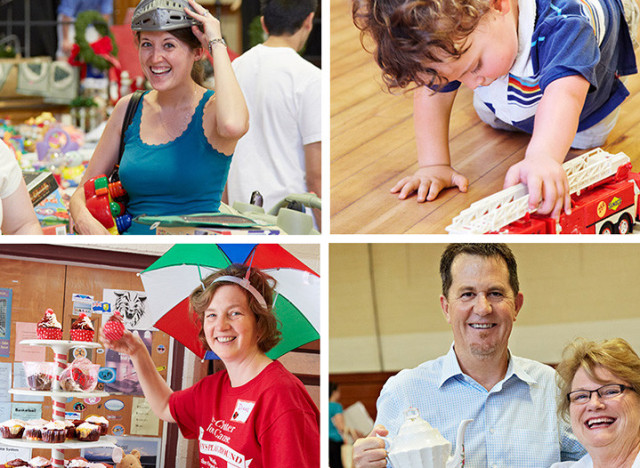 The gym looks like Christmas morning. Piles of gleaming offerings are arranged just so on long tables: a labyrinth of delights sectioned into home wares (a Crock-Pot, a fondue set, enough glassware to stock a restaurant), electronics (bongo drums, acoustic guitars, a Nintendo game cube), sporting equipment (Rollerblades, a NordicTrack, a putting green, several life jackets) and more. One section is devoted entirely to wicker baskets, another to holiday wreaths. The air is thick with expectation. Dozens of volunteers in red shirts man the bake sale, the coffee stand, the face-painting tent. A few shoppers are already scouring the tables, taking advantage of an early bird deal that gives them first crack at the sale for a $20 donation. Outside, in the tented furniture section, it's cool but blindingly bright, the sun teeing up for a 90 degree showing later on.
Bates can't decide if she's stressed or relieved that she didn't find a line of shoppers camped outside when she arrived at 5:20 this morning. But before she can fret, here's Walsh, who flew in last night from Los Angeles; surveying the parking lot of strollers arranged on the lawn and the henna tattoo station and the folks from Stonyfield handing out free yogurt snacks and the large pizza oven from the Flatbread Company that will soon dispatch mushroom and caramelized onion pies, he is momentarily speechless. "You have done everything fantastically," Walsh assures Bates, sensing her distress. "Now leave it to the gods. Your only job is to enjoy this."
Soon Walsh, having canvassed the room for some eye-catching items, is hoisting himself onto a table for a spontaneous live auction; first, an ornate porcelain teapot he claims was Queen Victoria's -- "donated," he swears, "by my good friend the Queen." "Do I have two dollars?" he cries, as shoppers look up from their tables. "Five? Come on, every cent goes to Aidan's Playground!" When the bidding hits $35, Walsh trills, "If you're really good looking, I'll kiss you on the lips, too!"
The room dissolves into laughter.
"You're bidding against yourself, madam," Walsh says dryly to a bespectacled blonde named Cathy Lane, who is literally bouncing with excitement. "Going once..." he calls out, and then, good-naturedly, "Pucker up!" (Lane will proclaim her purchase "absolutely worth it!")
By 9 A.M., people are streaming through the doors as a DJ pumps "Love Is a Battlefield." Volunteers help shoppers haul garbage bags full of clothing and boxes stuffed with books and toys and kitchen gadgets to their cars. Westford resident Carol McCollem heads outside with her son's girlfriend, Cassi Vaughan, who is brandishing a new clothing steamer. ("Ten bucks!" says McCollem approvingly.) Nearby, Michelle Palmquist, who drove down from Rhode Island because "my aunt is friends with somebody who's friends with Kristi," is balancing a big green stapler on a few Suite Life of Zack & Cody DVDs; she's just bid $9 on a wicker dolphin figurine that Walsh is auctioning from the stage. ("A designer piece signed by Martha Stewart!" he cries, lying shamelessly. "It's wicked!") Wendy Turcotte, a gregarious brunette in flip-flops and cargo shorts, and her husband, Ryan, in a Celtics jersey, comb through home goods with their Chihuahua, seeking items to auction on eBay. ("We hide the money from our six daughters and use it to go out to dinner," Wendy explains.) Although many shoppers don't know Bates or the Mallio family, everyone is swept up in the bargains, the homemade baked goods, the Pat Benatar blasting from the speakers and the atmosphere of good cheer. Bates walks by, looking stunned, and reports that the officer on police detail spontaneously donated $40, after which another stranger walked up and handed her a check for $500. Meanwhile, "There's a lot of stuff still here," she observes, "but a lot less!" Walsh dutifully works the room, helping to move more of it: "This comes with a baby!" he crows to a bevy of young women (one pregnant) inspecting a Pack 'n Play.
Finally, just before 2 P.M., Delaney takes to the stage, with a booming, throaty voice, to instruct volunteers to "Go, go, go! Put the leftovers in boxes! Then we can go swimming!" The 1-800-GOT-JUNK? men begin carting leftover items out the door, many bound for charity. Cashiers will soon report that almost $16,000 has been brought in before expenses. And in a couple of days, Bates will receive another check -- on her doorstep, from the anonymous trustees of a local family foundation -- for $10,000. The gesture will bring Bates to tears -- and, with today's haul, allow her to start planning a fall groundbreaking for the playground. But for now, surrounded by her family and tireless friends, Bates seems quietly happy, if a bit weary. She says she hopes to create a place for her family to remember her smiley, adventurous blond nephew and "not feel sad." "At one time, bringing up his name was a point of sorrow for Matt and Sara, or at least that's what I felt, so I kept my distance," Bates says. "But talking about the playground has helped me talk about Aidan, and not just his death but his life."
A slight figure in jeans, a T-shirt and a baseball hat appears: Matt Mallio. He moves slowly, visibly overwhelmed by the sheer number of people he's never met who have come to help memorialize his young son. "Knowing the community stepped forward and is doing this for us -- " he begins, choking up. "I haven't felt this good in about a year."
By 3 P.M., the volunteers have removed all traces of the sale; Lora Carr, Bates's straight-talking sister, has returned to Bates's house to clean it as a surprise, and the gym is quiet. "I need a shower and a beer," Bates says, flushed, her sandy-haired daughter hanging off her. But Walsh isn't quite ready to let her go. "All this stuff," he says, uncharacteristically serious, "was more than just clutter. It has the power to subtly transform how a community thinks and operates. We're not just building a playground; we're helping create a higher level of selflessness. Today will have ripple effects."
Flash-forward a few weeks and Bates is getting more sleep, though her stress dreams haven't abated: "Each night I dream that I forgot to organize some aspect of the event," she reports in an e-mail. By August, she's busy meeting with town officials and securing permits for the playground. She's glad she did the sale -- would do it again in a heartbeat. But she often thinks back to the moment after it was all over, when she took her kids for ice cream and noticed a poster advertising a fund-raiser for a local couple who had been hurt in a car accident. "It just hit me," Bates says, "that what we did today was so great and fantastic, and I feel so good about helping Matt and Sara -- but there are causes everywhere you look. There is so much more to do."
REAL LIFE. REAL NEWS. REAL VOICES.
Help us tell more of the stories that matter from voices that too often remain unheard.
BEFORE YOU GO
PHOTO GALLERY
Random Acts Of Kindness