Apartment searching in big cities is a lot like a regrettable online-dating meetup. You travel great distances to a neighborhood you're not completely wild about in hopes that in the end it will totally be worth it. Unfortunately, no one -- nor apartment -- ever looks exactly like their photos. After it's all over, you're left feeling disappointed, a little creeped out and annoyed that you shaved for this.
You're not alone. We're teaming up with Apartments.com to decode ambiguous real estate lingo and tell you what it really means when you read "vintage details" or "up-and-coming neighborhood" on Craigslist. Now if only someone would do the same for OkCupid profiles.
"Converted 2-br"
It's a one bedroom or studio. A shower curtain dividing the room gives you "complete privacy." Or, if you're really lucky, it's a line of floor-to-almost-ceiling bookcases.
"Cozy"
Small can be great; but in most big cities one should read this as "we're renting out our walk-in closet."
"Filled with natural light"
. . . But surprisingly lacking any light fixtures.
"South-facing windows"
You have a beautiful view of a brick wall or the "luxury" condos in the building across the street.
"15 minutes from downtown"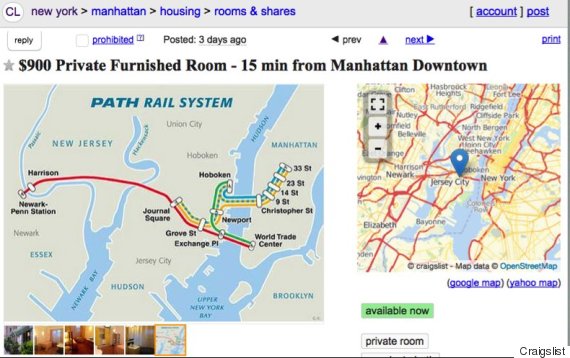 Likely measured by helicopter. This is never via public transportation, and never accounts for traffic. And there will always be traffic.
"East Williamsburg"
Translation: "East Williamsburg" = Bushwick. And "Bushwick" = Ridgewood. While this is a New York City–specific example, the general real estate labeling formula applies to any city. Direction + desirable neighborhood = emerging (but still pretty raw) neighborhood; and emerging neighborhood = the other side of the tracks.
"Updated"
They painted and fixed the leaky bathroom faucet.
"Unique"
Congratulations! You've stumbled upon the elusive kitchen/bathroom combo. You can cook your eggs while you shower. Which will be a great time-saver before your "15-minute" commute.
"Luxury"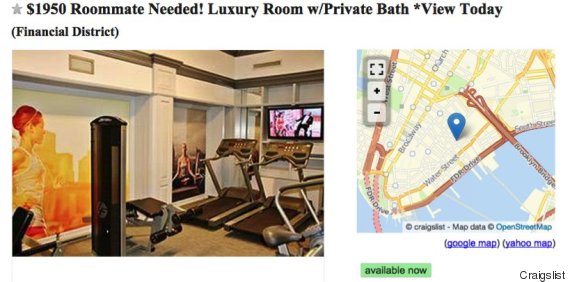 It's gorgeous and perfect. So turn around, because you can't afford it. You know you're going to love it, and whatever you're forced to settle on is never going to be the same. This will only end in tears.
"Loft-style"
Picture climbing countertops to reach your mattress, housed above the kitchen cabinets. Wear your bike helmet to bed, because every morning you'll hit your head on the ceiling when you sit up too fast.
"Pets allowed -- cats preferably"
Because you're probably already nose blind to the smell of urine.
"Vintage details"
It's really freaking old. Original everything and definitely not restored.
"Steps away from the river/lake/beach"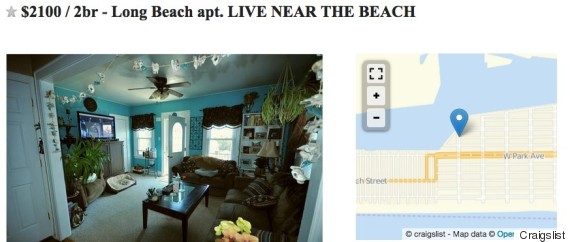 . . . Miles away from anything else.
"Winged apartment"
Hope you like balancing your plate of mac n' cheese on your stomach while watching Netflix on your laptop, because when you're lounging in your bedroom, you're also in your dining room.
"Private railroad-style"
You have one of two choices when you have to pee in the middle of the night. 1) Try to wade through the random assortment of laundry and furniture in your roommate's bedroom without ailment or waking her up, or 2) get to the other side of the apartment via the building's hallway. Hope you don't forget your keys.
"******"
They've had this listing up for two months now, and they're getting desperate. The broker doesn't understand hashtags, but he's pretty sure the asterisk is the equivalent to saying, "Get excited about this one! PLEASE!" They will likely follow excessive asterisk use with all-caps to emphasize the only redeeming quality of the apartment, like "HUGE" or "SUN-FILLED."
"1-br"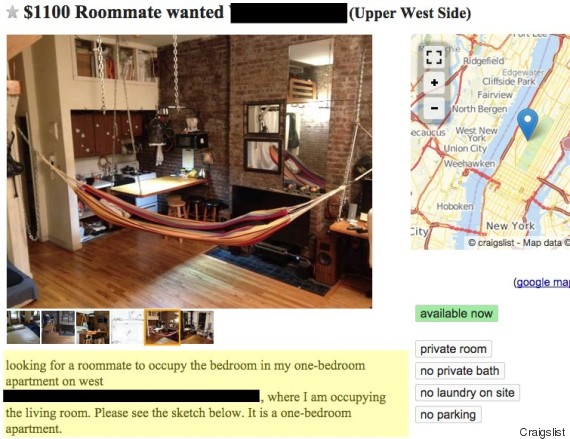 You get the one bedroom in the apartment, but there is a 40-year-old man who sleeps in the living room.
"Basement storage available"
Available is the key word here. For an extra $100 a month, you can store your bike and Christmas decorations in a corner of a spider-infested, poorly lit basement.
"Across from the hospital"
Hope you sleep with earplugs and like sharing the neighborhood with some pretty interesting -- and possibly unbalanced -- characters.
"Great for students"
They are charging a lot of money for a two bedroom, one and a half bath place -- into which they've crammed 11 bunk beds. Essentially it's an illegal youth hostel.
"Finished studio"
Located in the basement or above the garage of a single family home. On the bright side, you might be able to negotiate the rent down by throwing in free babysitting.
"Contact for photos"
It's a trap. That's all you need to know.
Apartments.com doesn't want you to waste valuable time on the duds. That's why they feature walk-through video demonstrations and the most comprehensive database of millions of apartments throughout the country. No misleading language and no misdirection. Just great listings.
Related