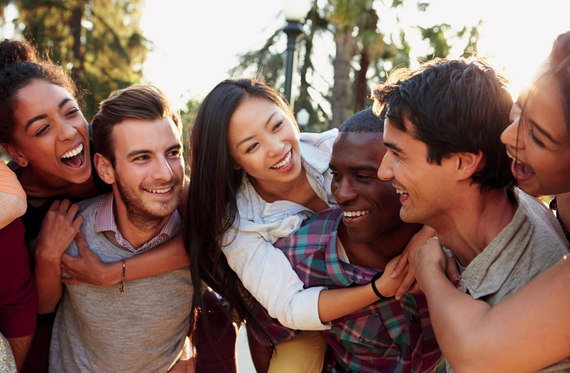 It is undeniable that America is experiencing a new mix of ethnicities and cultures like never before. New generations are more diverse, come from different cultural backgrounds and are gradually reshaping the face of the country, a fact that will have a significant, long-term impact on US society as we know it. To help businesses understand and adapt to the new, emerging multicultural reality, Carlos de León, CEO of dlR USA, recently shared with me his insights on this interesting yet controversial topic.
Ernesto Sosa: The nation's demographics are changing towards a multicultural America. What does this change mean for today's businesses?
Carlos de León: America is going through a significant demographic change that will have many implications in years to come. Today's multicultural mix comes with new set of values, consumption habits, perceptions and expectations from consumers now based not only on their heritage and family backgrounds, but on their experiences in the US as well. In addition to that, we have radical changes taking place in communications and technology, which are helping people being more productive, more independent from traditional media, stay connected and share with families and friends everywhere. These new consumer groups are not isolated in niche markets, but on the contrary, are growing and creating their own path towards becoming active participants in the US.
The acculturation model is no longer valid, nor does it explain how the nation's identity will evolve from now on. Today's minorities are becoming majorities and influencing the market in many ways. A good example is how the mainstream is adopting new trends in food, music and the arts from minority groups. Artists such as Pitbull, Jennifer Lopez, Enrique Iglesias and Aziz Ansari are just some of the success stories from performers that have reached notorious popularity by defining themselves in the new multicultural space. Another example is the rise of Latin, Chinese and Indian food products in regular supermarkets, next to well established national brands fighting for the same share of the market. And how about the growing interest for sports such as soccer, driven by a strong multicultural fan base as they use this "new" space to connect with their heritage, but also to develop their own sport experience in the US? Assuming that consumer habits will stay the same and will follow the status-quo, can be a very expensive - if not catastrophic - mistake. Understanding and monitoring how these new consumers are defining their own spaces and identity will help brands and organizations effectively adapt their strategies to better target and serve these audiences.
ES: With the growth in ethnic markets, organizations are changing the way they approach ethnic marketing looking towards more efficiency and integration. Three concepts dominate the discussion and at the same time generate a lot of confusion: multicultural, total market and cross-cultural. Can you clarify the differences between these models and do you think there is one right approach to be adopted?
CDL: The multicultural approach aims to target clearly defined ethnic groups separately. This approach is valid when there is a special need for very distinctive messaging and/or marketing activities for each group. The model can be very useful for delivering tailored messages, but it requires dedicated resources, agency partners and budgets for each target group.
The cross-cultural approach on the other hand leverages insights considered successful from ethnic markets to reach across ethnic and general markets. This way, companies try to "cross-over" those successful creative or communication elements looking to replicate their appeal. There are clear efficiencies in this approach, but also opportunity costs, if those insights or executions are not properly translated in a relevant manner to different audiences. There is also the risk that what works for one segment may not work for another, if not relevant.
Now a total market approach can be defined as a marketing program created to reach all consumers, across general and ethnic markets. Diversity is reflected in all the marketing by leveraging cultural cues and focusing on universal truths to also gain efficiencies. This said, there is not one single winning approach. The US is a complex market with very diverse consumers. Companies still need to do their due diligence, study their target and determine the best marketing strategy to make the proper connection between their products and services and their target consumer.
ES: A recently announced upcoming study by dlR USA "Multicultural Game: Deciphering Total Market" aims to provide updated, valuable information to help businesses better understand multicultural America. What can you tell us about this new research initiative?
CDL: This new study looks at how the US market is being reshaped for the future. It will provide an in-depth look at how America is changing and the ways each ethnic group is helping define the country's new identity. We are dissecting the major ethnic groups with the final purpose of understanding the market as a whole with an updated and fresh segmentation model that includes clear and actionable recommendations for organizations and brands. Through cultural "deep dive" research and multiple ethnographic and quantitative methodologies we are looking to get a complete view of people's lives. For this particular research we will be spending more than 200 hours with Asian, African American, Hispanic and Caucasian families nationwide, learning about their challenges, lives, and expectations for the future and, most importantly, letting them tell us who they are as individuals in the US.
We firmly believe that companies, brands or even political figures that understand the difference between designing a uniform marketing strategy, and one that includes relevant cultural differences, will be the ones dominating the US market in the future.
ES: The country's new emerging identity certainly comes with new consumer behaviors and expectations towards products and services. What are the top trends dlR USA sees leading this transformation?
CDL: First of all, minority groups are strongly influencing the mainstream at many levels - from the rise of new foods and ingredients in the American diet and eating choices to changes in sports and entertainment. For instance, the increased consumption of avocado and cilantro nationwide is not only due to Hispanic consumers, but also the general population.
Another important trend we are seeing is new multicultural generations looking to reconnect with their roots, while being extremely careful in avoiding negative stereotypes. Re-branding themselves and becoming cultural ambassadors is part of their motivation. As they grow demographically, their influence is already starting to be seen in media, sports, music, literature, politics, among other venues. New generations are looking to be part of America, but are also very proud of their background and love to be able to express it and have the best of both worlds.
The rise of the hyper connected consumer that does plenty of product research online, is another interesting trend with many implications for brands. The purchasing experience is being reinvented as we speak, which represents more opportunities for brands to engage and win over consumers through multiple touch points.
ES: With the rise of the connected, omni-channel consumer and a new purchasing process reinvented by technology, how would you describe this emerging generation of consumers?
CDL: The new generation of connected consumers in multicultural America, not only accepts but embraces with openness the new multicultural reality, using digital tools to pick and choose the "cool" things from other cultures they identify with. Learning from each other and collaborating within their own cultural boundaries is accepted. These consumers additionally expect interaction with brands along the whole purchasing process, which can be a significant change for brands that must now adapt to offer a new multi-channel customer experience.
This is particularly true for the "Z" Generation. Current 13-18 year olds are the true digital natives. Although we consider Millennials digital savvy, it is this next generation the one setting a new set of expectations and demands when it comes to purchasing products and services. We are amazed by how well they understand the power technology gives them, based on recent studies across different industries. Already mastering technology use, they expect fast, fluid transactions and have little patience for complicated messages or marketing clutter. If organizations try to push marketing messages through traditional marketing channels to these new consumers without taking the time to really understand who they are, brands face immediate disconnection.
ES: How does dlR USA see the future of ethnic marketing evolving in the United States?
CDL: What makes the US market so exciting is how diverse it is becoming. Cultural and language differences will be very relevant as different consumer groups gain critical mass in size and demand access to dedicated media content like never before.
Companies need to find new ways to optimize resources when it comes to multicultural targeting. The key is to first understand the market, the business and of course the consumer base, to validate if a particular approach works best for a brand at any given moment. But make no mistake, there is no "one-size fits all" strategy, particularly in the new US, a nation with over 320 million people and probably the greatest cultural diversity in the world.
Calling all HuffPost superfans!
Sign up for membership to become a founding member and help shape HuffPost's next chapter