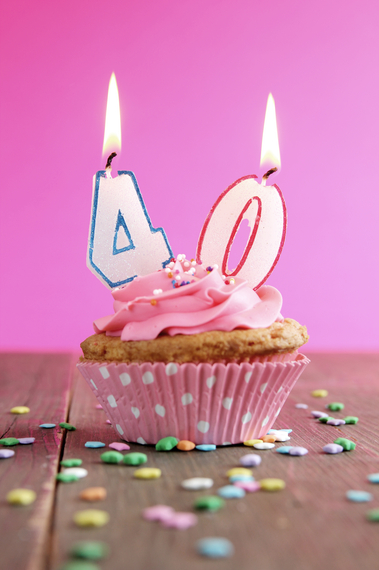 I'm turning 40 in a few months, and, truthfully, I'm really looking forward to this new decade. When talk of my birthday rolls around, I often hear the ubiquitous "40 is the new 30" from friends and family alike. By sharing this well-intentioned phrase with me, I know that my loved ones are trying to reassure me that there is nothing to fear in this new decade, that 40 is still young, that what is possible in my 40s isn't really any different to what is possible in my 30s. Whilst I appreciate the sentiment behind the expression, I believe that turning 40 isn't actually like turning 30, and I'm okay with that.
With each new decade, we gain wisdom, power and a certain vulnerability, too. I wouldn't want 40 to feel like 30; I've lived through my 30s and come out stronger and smarter for it. My thirties, I see now, were about developing myself -- building my career, deepening and growing my friendships and cultivating my skills and successes in personal relationships. I will soon say goodbye to a decade in which I had a fair amount of heartbreak and a quite tumultuous dating history, the same decade in which I met my future husband, whom I married at 39. My 30s was also the time when I established myself as a teacher and writer and committed my time (so much time) to my work in these fields. I learned how to manage my finances, too, and somewhere along the way, I grew up (admittedly, I was a late bloomer). My thirties were big for me, and I suspect my forties will be too, just in different ways.
At 40, a woman is respected for her experience and yet still valued for her relative youth. In my work as an elementary school teacher, I spend my days doing a high energy job and I continue to have the stamina required for this kind of work, the same kind of work I've been doing since I was 21. These days, though, I'm also a teacher leader and mentor to younger teachers, which is something I wasn't ready to do when I was 30. I see all around me that women in their 40s are clear leaders, mentors and bosses, and they're also mothers, aunts, daughters, friends... this is a busy decade, and often busy in different ways than the 20s and 30s.
Life at this stage, to be true, can often feel like a juggling act, but a woman in her 40s has most likely learned to prioritize. She's likely better equipped to cope with all of life's unpredictability than when she was younger, and she has a support system in place to help her manage life's new challenges. She also knows the value of nurturing herself. Though she may be entangled with her career and significant personal relationships, she's learned by this point not to spend her precious downtime with negative, draining people, and instead has the wisdom to choose people who uplift and inspire. In my forties, I intend to prioritize better than I did in my previous decade, to make plenty of time for myself, and, above all to nurture myself as well as others.
I have several friends in their early forties who are hoping to start a family, or to add to their existing family. The media scaremongering around later motherhood has a lot to answer for, because the truth is that women have been having babies in their 40s forever. Before the widespread use of contraception, 40-something motherhood was common, with many women having the last of their three, four and more children well into their 40s. In the 1960s and 70s, with the rise of the Pill, these numbers began dropping, only to rise again more recently. There are, of course, greater obstacles, clear disadvantages and higher risks, but there are also some surprising benefits to having children in your 40s, all of which have been extensively discussed in the media. Motherhood in the 40s is not a new phenomenon. The reality is straightforward -- a healthy woman's reproductive life doesn't end once she reaches her fourth decade.
The 40s is a time when many women embark on grand, brave adventures. In our 30s, many of us felt that time would stretch on and on before us, but by our 40s, we've become more aware of the fragility of life and the importance of the now. I have friends in their forties who switched careers, traveled the world, adopted a child, started their own business -- did the things they'd always dreamed of but didn't have the chutzpah to embark upon. There's something about the 40s that gives a woman some added chutzpah.
So, here I am, about to embark on the journey of my fourth decade. I'm certain that 40 isn't the new 30, and I'm also certain that, to reference another commonly uttered cliché, life doesn't begin at 40 -- it just keeps on expanding and giving. Forty, I'm ready for you; let's do this.
Calling all HuffPost superfans!
Sign up for membership to become a founding member and help shape HuffPost's next chapter