My home was rarely without music—either of my own creation or from the Broadway musical soundtracks that I have loved all of my life. Then, without warning, at 57, I—an energetic music teacher who loved introducing my students to sounds of the world—suddenly lost all hope and joy in my life.
I could not play music. I had no desire to eat. I no longer wanted to go to the job I loved. I had no interest in the things that once brought me joy. Depression left me unable to function.
I was in such a dark place, looking back on that time, I remember not even knowing who I was anymore. Everything just seemed so bleak.
The day before Thanksgiving 2012, my family became so concerned about my behavior and dark thoughts that they arranged for me to have a psychiatric evaluation. I was diagnosed with severe depression and was immediately admitted into an inpatient program.
That was the hardest time in my life. I was in the hospital and just felt like the weight of the world was bearing down on me.
Having grown up in an Irish Catholic family, I was raised not to talk about my problems and to never let on in public that anything was wrong.
Admitting out loud that I was depressed and needed help was its own struggle. But I knew I needed to get better—if not for me, for the people who loved and supported me.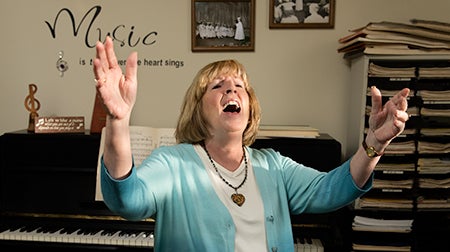 With the determination to battle depression head-on, I embraced my treatment and about a week into the program—thanks to medication and group and individual therapy—I started to feel more like my old self.
No one ever wants to go into the hospital. It's scary on many levels, but I am thankful for each day that I went. By the time I left, I was playing the piano again. I was reading and reconnecting with old friends. I felt like I regained my life.
While I continue to struggle with depression—I still see a therapist regularly—I speak openly about my challenges to all who will listen because I hope that they will learn from my experience.
If I can help even just one person not get to the desperate place I got to, then I'll feel accomplished.
Lisa is a 63-year-old retired music teacher from Pennsylvania. To read more about Deconstructing Stigma and to meet more people like her, visit DeconstructingStigma.org.