It has been more than six months since I've woken up in a psychiatric hospital, my longest separation from inpatient treatment since 2012. Over the years, the overwhelming pressure I placed on myself to be a good student, a good friend, and a good daughter led me to suicidal thoughts.
I'm constantly over-thinking things: Am I weird? Am I okay? Do they like being my friend? I feel like I am one hair trigger away from being rejected, and that's the worst pain.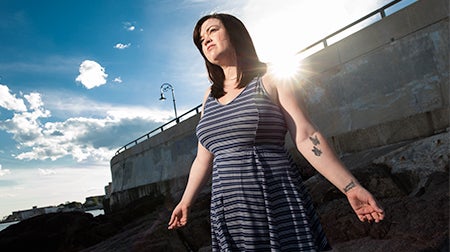 Making matters worse was the sense that not everyone felt my illness—borderline personality disorder—was legitimate. I got that sense among, most surprisingly, those I sought help from: members of law enforcement, EMTs, and hospital staff who acted as if my illness was a nuisance.
I also noticed the topic was an unwelcome one among family members and friends.
We have the ice bucket challenge for ALS and breast cancer awareness and the diabetes walk. You can post about those on social media, but if you say you're mentally ill, people are like, "What's wrong with you?"
Despite my insecurity, I feel remarkably at home and confident on stage. In front of the microphone, I belt out songs from the '60s at local pubs.
Sometimes I'm so focused on hitting notes that I just feel free.
I continue to see a psychiatrist and a therapist regularly. I hope to get my master's degree in healthcare informatics, a specialty that may sound nerdy, but it's fast changing and challenging.
Mental illness can make you feel unstable. I want to find a career that I love. I want some sense of stability.
Clare is a 28-year-old singer from Massachusetts. To read more about Deconstructing Stigma and to meet more people like her, visit DeconstructingStigma.org.