After graduating from a small liberal arts school in Connecticut, I found myself swept up in the hypnotic swirl of New York society. I jumped at the opportunity for an internship at Vogue magazine, and soon found myself in the spotlight. Before long, I became caught up in the social scene, gaining the attention of journalists, bloggers, and gossip columnists. I even starred in a CW television series based on the lives of well-known New York "it­ kids."
The attention… I loved it. But at the same time, I had not dealt with the issues that I'd bottled up for many years, and inevitably they all came to a head.
Those issues started when I was a kid. Growing up in a quiet, picture-perfect New England town, my expressive style made it difficult to fit in. I spent the bulk of my childhood dedicated to ballet—an escape that allowed me to get out of my head, which always seemed to be racing. I would perform in "The Nutcracker" at the end of each year. But, after the bustle of the holiday season, the long, bleak winters would lull me into deep depression, because ballet is all about the illusion of perfection, and outside of that world, perfection is unattainable. In my teens, I sometimes had suicidal thoughts stemming from these unrealistic expectations. Drugs and alcohol took the edge off the depression and anxiety.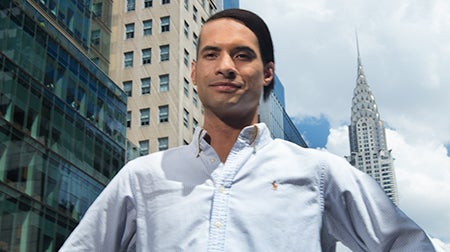 Unfortunately, substance abuse (much like fame) has a shelf life. Sooner or later, they both stop helping you cope, and start helping you unravel. New York and all of that socialite/"it boy" nonsense and the invasiveness of all that fanaticism from strangers, and phonies, and the press—it was like quicksand.
The addiction continued to spiral out of control for years. One summer night, while driving through the Hamptons, police arrested me for a DUI, and I spent the night in jail. On another night, depressed and in despair, I tried to take my own life. Instead of ending it all then, I awoke to an apartment littered with wine bottles and drug residue. Knowing in that moment that I could no longer survive alone and on this path, I took an Amtrak to Boston, where I admitted myself to McLean Hospital.
It helped to be surrounded by others who were working on similar issues. One girl told us in group about how she left an abusive home situation at 15 and turned to prostitution to score her heroin. I've never forgotten that story. That put it all into perspective. I've had a pretty privileged life. I had a wonderful childhood and loving parents. I could never imagine going through what she went through. And yet, here we all are, crippled by the same afflictions.
I'm now living in San Francisco, where I work as a writer and fashion stylist. My medium has evolved from print to digital, working most recently with the e­commerce style team at Ralph Lauren. I also write for Deuxmoi.com, an advertising-free website that is edgy and honest but still focused on fashion. To maintain balance in my life, I check in with a therapist when needed. My work provides a creative outlet that keeps me inspired and grounded.
It is strange, because having a nervous breakdown or even acknowledging mental health problems doesn't fit into an image­-based industry. But I believe now that these are not insurmountable problems. Although you may feel broken on the inside, you can be fixed by reaching out and seeking help. And, if you have the courage to be vocal about it, not only can you get the help you need, but also help others who are suffering.
Paul is a 29-year-old writer and fashion stylist from San Francisco. To read more about Deconstructing Stigma and to meet more people like him, visit DeconstructingStigma.org.