Since I was a teenager, I fought depression's strong grip—crying, struggling to face each new day. Somehow I got through high school and college, but as my friends, one by one, got engaged or married, loneliness and hopelessness consumed my thoughts. By the time I was 30, I admitted myself to one hospital, then a second in New York.
I told only a few people that I was in the hospital, including a close childhood friend. She called me while I was there and said "I only want to talk to you when you're happy. Let's speak then." I never heard from her again.
That rejection at a time when I felt particularly down came as a blow and set me back in my treatment. I eventually decided on making a fresh start in Los Angeles, but after a short time, I realized my illness required a support system, and I moved back to my family in Chicago, making a commitment to myself to get better.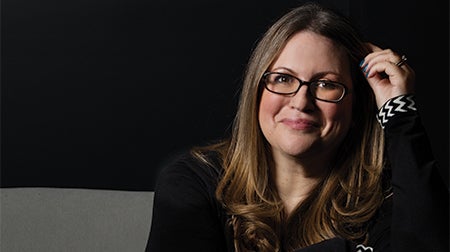 I didn't get it before—you need to have the right therapist and take your medication each day at the same time. Your health has to be your number one priority.
I got a job at a big law firm. I got married to a man who is extremely supportive and accepting of my illness. Yet I had never told any of my colleagues about my hospitalizations. Then I won a charity auction item—lunch with award-winning actress and mental health advocate Glenn Close. I shared my story with Glenn.
Other than relatives, she was the first person I told my story to. I figured, if I can tell her, then maybe I can tell others and have an impact on my community.
Inspired by Glenn, I founded No Shame on U, a non-profit organization dedicated to eliminating stigma and raising mental health awareness. The group does events and has an active online community, with 35,000 Facebook followers.
My hope is for people to see that having a mental health condition is a medical illness, just like a physical condition. If you break your leg, you do not hesitate to seek treatment. The same is true with mental illness. Why do we treat the two so differently?
Miriam is a 45-year-old mental health advocate from Illinois. To read more about Deconstructing Stigma and to meet more people like her, visit DeconstructingStigma.org.
Popular in the Community