The fear of being judged is paralyzing.
When I think about kindergarten, there are no happy memories of snack time, arts and crafts, and recess. I recall a fellow student replying to a teacher's question with "I don't know," and the teacher berating the pupil until she burst into tears.
My compassion for my classmate was eclipsed by the terror welling up within me at the thought of being in her shoes. I never wanted to speak in class again.
Since preschool, I had been selectively mute—unable to speak to anyone other than close family. The school incident solidified my fears. To this day, I battle social anxiety.
I told myself I was a failure. When someone addressed me, I froze; my face fixed in a vacant stare.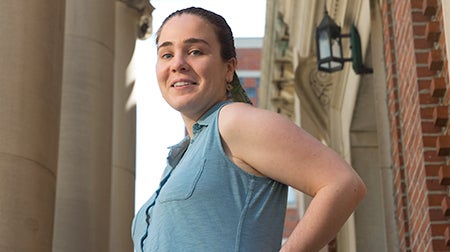 I began seeing a psychologist at age seven. I also met with child psychiatrists who prescribed me medication, none of which offered me relief from extreme anxiety. One therapist introduced me to exposure therapy by taking me on walks around the building and encouraging me to speak to people in the elevator.
I was able to thrive in middle school, receiving a top academic award in the eighth grade. But the pressures of high school set me on a path of hospitalizations, including two therapeutic wilderness programs.
I've actually lost count of the number of treatment programs and psychiatric hospitals I've been in and out of over the past 12 years.
Today, my treatment consists of a cocktail of medications and electroconvulsive therapy (ECT). I am working toward my college degree, and I am interested in research psychology.
Mental illness is just like any other disability. I firmly believe that the more we talk about mental illness, the more we will reduce the stigma that surrounds it.
Maria, 28, is a part-time college student from Massachusetts. To read more about Deconstructing Stigma and to meet more people like her, visit DeconstructingStigma.org.
Related
Popular in the Community