Editor's note: Deconstructing Stigma: A Change in Thought Can Change a Life is a public awareness campaign developed by McLean Hospital to spark conversation not only about behavioral and mental health but also about the stigma that surrounds it. The campaign features compelling stories from people across the United States who have been affected by mental illness, including Alan's story below.
McLean Hospital Guest Blogger
Alan S.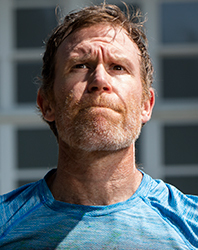 Despite attempts to love and care for my mother, I never felt valued growing up. As a youth, I tried to take my own life. I wound up in a series of foster homes.
It has been a battle since I was 11 just to be here.
Generations of my family have battled mental illness. My grandfather, noted Red Sox centerfielder Jimmy Piersall, became the first sports figure to publicly declare his fight with bipolar disorder. I shared that diagnosis by the time I was 27.
There were manic episodes in my life where I could jump off a building as high as the sky and land on my feet, followed by depressive states where I was sadder than sad.
I would go on to try various medications to control my illness, but without success. In 2010, determined to break the cycle and take control of my life, I bought a gym membership and a pair of running shoes. I dropped 75 pounds. I began using a camera to capture the raw, beautiful emotions of the world as I see them.
You've got to find a way to like yourself. That's a beginning. I've learned an active body builds a calmer mind.
Now I lead a community fitness group and have taken to social media to inspire others with positive thoughts, nutrition and fitness tips, and my zest for life.
The Lord is going to have to take me kicking and screaming now. I want to be a beacon of light and hope for others.
Alan is a 42-year-old fitness guru and photographer from Massachusetts. To read more about Deconstructing Stigma and to meet more people like him, visit DeconstructingStigma.org.