During the winter of 1995, my feeling of isolation was intensified by colder-than-normal temperatures and record-breaking snowfall. I loved the baby boy I had just brought into this world, but instead of my days being filled with joy, I felt anxious and alone.
I was used to being in control. I was a project manager for some substantial businesses. But you can't be in control of an infant.
My dad had battled depression for many years in an age when doctors didn't treat mental health issues as a medical illness. In my case, a combination of social, psychological, and biological factors became the "perfect storm" that served to deepen my depression.
There was one day when I couldn't get out of bed and pulled the sheets over my head. I thought, "I can't take care of this child," and I didn't think it was going to get better.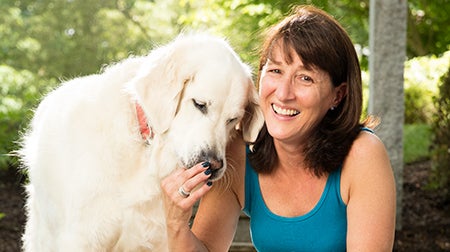 My husband took me to the ER, but I was sent home with only a prescription for anxiety pills. Fortunately, my father's psychiatrist recommended a therapist who specialized in postpartum depression. I started on antidepressants, and my family helped out in any way they could.
Within a couple of months I felt stabilized and human again. I could engage with the world and take care of my son.
When we were planning to have a second child, I spoke with my doctor and changed my medication to one safe for pregnancy. My symptoms never returned and given my family history, I opted to remain on antidepressants.
My oldest son is now studying pre-med, and my youngest is on the honors track and a talented athlete in high school.
Postpartum depression is an illness just like any other illness. Don't be afraid to reach out. You can feel better. You will feel better. And you all will thrive.
Amy is a 56-year-old organizational consultant from Massachusetts. To read more about Deconstructing Stigma and to meet more people like her, visit DeconstructingStigma.org.