Depression can impact anyone, at any time. But for me, the episodes were cyclical … and severe.
I went deeper into depression around when I got my period. I would end up in the hospital because I would be suicidal—taking pills and cutting.
In fact, between the ages of 16 and 19, I was hospitalized seven times. Surprisingly, it wasn't a doctor who first put the puzzle pieces together, but a hospital social worker.
She recognized the pattern and started researching it like crazy. I consider her to be the one who saved my life.
I had a condition that was just being recognized in medical circles—premenstrual dysphoric disorder (PMDD)—a severe form of premenstrual syndrome (PMS). Symptoms such as fatigue, sadness, anxiety, and irritability—along with breast tenderness and changes in sleep and eating—begin between seven and ten days prior to a monthly period and last a few days into menstruation. There are a lot of women out there who have this issue, and they don't even know what it is.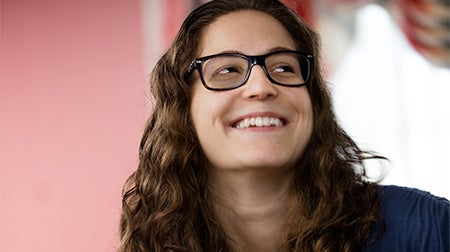 Once I was diagnosed with PMDD, doctors suggested a logical tactic—stopping my periods. I received an injection of Depo-Provera, known as the birth control shot, every three months. The medication contains the hormone progestin, which suppresses ovulation.
That medication really helps. It not only brings down my PMS symptoms, it saves me from making dangerous decisions.
I also see a therapist every other week, a practice I had stopped for a while, but started up again last year when I learned that the social worker who made such an impact on my life had taken her own life. That hurts me to this day. But I am proud that I will graduate in a few months with my own degree in social work—my chance to give another young person what I received in a hospital bed not long ago … hope.
People don't know there are resources out there. I don't want anyone to feel alone.
Meredith, 22, is a social work student from Connecticut. To read more about Deconstructing Stigma and to meet more people like her, visit DeconstructingStigma.org.
Related
Popular in the Community