April in Napa is one of my favorite times of the year. It truly signifies the end of winter, and the days are longer, but we haven't yet moved into those hot summer months. The days are filled with sunshine, crisp breezes, and are a perfect combination for re-discovering the outdoors after a long winter. This month means I get to dust off cobwebs and begin preparing those outdoor spaces for the many beautiful days to come. There are endless ways to transform your yard or patio into an outdoor room that allows you to make the most of your space, and truly feels like an extension of your home.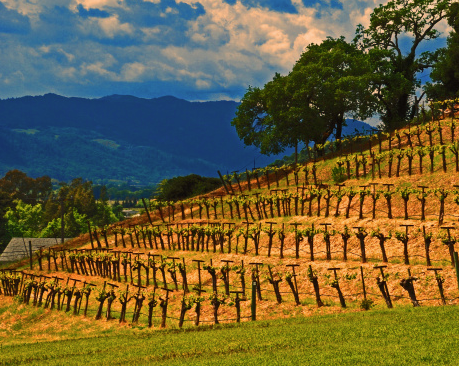 Napa vineyard/Steven Reeves/Flickr Open/Getty Images
I like to start with a single piece that I find particularly inspiring, such as this reversible Kilim indoor/outdoor rug. It is a great building piece and a wonderful way to add a pop of color without creating a "mash up" of random prints.
When designing spaces outdoors, accessories are key. They are a simple way to create a relaxing ambiance and can be changed out each year to create a new look to your space. Your existing outdoor furniture can feel fresh and new just by adding some candles or new cushions for your chairs. I love any sort of glass votive. Filling the larger vases mid way with pebbles or sand and using white pillar candles can be a great look (make sure to use at least three, and of course no fragrance is needed outdoors... ). Or, as pictured below, multiple candle lanterns can look fabulous as well. Not only do they create a beautiful effect, but are also safe to use outdoors.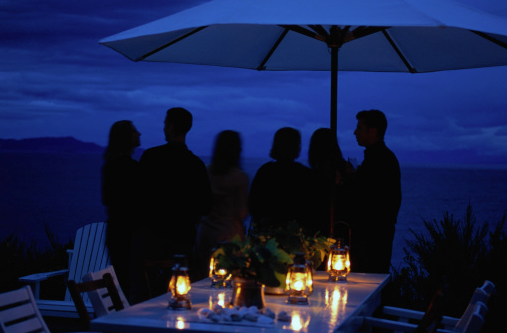 Social gathering at night/Rob Melnychuk/Photodisc/Getty Images
Most importantly, have fun with your process and be creative. A hammock is a great option for alternative seating. Part of what I love about hammocks is the infinite color and pattern choices. Somehow they always seem to turn my guests into kids again!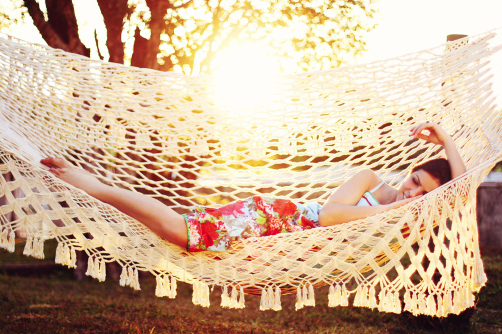 Woman in hammock/Anna Theodora/Getty Images
One of my absolute favorite outdoor accessories are white string lights. They are festive yet sophisticated, and add a lovely ambiance to any patio area. Naturally, they also look amazing strung up in trees. When committing to this idea it's best to stick with something like these Terrazzo Outdoor Lights, which are weather-proof and will last you all year long.
In the spring in Napa Valley, bugs can be an issue around dusk. If your parties will lean toward casual get-togethers with a buffet serving style, I suggest plating and accessories that adequately display the food, but also keep it covered from any unwanted visitors. Domed glass platters are a stylish and convenient serving tool that is great for both indoors and out!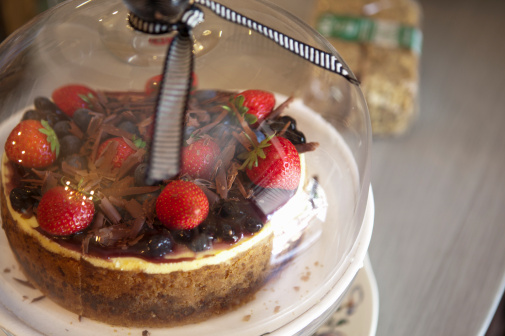 Strawberry cake/Gretamarie/Cultura/Getty Images
Follow these simple tips and watch your outdoor space turn into the relaxing space you had always envisioned.
Cheers to spring... The season of renewal!
Please visit my blogs at www.lisaholtinspired.com and www.NapaStyleFlavor.com
Please visit my website at www.lisaholtdesign.com