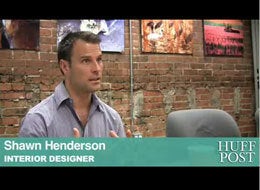 The only experience I've ever had with a political convention was watching it on TV. To me, it was just a predictable sea of red, white and blue.
So when Arianna invited me to decorate the Huffington Post's Oasis, we wanted to create a green space in keeping with the Sustainable Alliance Center's mission. This incredible building was our inspiration. Even the furniture in the lobby here is reclaimed or made from recycled material.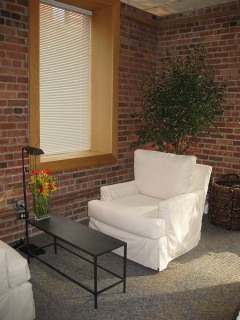 After: Super comfortable chairs by Lee Industries in the massage room.
To design this space, I first considered how it was going to be used: for yoga, massages, snacking, and its overall purpose: allowing guests to unplug and recharge.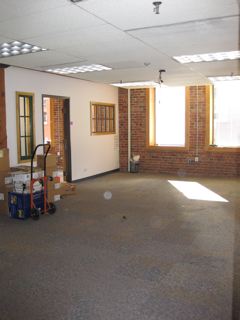 Before: The movement studio before we got started.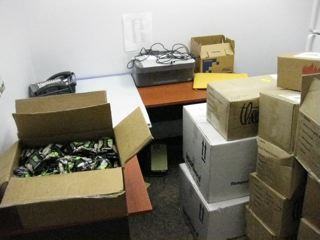 Just a FEW of the many boxes to unpack pre-convention.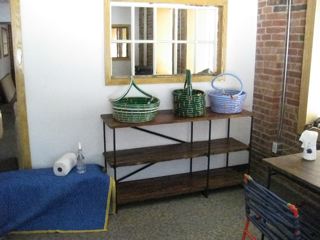 More set-up in progress. Love these baskets by Chase Deforest.
The space shows how sustainable living can be fused with great design. I'm thrilled with the results if I do say so myself. I custom-designed special pieces for the space: a daybed and chair fabricated from an organic linen and wheatboard. (Wheatboard, incidentally, is made of compressed chaff from wheat.)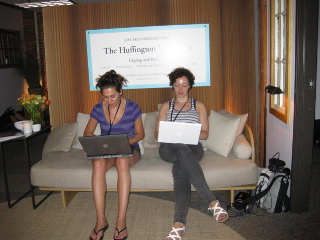 Custom Shawn Henderson daybed made of wheatboard.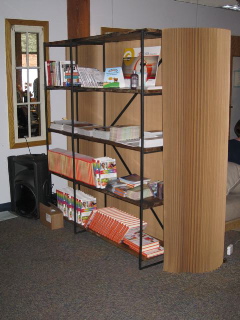 Roost bookshelf with amazing flexible screen by Molo Design.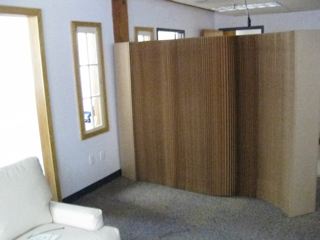 The flexible screen by Molo Design is one of my favorite things.
As the eBay Design Director, I am a true eBay expert, finding all those wonderful items we all wish to discover on eBay. I use many of the finds in my work and on my eBay blog about design ideas.
After the convention, every design item in this space, including a lounge chair and daybed that I custom designed, will be auctioned off on eBay to benefit Off the Mat, Into the World, a not-for-profit organization which promotes activism as an adjunct to healthy living. That's a total of over 40 items. The auction helps continue the conversation about how sustainable living can be fused with great design.
It's very exciting to be involved in the next generation convention. New media has changed the paradigm for participating in every conversation, including this one. But while technology is bubbling all around us, it becomes even more important, I think, to have a space with a design that encourages you to slow everything down and get revived.