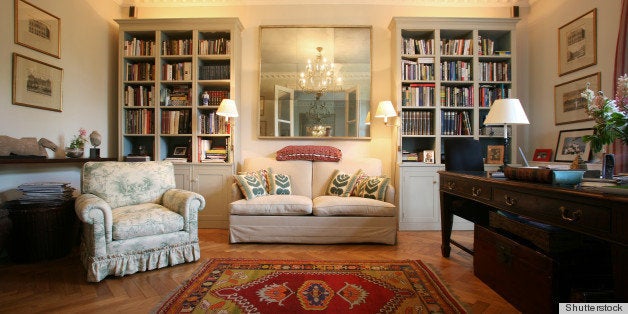 It's an unwritten rule of interior design to introduce books into a room as a way to personalize or warm up a space. People who had the means used to devote entire rooms to housing their books. Take the Morgan Library, for example, with its collection of exquisitely bound volumes lining the walls. Or visit the Frick. Both were private homes before they became the museums they are today. One of the most beautiful rooms in New York City, The Lotos Club's library, is the oldest private literary club in the city which was originally home to a Vanderbilt.
Artists used to illustrate books, which is reason enough to make older editions instant collectibles. Printers created type faces in various styles and designers challenged themselves to create eye-catching dust covers that conveyed the subject of the novel or the importance of the book's topic.
Books were always available in the homes I grew up in. As a child, they were a frequent birthday gift. I would happily read A.A. Milne and memorize his poems when I was very young: "Halfway up the stairs is a stair where I sit, There isn't any other stair quite like it." Growing up, I read Alice in Wonderland, series like the Bobbsey Twins and Nancy Drew, adventure tales by Robert Louis Stevenson and novels by Louisa May Alcott. I savored and saved these volumes for my own children to read. And they did, along with Dr. Seuss and their own current favorites. Bookcases were a decorating staple in children's rooms -- not merely a repository for their school texts.
Architects incorporated bookshelves into living room walls adjacent to fireplaces. Clients who didn't have a significant collection to display were asked by designers to peruse the selections at thrift shops to populate their shelves.
Books are social. They invite company. Imagine the arrangement of a small grouping of volumes held upright between a pair of Baccarat bookends -- a smart accessory that creates a tableau equal to a free-standing piece of sculpture. They "make a statement."
Books are sexy. It's a rare book that stays closed for long on a tabletop or isn't pulled from a shelf. Someone will pick it up, thumb through and spend a few minutes looking it over. They may even ask to borrow it.
In a way, the innovative twenty-first century offers a challenge to bibliophiles. A quick search on Google is the only resource we need when looking for information. (As a result, I had difficulty finding a recipient for my cherished Encyclopedia Brittanica when I moved to a smaller apartment.) In an instant, we can call up the latest best-sellers and classics.
Of course, back-lighted Kindles and Nooks are convenient for travel or reading in bed and on the beach. But, you can't make notes in the margins when you are delighted by a particularly felicitous phrase -- or for that matter disagree with the author's "take" on a character's reaction. And despite the wide variety of colorful protective covers available for these remarkable devices, you only need one -- and your e-reader alone doesn't fill a shelf accustomed to displaying well-bound or well-designed dust covers that reveal the subjects and writers that interest you.
Which raises another issue: In this fast-paced, instant-information era, how much do we really know about one another? We e-mail and tweet only what we choose to reveal, and the latter restricts our communication to a prescribed number of strokes.

There is something about reaching for a book that opens new vistas for each of us. We can travel the world. We can re-visit places we have known and recall our adventures there. And though it's true that we can (and probably will) read on screen, it's the work itself that counts. But, if you instead choose a novel which you have read and re-read at various periods throughout your lifetime, the experience is one of easy familiarity akin to spending a few hours with a dear friend.
And if you are about to make the acquaintance of a writer who is new to you, there's a thrill of anticipation. Who is this person? Will we get along? Will I laugh when the author laughs and cry when she cries? Am I about to be frightened? Enlightened? What will I learn? Does she express herself clearly, poetically or memorably? Am I eager to read his/her next book?
So if you're like me, who reads a newly published book borrowed from the library, you'll probably go to your computer and order a hard copy to place in your own library. It's great to be in the company of good friends.
Do you have a home story idea or tip? Email us at homesubmissions@huffingtonpost.com. (PR pitches sent to this address will be ignored.)