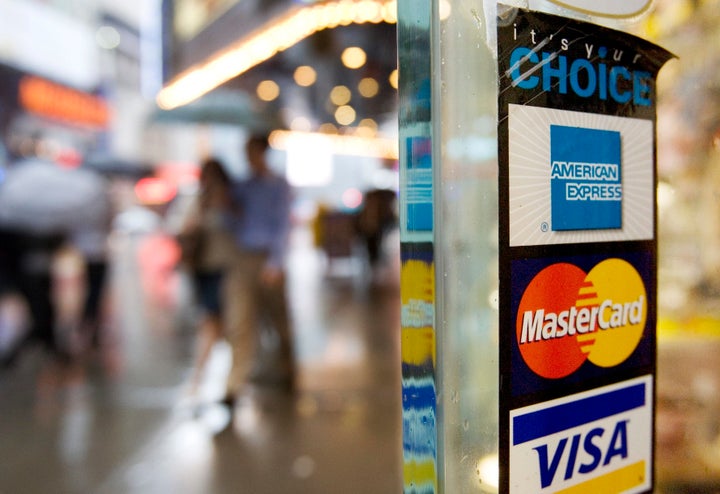 Credit card debt fell last year only because of consumer defaults and bank write-offs, a new study argues.
In 2010, U.S. credit card debt dropped to the lowest level in eight years, according to credit reporting agency TransUnion. But there is more evidence Americans may have taken on more credit card debt than they paid off.
A study by Cardhub.com of Federal Reserve data found that last year, while banks wrote off a total of $75 billion in credit card debt, the level of the debt only declined by around $67 billion. This, according to Cardhub, suggests that the "entire decrease [in overall debt] is the direct result of Americans defaulting on their debt."

"The widely-held belief is that consumers have been paying down debt," said Odysseas Papadimitriou, CEO of CardHub.com. But, he said, as the pressures of the recession eased for some and consumer confidence improved, so did spending. Last year, for the first time since 2008, figures from the Federal Reserve also showed showed Americans accumulating more debt.
Some economists insist, despite the wave of defaults and write-offs, many Americans are more wary of paying with plastic.
"Charge-offs are part of the picture, there's no doubt about that" said Gregory Daco, economist at IHS Global Insight. "But there has been a change in attitudes to credit, and paying it off," he added, quoting a report by the Federal Reserve Bank of New York, which found the way people used credit cards had changed significantly.
"A lot of people are taking on less debt and paying off existing balances," Daco added.
Many Americans spent beyond their means in the lead-up to the financial crisis tapping the rising value of homes, stock portfolios and east credit. As the recession deepened and unemployment grew, millions of Americans found themselves struggling to pay off their balances. In 2009, as the recession was ending, consumers paid off $10 billion in debt.
Related
Popular in the Community