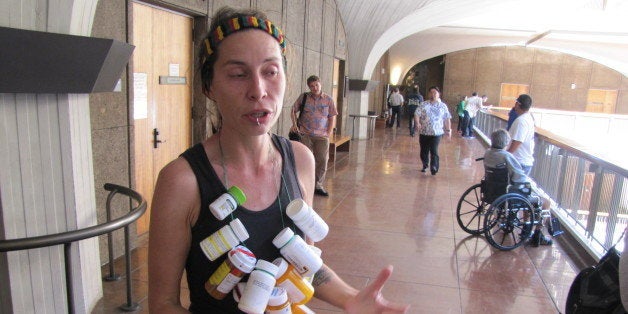 A small hearing room on the fourth floor of the Capitol Building in Honolulu smelled faintly of pot and patchouli Wednesday as supporters of a bill to decriminalize marijuana took turns testifying before the Senate Health Committee.
Under Hawaii Senate Bill 596, getting caught with an ounce or less of pakalolo (the Hawaii word for marijuana) would result in a fine of up to $100, a civil infraction instead of a petty misdemeanor.
"The case for enacting decriminalization legislation in Hawaii has strengthened with each passing year," said Pamela Lichty, president of the Drug Policy Action Group. "Professional organizations are increasingly in agreement that keeping marijuana use criminal does more harm than good."
Lichty pointed in her testimony to how changes to the law in the 19 other states (plus cities and counties) that have decriminalized marijuana have not affected use among either youths or adults and how polls in Hawaii support it.
But law enforcement, Catholic groups and anti-drug advocates told the committee that marijuana is a dangerous, habit-forming drug that should not be legitimized in any way.
"It seems somewhat odd that the state and county governments in Hawaii are continuously restricting the availability and use of tobacco products and at the same time would consider decriminalizing a proven mind-altering substance with its attendant ill effects on both the users and non-users of the substance," Hawaii Police Chief Harry Kubojiri said.
The committee, chaired by Hawaii Sen. Josh Green, passed the bill after making some amendments.
REAL LIFE. REAL NEWS. REAL VOICES.
Help us tell more of the stories that matter from voices that too often remain unheard.
BEFORE YOU GO
PHOTO GALLERY
Top 50 Most Influential Marijuana Users