My son Jason cried when he first read it, and I cried too.
He was 18 years old, and we were a mess, both crying and laughing as we sat in my office. We'd just talked about the difference between being out and being capital-O-out. Ellen was Out. Elton John was Out. It was one thing to be out to your friends and family, but another thing entirely to be publicly Out to the world.
And I'd just written the dedication to my soon-to-be-published book Hot Target, in which I introduced and capital-O-outed Jason to my hundreds of thousands of readers around the world.
At that time, I'd been working in support of LGBT rights with a wonderful group called MassEquality, and I'd learned that progress comes when we make the issue of LGBT rights personal. Hearts and minds are changed when we introduce ourselves and our LGBT family members to others, when we let them get to know us.
"Hello, how are you? Meet my family! Meet my sweet, kind, brilliant, and beloved son Jason, who happens to be gay. I love him exactly the same way you love your kids. See? Our families are so much more alike than we are different!"
Most of us introduce ourselves to neighbors, co-workers, and other members of our communities. But because of my platform as a bestselling romance novelist, Jason and I had the opportunity to reach out and introduce ourselves to hundreds of thousands of strangers.
But I didn't want to out Jason like that without his careful consideration.
I had him read the dedication again, a few months later, right before I submitted the book to Random House, and he gave me the same thumbs-up he'd given the first time he'd read it.
"I love this," he told me with the quiet courage that so many in the LGBT community share. "Let's do it. Even if only one gay kid has an easier time coming out because of this, it'll be a huge win."
Out of the 55 books I've written, I consider the dedication of Hot Target (a New York Times bestseller and winner of the Border's Group Award for Bestselling Hardcover Romance of 2005) to be my most important work. And while the novel itself was said to be groundbreaking as a mainstream romance (it included a romantic subplot between two gay characters), it's that simple dedication to Jason that continues to generate reader emails, even eight years later.
My favorite was from the reader who wrote to tell me about a co-worker who suspected that his son was gay. He loved his kid unconditionally and wanted to tell him this but didn't know how to start the conversation. My reader gave him her copy of Hot Target and said, "Leave this book on your kitchen counter, open to the dedication." He did, and his son read it and joyfully came out to him the next day.
When I get emails like that, I still forward them to Jace, with a brief message: "Win!" And I picture my son's brilliant smile, as even all these years later he too continues to shine.
Here's the dedication, reprinted (with the author's permission!) from 2005's Hot Target:
To my fabulous son, Jason:

Even as a tiny child, your smile could outshine the sun, and your cheerful disposition and kind nature made you countless friends. Everyone who met you loved you!

At three, walking became too mundane for you. Instead, wherever you went, you danced. And occasionally you swished! One of the first times you did that, your dad looked at me. "Where did he learn that?"

I shrugged. We didn't let you watch TV. "Got me. It's just... Jason being Jason," I said and went off to play with you and your vast collection of cars and action figures.

At eight, you discovered musical theater. You wanted to sing and dance on stage, so you auditioned for a semi-pro production. You were just a little too young, but you charmed the director and became the tiniest pick-pocket in an eight-week run of Oliver!

Your dad loved Stevie Wonder and I, a former rock and roller, was in my country music phase. "What's with all the show tunes?" your grandmother asked me when you played the soundtrack to Secret Garden over and over again. I smiled. "It's just Jason being Jason."

At nine, you had a class project -- write a letter to someone you admire. "Why Bette Midler?" I asked when you told me your choice.

"She's my favorite actor in the world," you proclaimed after watching Ruthless People thirty times in a row. She wrote back, and you framed her signed picture, putting it in a place of honor on your dresser.

"Wow, that's interesting," I said to your dad, after we once again agreed that Jason was truly unique. "I wonder if he likes Cher, too?"

(You did! Along with Bernadette Peters and Debbie Reynolds and...)

At ten, you went to see a show that featured an actor friend you'd made while appearing as Winthrop Paroo in The Music Man.

On the ride home, you asked me, "Did you know Charley Dude is gay?"

"Yeah," I said. "Wasn't his performance excellent tonight?"

You agreed, but were unusually quiet for the rest of the drive.

A few days later, we had friends over to watch a movie, and as they sat together on the couch, they started their usual banter. "Raising the homo-shield!" someone announced, invoking the invisible force field that would supposedly allow him to sit so close to others without anyone making gay comments.

It was all supposed to be funny, but how, I wondered, would those jokes sound to someone who was gay?

That night, after everyone went home and you were in bed, your dad and I discussed it, and we agreed. We gathered all of our friends together and announced that from this moment on, there would be no more gay jokes in our house. No more inadvertent gay bashing.

Because if you were gay -- and I was pretty sure even then that this was, indeed, the way God made you -- you were not going to grow up thinking there was anything wrong with you.

Years later, when you were fifteen, you still wanted me to tuck you in at night. So I'd stand by your bunk bed and we'd talk a bit about the day. I'd also gather up your dirty clothes. You were supposed to put them in a laundry basket, but sometimes your aim was off.

One night, you took a deep breath and said to me, "Mom, I think I'm gay."

"I know that," I told you, giving you a hug and a kiss. "I love you. I'll always love you. Where did you put your dirty socks?"

A day or two later we sat down and talked about safe sex and personal safety. I have to confess that it made my heart ache to have to tell you that there were people out there, people who didn't even know you but who hated you anyway -- people who might try to hurt you because you were gay. Because you were simply being you. And it was your turn to give me a hug and say, "I know that. But, Mom, the world is changing."

Today, as I write this, you are eighteen. You are a grown man, and I am so proud of you.

Yes, the world is changing, but it's not happening quickly enough for me. I was outraged when we went to the Gay Pride parade last June and you saw that hateful, ignorant sign that read, "God hates you."

I wish the person carrying that sign had seen you at three, at eight, at nine, at ten. If he had, then he would know that you are a true child of God. If he had, then he would know that by being gay, you are just being Jason.

God loves you, I love you, Dad loves you. Unconditionally. You know that.

And I know that you love and accept yourself. You are confident and strong. Just like when you were three years old, you allow Jason to be Jason.

Shine on, my son!

This story is for you.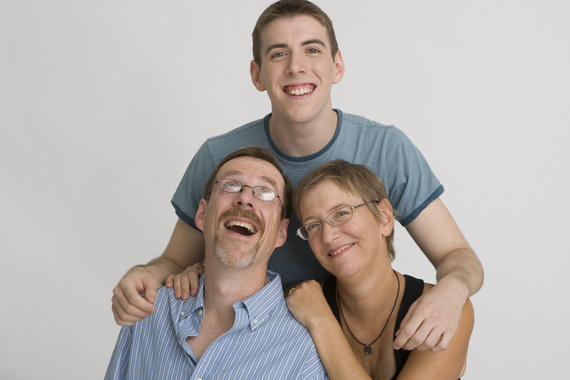 My husband Ed Gaffney and I with our son Jason T. Gaffney (photo by Shirin Tinati)
Related
Popular in the Community