Activist Alice Paul is Recognized as President Obama Designates National Monument Honoring Women's Equality
Alice Paul, women's rights activist and founder of the National Woman's Party, had a motto: "Deeds not words." On the path to achieving equality in society, it is, more than anything, our actions that demonstrate our commitment and bring about lasting change.
The House, on Washington's Capitol Hill, is the headquarters of the National Woman's Party, whose courageous activism was key to the passage of the 19th amendment and to the 20th century women's rights movement.
It's a National Historic Landmark, on the National Register of Historic Places, and a designee of the Save America's Treasures program.
Now, thanks to the strong support of hundreds of community members and officials -- including Senator Barbara Mikulski, Interior Secretary Sally Jewell, and National Park Service Director Jon Jarvis -- this American treasure has been saved.
Renamed the Belmont-Paul Women's Equality National Monument, it is one of the premier women's history sites in the country, with a vast collection of archives and artifacts. More than a museum, it's been a center of political life in Washington for over 200 years, and it continues today the unfinished work of achieving full participation for women through its workshops, conferences, and special programs.
President Obama, in dedicating the new monument, said, "I want young girls and boys to come here, 10, 20, 100 years from now, to know that women fought for equality, it was not just given to them." I was honored to represent OWL as a witness to this presidential recognition.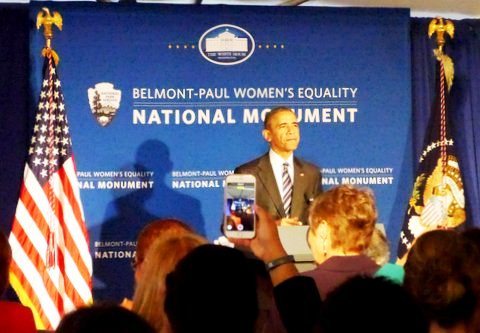 The Belmont-Paul is only the second national monument -- and only the ninth national park site among over 400 -- that commemorates women's history.
Obama chose to dedicate the monument on April 12, Equal Pay Day -- an annual reminder of how far into the year women must work to earn what men earned in the previous calendar year.
As we celebrate today's monument designation, we remain hopeful for more "deeds" that recognize the contribution of women and move them towards full equality and participation in society.
Alice Paul said, "I never doubted that equal rights was the right direction. Most reforms, most problems are complicated. But to me there is nothing complicated about ordinary equality."
Calling all HuffPost superfans!
Sign up for membership to become a founding member and help shape HuffPost's next chapter