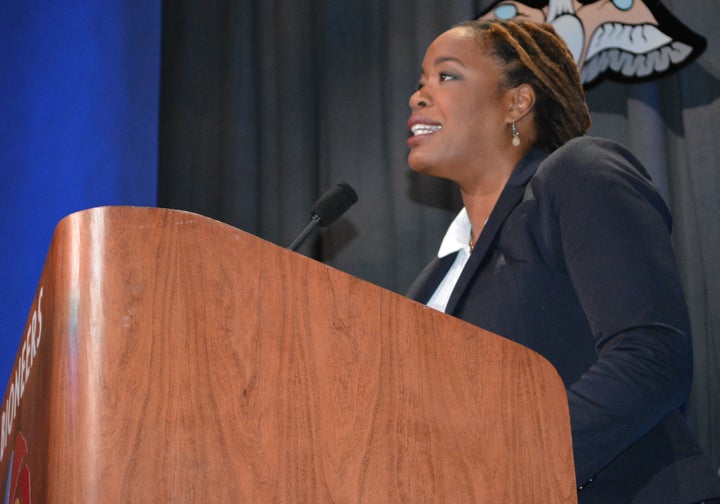 October 21, 2017, Marin Country, CA.—Why has society not been able to solve the climate crisis?
How can the crisis be an opportunity to reduce economic inequality along with greenhouse gases?
What can be done to revitalize our democracy so that grave issues like climate change can be addressed in the public interest?
Policy analyst, activist, and social critic Heather McGhee tackled those questions at the recent 28th annual Bioneers Conference in Marin County (October 19th – 22nd), which drew upwards of 3,000 participants.
The Importance of Healthy Democracy
McGhee attributed the nation's failure to solve climate change to those who have been in power for the past 40 years and used a culture of racism to foster national divisions along racial, religious, economic, and gender lines.
That fact that a full-blown climate crisis has been allowed to develop, she said, "in full view for over a generation, is as clear a sign as any that we do not have a functioning democracy where the public interest can prevail."
"Only in a broken democracy," McGhee declared, "can big fossil fuel companies be allowed to put their next quarter's profits ahead of the next generation's existence."
"Capitalism is writing the rules for democracy," she stated, "and not the other way around." According to McGhee, "Climate change is the result of social, economic, and political inequality."
She did not address climate change as a consequence of global industrialization, urbanization, and the burgeoning energy demands—and rising material expectations—of a rapidly expanding global population.
Dēmos, which means "the people," aims to create a society where everyone has "an equal say and an equal chance," according to the group's 2000-2016 Impact Report.
With a staff of 50 and an annual $8 million budget, Dēmos works to protect the freedom to vote and to quell the influence of money in politics. Other action areas include increasing upward mobility and combating racism and racial inequality.
Hefty Climate Change Costs
The group along with another nonprofit, NextGen America, recently issued a report on the enormous expected lifetime costs to young people today and to future generations, arising from the damaging effects of worsening climate change.
A baby born in 2015 who later goes on to graduate from college and earn a median income will lose approximately $467,000 in income over its lifetime due to the effects of climate change. If one assumes that the lost income had been invested at 3.5 percent, the lost wealth would total approximately $764,000.
The Dēmos/NextGen America climate report also points to a recent ICF International study which indicated that transitioning to a clean energy economy by 2050 would create up to two million new jobs, boost our economy by $290 billion, and increase household disposable income by $650, saving families $41 billion on energy bills.
McGhee began her Bioneers speech with a moment of silence for the loss of life, homes, and habitats caused by the recent climate-related hurricane disasters that have ravaged the Gulf Coast, Puerto Rico, and large areas of South Asia and the devastating fires that have ravaged parts of Northern California. Only days earlier, the conference site itself been a shelter for evacuees from the fires in California's Sonoma County and elsewhere.
Noting that climate change disproportionately impacts communities of color and poor communities, McGhee said that, "we see an opportunity out of the crisis of climate change, to use the economic transformation we know is necessary, not just to reduce emissions, but to reduce inequality; not just to increase energy efficiency, but to increase wealth in families and communities of color. . . ."
Up-Ending the Power Structure
McGhee's group has begun working toward these twin goals by joining forces with a broad coalition of 120 like-minded groups in New York Renews, a climate-equity campaign that aims to zero out human-caused carbon pollution by 2050 and slash it in half by 2030.
It is most important, said McGhee, to direct "40 percent of the revenue from carbon pricing and other measures to the lowest-wealth and most-polluted communities in the state."
The New York Renews campaign, she asserted, is "upending the normal power structure in the state by bringing together a broad-based coalition of civil and human rights, environmental justice, small business, labor, and democracy reform organizations."
The approach is not unique to New York, McGhee said. Similar broad-based coalitions for "equitable carbon pricing" are developing in states like Massachusetts, Washington, Oregon, and California.
While this was clearly a source of hope for many in the audience, McGhee also blamed the nation's legacy of slavery and racism for preventing the nation from recognizing itself as one people with common interests. That, in turn, she said, has stood in the way of collective action "to save our collective home, health, and well-being."
Support HuffPost
The Stakes Have Never Been Higher
Related
Popular in the Community