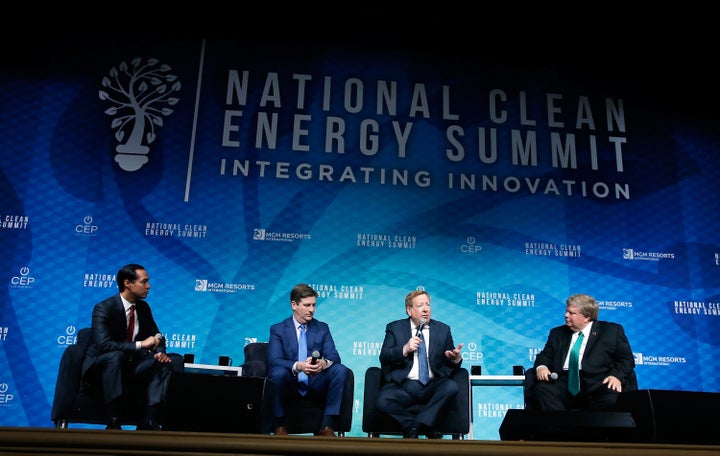 Why would a Republican city council in a bright red, oil-friendly state decide to spurn fossil fuel power and buy 100 percent clean power?
Mayor Dale Ross, 58, of Georgetown, Texas, has the answer. Georgetown is a fast-growing, mostly Republican city of 65,000 about 30 miles north of Austin. For Georgetown, the choice was all about economics.
Like most of his constituents, Mayor Ross voted for President Donald Trump and even attended his inauguration. Ross described the city's decision to get all its power from the wind and the sun at the recent National Clean Energy Summit in Las Vegas, attended by prominent Democratic and Republican officials.
Georgetown's choice to buy 100 percent renewable electricity virtually in Big Oil's backyard was not taken to protect the environment. Climate change was not part of the deliberations, either. When the city reviewed its power options in 2015, Ross and fellow officials simply focused on the business case for renewables.
Reducing Risk
Future economic risks associated with continuing to rely on fossil fuels like natural gas were an important concern. In the end, the city's desire for low-cost, stable energy prices trumped politics. Georgetown closed out its contract for power from natural gas plants and instead signed a long-term power contract with Buckthorn LLC, originally owned by SunEdison, a large solar energy company. (In November 2016, NRG Energy bought Buckthorn from SunEdison.) The Buckthorn contract provides price certainty through 2034.
The city in 2014 had already signed a 20-year power contract with EDF for wind power from a wind farm near Amarillo, Texas. Buckthorn will soon be providing Georgetown with another 150 MW of power from solar power plants. Those plants are scheduled for July 1, 2018 completion in West Texas, which has plentiful wind and solar resources.
Last year the city got 100 percent of its power from wind. This year it's getting 90 percent while awaiting completion of the Buckthorn plants. Thereafter the city will be using both wind and solar power. The city's ratepayers, however, are already enjoying lower prices.
Remaining Connected
Meanwhile, the city remains connected to the state's power grid which in effect serves as a giant battery. The grid accepts excess renewable power when the city produces more than it needs and provides backup when the city's wind resources under-produce. On an annual basis, however, the city expects to be producing almost twice the amount of renewable power that will need in the next couple of years.
Georgetown has discovered that the availability of fixed-rate, clean, renewable power is beginning to attract major corporations and has brought millions of dollars in new investment to the city. In addition to the economic boost, the move to renewable energy has turned the city into something of a poster child for clean energy, and its mayor into a minor media celebrity.
Mayor Ross not only speaks at conferences around the country now but is appearing in several recent high-profile environmental documentaries, including Al Gore's latest climate change documentary, An Inconvenient Sequel: Truth to Power (2017). This is an edited version of a conversation with Mayor Ross at the National Clean Energy Summit in Las Vegas this October.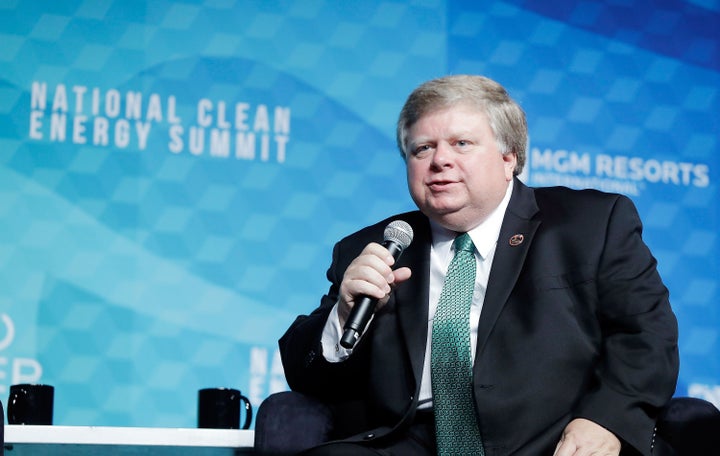 John Berger: What prompted your re-evaluation of the city's power contract?
Dale Ross: Back in 2014, we saw an opportunity to get out of our existing contract that was not too good for the long-term. We paid a lot of money to get out of it, but we have already made all that money back in the first two years.
JB: So the question shouldn't be what did it cost, but what did it save?
DR: It saved quite a bit of money. And if you win the economic argument, then you're going to win the environmental argument by default. But there's more to this than just cost savings. It's a huge economic development tool for us. If you're a quality company—say a data center or Facebook or another high electricity consumer—that might want to locate or start new operations, we have the availability and the affordability. Plus, we can use the availability of renewables as an economic development tool as well. Those are all extra benefits.
The citizens have now really gone on board with this because we are not just doing local stuff. I am representing the city on an international stage now, like no other mayor from a city of 65,000 has done. I'm in three movies this year, the Al Gore movie, I was in the National Geographic and Michael Bloomberg movie in June called "From the Ashes." It was a story about transitioning from coal to renewables. And just last week, I was in San Francisco with Jamie Redford, Robert Redford's son. His documentary that I am in will be released on HBO the first week in December. It's called "Happening: A Clean Energy Revolution."
JB: What obstacles did you encounter in making Georgetown 100 percent dependent on wind and solar power, and how did you overcome them?
DR: Well, you know, we are a city-owned utility. We negotiated with the natural gas providers and the wind and solar providers. This, to us, was a math problem, and we solved that math problem of how do we get a 20 to 25-year strategy that creates cost certainty, and at the same time mitigates regulatory and governmental risk. The natural gas providers would only guarantee us a seven-year contract. The new contracts we currently have guarantee us the same rates in year one as they do in year 25. It was really easy to sell the people that we were elected to serve on the deal, because it was an economic issue.
JB: Could you give me some details about the economic and employment impacts of these renewable energy decisions that you have made?
DR: For example, in 2008 the rate our taxpayers were paying was about 11.4 cents per kilowatt hour, and today its about 9.5. That was nine years ago. So, you can see the cost per kilowatt hour has been falling for the rate payers. And what's not to love about that? Everybody loves saving money.
JB: Has your political career benefited? And has it been an uphill struggle, or have you had the wind at your back?
DR: No, I have had the wind at my back. It wasn't an uphill struggle at all because this was a fact-based decision, and our voters in Georgetown are very intelligent, and they understand that. This is just one component in a political campaign. We have multiple other factors that make us truly the greatest city on planet Earth. Whether it's great schools, a safe city, great parks and recreation, single stream renewable recycling, electric car charging spots, going to composting so very little will be put into the dump. So, those are all things that are important to people in Georgetown. So, this isn't a single issue, but this is something that really got a lot of national and international coverage because of its political dimension.
I'm this very conservative Republican that has been very outspoken about renewable energy and saving the planet and having good environmental policies, and I don't agree with the President. For some reason, the reporters think I am supposed to agree with the Republican President, I don't. I think getting out of the Paris Climate Accord was a mistake. I don't think we want to stay allies with Syria and one other South American country, I don't think that is a leadership role in the world. The other thing is, the President keeps on saying the coal industry is coming back. The coal industry is not coming back, okay? It's dead. There's 30,000 workers in the coal industry. That's as many as you are ever going to do. The dynamics, the cost efficiencies in wind and solar— how are fossil fuels going to compete with wind and solar and hydro?
JB: Along those lines, are you in favor of a cap-and-trade program or a carbon tax or a carbon fee rebate?
DR: Well, I think right now we need to incentivize people to go to wind and solar. And the incentives will take care of the rest. There are less and less pollutants going out into the air, but it's not anywhere near where we need it to be. If you truly believe in a free-market system, shouldn't everybody pay their fair share? For example, if you are producing fossil fuels, and you're polluting the environment, there is a cost. And the question is, is the energy producer paying that cost, or is that cost being shifted to citizens? I think it is being shifted to citizens. I don't think that is fair. I think people need to clean up. It is just like if you are driving the road and you're throwing trash out of your car. Okay, you may not have to pay a dump fee, but somebody is going to have to pay for that to get picked up. And I think there is an apt analogy with that. But I am more against being punitive, initially. I would be more in favor of incentives.
JB: Although you would be more in favor, would you be actually neutral, or would you be opposed to some type of federal carbon fee?
DR: I think there should be some kind of carbon fee, but what you need to do is you can't do it just right now. You have to give everyone proper notice, and there has to be a pathway. And not an extraordinarily long pathway either. But enough time for people to alter their operations to make the necessary changes.
JB: I think that you mentioned earlier today that Georgetown is one of the five fastest growing cities. Is that in the state of Texas, or is that in the U.S.?
DR: The United States. For cities of our size, 50,000 to 100,000 population, three years ago we were the second fastest growing, last year we were the fastest growing city in the country, and this year we are the fifth fastest growing.
JB: You have made tremendous strides in becoming the first totally 100 percent renewably powered city in Texas, and one of the very first in the U.S.
DR: We were the largest in the U.S. until 2016. Burlington Vermont was the first. We were the largest in the U.S. until 2016, when Las Vegas beat us out.
JB: Do you have some aspirations to extend this type of achievement to more challenging areas of the economy that depend on liquid fuels for motive powering and for industry and for other aspects of the economy. Electric power is a relatively easy fix because we now have relatively inexpensive wind and solar and geothermal, and to some extent, biofuels. What are your thoughts on how we deal with the other sectors of the economy?
DR: Well, that is beyond my pay grade. My pay grade ends on the borders of Georgetown's wind and solar.
JB: I see. But biofuels could conceivably factor in to the local economy.
DR: Right, they could. But I'll tell you what, I am a big supporter of electric cars. Chevy just announced that they're going to have 20 new electric vehicles by 2023. I think you are familiar with these mileage regulations and emissions. Well, those due dates are coming near. And Musk with Tesla is encouraging these other, bigger manufacturers. Because, you know, sometimes first to market wins, right? I'm going to get me an electric scooter here this month out of California. BMW is offering them. There's only going to be about 50 of them in the U.S. but I've got my name on the list. I am going to be scooting around Georgetown with an electric motor scooter.
[Suddenly at this point, a spotlight lit up the interview].
DR: We're being filmed right now. This is my German news crew. They're very similar to 60 Mintues and they're going to be following me around today. That's why we have this light shining on me right now.
_________________________________
Calling all HuffPost superfans!
Sign up for membership to become a founding member and help shape HuffPost's next chapter