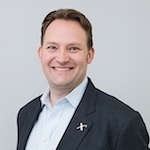 By Paul Bunje
Paul Bunje is the Senior Director of the Wendy Schmidt Ocean Health XPRIZE
Captain's Blog: May 17, 2015
Sailing south from Station ALOHA
Three thousand meters beneath the sea! 3,000m! That's almost two miles deep (1.87 miles to be exact). The finalist teams in the Wendy Schmidt Ocean Health XPRIZE have gone down to an incredible depth not once, but twice now, and recorded pH measurements from that full water column.
Why am I so impressed? It's not just dealing with 300 atmospheres worth of pressure, and not just the difficulty of measuring pH in seawater. I am impressed because we have now more than tripled the number of pH sensors that scientists and others can use to understand -- and ultimately respond to -- ocean acidification.
It takes a lot to tackle a Grand Challenge. First and foremost, it takes understanding the full complexity of the challenge. And without the data to do that, we cannot even begin to understand. The competitors in this XPRIZE have now given the world that ability. We now await the validation data to see how accurate the measurements are, and ultimately the scores of the judges to determine our winners. But we stand today in a position to understand our seas that we haven't been in before.
Tackling this Grand Challenge took brilliant innovators: the teams in the Wendy Schmidt Ocean Health XPRIZE. The finalists braved six days of repeated casts of their sensors into the deep blue of the North Pacific. Five made it to 2,000 meters, only four to 3,000 meters. But these are just the finalists; the innovators we've had throughout the competition have all demonstrated breakthroughs that will benefit scientists, managers, teachers, the public, and industries that rely directly on the health of our ocean.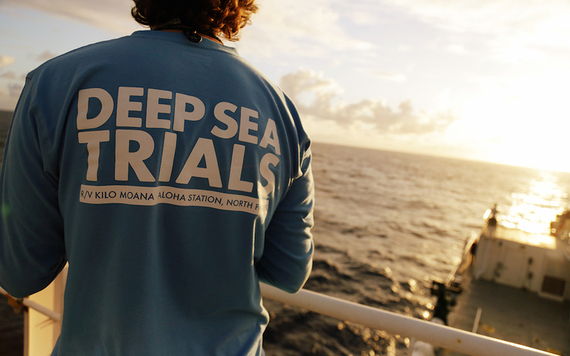 And I really don't want to miss this opportunity to point out how huge a lift creating this opportunity for innovators was in the end. What the incredible staff at XPRIZE does to design, execute, describe, share and validate these competitions is nothing short of amazing. It takes everything from our phenomenal researchers to our legal team, the support of finance and HR departments, to the creative geniuses that tell the stories of these teams, and the folks on the ground (or on the water in this case) who operate the competition. I am proud of the entire staff of XPRIZE, because it took everyone's efforts to get us to where we are today -- changing the world once again.
We are also grateful for the incredible support of some of the world's most brilliant scientists on our validation team and judging panel to ensure that we have a competition of the highest scientific caliber. And of course, there is the amazing support we get from the facilities that we use to conduct our competitions. In the case of these deep-sea trials, we could not have done it without the marine technicians (Trevor and Scott are incredible) and the entire crew of the R/V Kilo Moana.
As the sensors were pulled up today for one final time from their deep descent to 3,000 metes, I couldn't help but reflect on the incredible army of support that has gone into executing the Wendy Schmidt Ocean Health XPRIZE. A massive amount of gratitude goes to our sponsor, Wendy Schmidt, who saw this need before most others did, and has supported us the whole way. And thanks also to the dozens of people that have contributed to the whole of this competition.
Though I can't wait to see who wins, I am even more excited to see where all of our teams take us next: they are heroes who are off changing the world as we sail back to port and conclude the final phase of the Wendy Schmidt Ocean Health XPRIZE.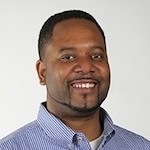 By Melvin Crow
Melvin Crow is a Team Administrator in the Human Resources department at XPRIZE
Captain's Blog: May 17, 2015, 14:28 Hawaii-Aleutian Time Zone
Longitude: 158º 00.000' W
I have had the pleasure of experiencing the Wendy Schmidt Ocean Health XPRIZE. My journey started with the coastal trials at the Seattle Aquarium, where I saw and met various teams from around the world that brought in these funky, but interesting instruments of oceanography for testing pH levels. Not exactly knowing what that meant, I started to probe -- because this is not a subject that I am at all familiar with. Even serving time in the U.S. Navy could not prepare me for the answers I was given.
In non-scientific terms, ocean acidification kind of goes like this: The ocean is like a giant pool, where in a sense, we have pool men come and clean the pool and check the pH balance so it's safe enough for us to swim. Well, the difference is that we are not the only ones using this giant pool; there are others we share this pool with, lots of ocean critters that are part of the food chain we use to nourish our bodies. Because of the lack of caring, we have affected the acidity of this giant pool, and now need these instruments to check the balance of the ocean's pH levels.
Validation team experts record information on water samples for the competition.
In the coastal trials, teams tested their pH sensors in a real world situation -- or close to it. The Seattle Aquarium created a unique tank that sat outside on their pier and pumped actual seawater through it for a month while the instruments gathered data.
Some came close, but only five teams were chosen to the take the final plunge in the deep-sea trials at Hawaii's ALOHA Station off the coast of Oahu, where we continue to test the faint of heart starting at 10 meters, and ending at a whopping 3,000 meters in depth (which is almost 2 miles down into deep blue's hallowed halls with chest crushing pressure).
Each drop was more intense than the next as we watched the competing teams bring up the instruments and rush them back to the team lab to see if they burst under the pressure. You'd see sweat on their brows and intense eyes gauging the instruments for a few minute, when suddenly, you'd see smiles brighten and hears sighs of relief. So far, that's the deal. The data is collected and whisked off to the validation team to verify the information. We will not know who has won this elusive $2 million purse for a few more months, but I have definitely had the experience of a lifetime.
Members of Team HpHS hard at work onboard the the R/V Kilo Moana.
When I used to deploy with the Navy, I really did not give two thoughts about the ocean and what lies beneath. I was young and just off to the next port. But with age, you gain wisdom, knowledge and understanding. That's not to say there are not people who have a vast understanding of this giant pool from an early age. As for me, I have gained the wisdom to pass down the importance of taking care of our deep blue friend to my kids and grandkids, the knowledge that 70 percent of our oxygen comes from these great waters, and the understanding of life not just on land, but in this big blue beautiful ocean.
I am Melvin Crow, and I have just been oceanized!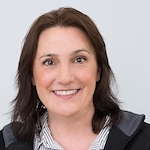 By Elke Stoll
Elke Stoll is an Associate in the Accounting department at XPRIZE
Captain's Blog: May 17, 2015, 14:28 Hawaii-Aleutian Time Zone
Longitude: 158º 00.007' W
This may not be the most technical blog entry written about the deep-sea trials phase of the Wendy Schmidt Ocean Health XPRIZE, but there are more than just pH sensors to talk about!
Having never been on a ship before, this is already an adventure for me: amazing sunsets, rainbows, and a view to die for every day. However, we start early in the morning and work late into the evening -- and there's lots of data to download, rosettes to deploy and recover, and so much more to do to make sure this will be a successful XPRIZE competition.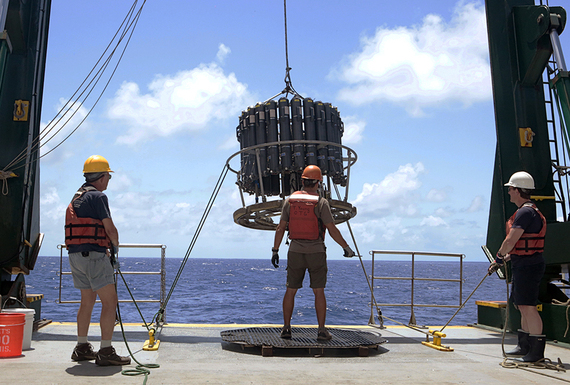 The competing pH sensors are attached to a rosette and cast down to various ocean depths.
I'm sure you'll hear more about the technical aspects in future blog entries, so I'd rather keep this one personal. I've been working at XPRIZE for quite some time (11 years to be exact) and I more than welcome the opportunity to experience a competition first hand. My biggest role on this trip is that of an "ueberwacher" or "watcher" translated into English. Basically, I get to hang out with the teams all day and watch them do their thing. Sometimes, that can run rather late, but hopefully today we'll still get to watch a movie.
The teams are truly international in nature, coming from the United States, Japan, the United Kingdom, and Norway. Being from Germany, I found it interesting that the mother of one of the members of Team ANB Sensors used to live in Speyer, Germany, which is close to Ulmen, my hometown. There is definitely a connection between the competing teams that makes them more friends than "enemies." Yes, every team wants to win, but there doesn't seem to be any distance between them: it almost feels like one big team instead of five separate teams.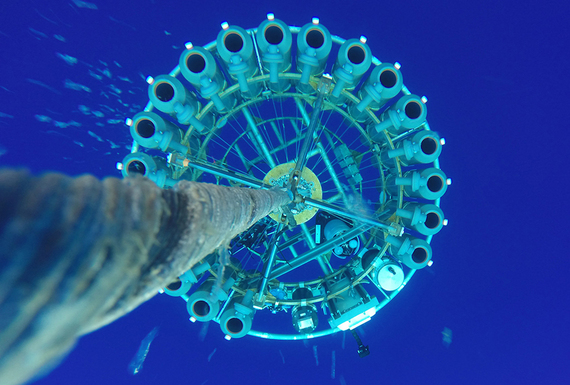 The sensors are lowered into the clear waters of the Pacific off the shores of Hawaii.
I also want to mention the hardworking and helpful the crew of the R/V Kilo Moana. Can you imagine getting three hot meals a day with different options to choose from, and it all tastes fantastic? Even my mom, who loves to cook, doesn't cook that much!
And for those of you wondering how I'm handling my first ocean voyage, I did get bring along some seasickness medication. Do I need it? No! I even sleep like a baby. So after two days, it's all rainbows and sunshine. Let's hope it stays that way until day six. Either way, I'm fortunate to be working with such great people: from the competing teams, to the validation experts, the judges, the crew, and of course, XPRIZE. Earlier, I learned about oxygen sampling. And now, I need to go learn how to clean pipettes. Science is so fun!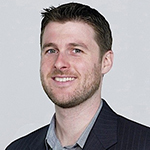 By Matt Huelsenbeck
Matt Huelsenbeck is the Prize Manager of the Wendy Schmidt Ocean Health XPRIZE.
Captain's Blog: May 14, 2015, 15:43 Hawaii-Aleutian Time Zone
Longitude: 158 º 16.379' W
The final phase of the $2 million Wendy Schmidt Ocean Health XPRIZE is underway in the open ocean off Hawaii. An all-star team of oceanographers, marine technicians, XPRIZE staffers and our five finalist teams are headed out to sea for the culmination of a global competition to create accurate and affordable ocean pH sensors.
The remaining teams successfully completed two previous rounds of testing to measure the precision and stability of their sensors and were selected by a panel of judges to advance to deep-sea trials off the shores of Oahu onboard the R/V Kilo Moana.
During deep-sea testing, each sensor will attempt to accurately measure pH at depths of up to 3,000 meters. The efforts of these teams, both during and after this competition, will help revolutionize our understanding of one of the ocean's greatest threats: acidification.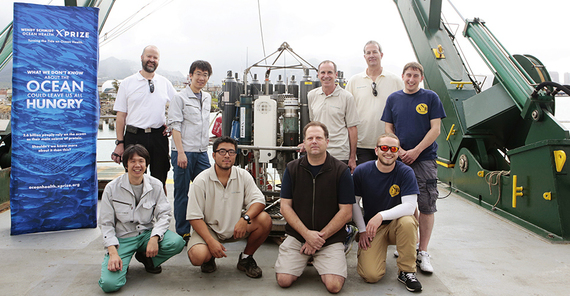 Five finalist teams will compete in the ocean's depths for the $2M Wendy Schmidt Ocean Health XPRIZE.
The five finalist teams representing four countries are:
ANB Sensors (Cambridge, England), a team of scientists and researchers from the Schlumberger Gould Research Center with expertise in lasers, chemistry, fluid mechanics and geophysics.
HpHS (Yokosuka, Japan), a team of research scientists and engineers from the Kimoto Electric Co., Ltd. and Japan Agency for Marine-Earth Science and Technology (JAMSTEC).
Sunburst Sensors (Missoula, Mont., U.S.), a team of mechanical engineers from Sunburst Sensors, LLC, a company focused on the development of chemical sensors for marine and freshwater applications.
Team Durafet (Plymouth, Minn., U.S.), a team comprised of representatives from Sea-Bird Scientific, Monterey Bay Aquarium Research Institute (MBARI), Scripps Institution of Oceanography at the University of California, San Diego and Honeywell Aerospace Advanced Technology group.
Team XYLEM (Bergen, Norway/Beverly, Mass., U.S.), a team representing two Xylem companies, Aanderaa Data Instruments in Norway and YSI in the U.S., with extensive work in commercializing high performance and reliable optical chemical sensors used in oceanography.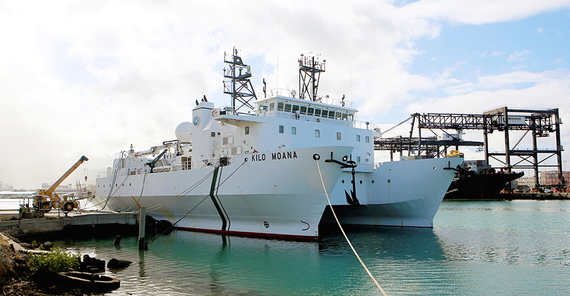 The R/V Kilo Moana, a 186-foot Small Waterplane Area Twin Hull (SWATH) vessel owned by the U.S. Navy and operated by the University of Hawaii Marine Center.
All of these teams get along well -- maybe a little too well. They've spent a lot of time together, far more than teams in previous XPRIZE competitions. My primary job is to manage the teams, and when I first began working with them, I expected I'd have to breakup a headlock put on an engineer by a marine chemist. After all, these are savage oceanographers in a cutthroat quest for a $2 million purse. Alas, this friendly group has turned the competition into more of a "co-op-itition." They share technical information, and in the close quarters of a research vessel, some are even sharing rooms.
Today, we headed out to sea, sailing from the University of Hawaii Marine Center in Honolulu, Hawaii. After a quick two-hour trip, we stopped at our first testing station in the protected waters off the coast of Oahu, flanked by rugged mountains and surrounded by the shimmering Pacific. The small waves provided a good place for shallow trial runs of 50 and 250 meters. Tonight, we sail to station ALOHA (A Long-Term Oligotrophic Habitat Assessment), roughly 100 miles off of Hawaii.
Tomorrow is when things really heat up: the teams will have to make sure each cast into the depths counts, because good data could turn into good money. Aloha from a starry night in the North Pacific! Man, do I love the ocean!
Related
Popular in the Community