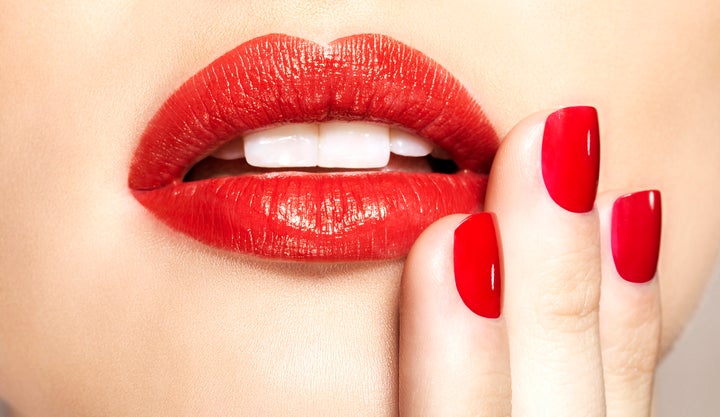 An Open Letter to NARS Cosmetics
I've been an avid and loyal customer of yours for years now, but we need to talk.  I ran out of my NARS blush recently and when I checked the name to replace it, there it was: Deep Throat.
A term I learned I-don't-know-when, but certainly not by age 12 or 13 when I first started buying make up.  It's likely that the first time I heard it was when I learned about the Watergate scandal of the 1970s.  Suffice it to say, that is far from the first result when you search the term online.
The names of NARS' products leave little to the imagination; they range from suggestive to graphic, including Seduction, Sin, Do Not Disturb, Rated R, Get Dirty, Overheated, Topless, Striptease, Sexual Healing, Sexual Content, Sex Appeal, Sex Machine, Orgasm, Super Orgasm, G Spot, and Deep Throat.  I get it, sex sells. That's marketing 101. I understand that branding is hugely important to your business model, and that as a cosmetic company, you are selling an appearance. However, you are also selling a persona.   
NARS is not the only offender.  Mac Cosmetics and Kat Von D Beauty have previously sold lipsticks called Underage and Underage Red, respectively.  In 2015, Sephora stopped selling the latter after media backlash.  Three years prior, in 2012, when Sephora first pulled one of Kat Von D's lipsticks ("Celebutard"), Kat Von D reportedly tweeted "at the end of the day, it's just a fucking lipstick." 
But multiple studies show that girls' body image is affected by the images and messages they see in the media, and this likely extends to the messaging they see on the products they use everyday.  And when statistics show that roughly a third of girls are more concerned about their appearance than their grades, 54 percent of college students report engaging in "sexting" before they turned 18, and 12 percent of teen girls feel pressured to engage in "sexting," it's clear that it is not "just a fucking lipstick."
Not all of NARS' products bear names as salacious as G Spot, and notably, two of NARS' products are called Goddess and Queen.  So is it too much to hope that NARS might launch a cheeky line of products that includes a bold lipstick called Senator, or liquid eyeliner called CEO?  I would much prefer to buy that persona than that of the Baby Doll, Gold Digger, or Easy Lover, all of which are also names of Nars cosmetics.
I would love to walk into Sephora, sift through some different colors, and fall in love with a shade named Ambition, Drive, Passion, Courage or Fierce.
In no way do I intend this to be read as slut-shaming; I'm not advocating that we deny women their sexual autonomy, and I'm not asking NARS to completely abandon its sexy marketing campaign. Nor am I suggesting that the cosmetic industry start naming its products "Responsible Choices," "Academic Excellence" or "Diverse Investment Portfolio."
But I would love to walk into Sephora, sift through some different colors, and fall in love with a shade named Ambition, Drive, Passion, Courage or Fierce. Aren't these the traits and values we'd like to teach the girls and young women who are first exploring the world of makeup – or reinforce for those, like myself, who have been using these products for years?
Some brands are already embracing this concept.  A quick search for lipstick on Sephora's website shows that Kevyn Aucoin sells shades called Resilient, Enduring, Invincible, Persistence, and Tenacious; Dior offers Confident, Power, and Bold; and Estee Lauder offers Dynamic, Dominant, and Powerful.  Unfortunately these seem to be the exception, rather than the rule.  Names such as Call Girl, Belly Dancing, Unfaithful, Undress Me, Safe Word, Foreplay, and Carnal, are far more common.  (Still, these pale in comparison to Deep Throat, Super Orgasm, and Sex Machine.)
One promising trend among various brands is that of giving a product a woman's name.  The examples are numerous and in fact NARS itself offers its Audacious Lipstick in shades such as Audrey, Grace, Rita, and many others.  The description of the lipstick line reads: "Embrace the audacious in everything, especially your lipstick color.  It's liberating, exhilarating, empowering."  But if these shades are named after the iconic Hepburn, Kelly, and Hayworth, we are none the wiser.  What better way to empower its consumer base than by naming these shades after real life visionaries and trailblazers?  
This doesn't have to feel like history class, and it can be tailored to the tone of cosmetic marketing: "Stargazers" – a line of mascara in shades like Valentina and Sally, named for first female astronaut Tereshkova and first American female astronaut Ride; "Executive Sweet" – a line of lipsticks in shades like Marissa, Carly, and Sheryl, after Yahoo CEO Mayer, former HP CEO Fiorina, and Facebook COO Sandberg; "Fly Society" – a line of eyeliner in shades Amelia and Jeannie, for Earhart and first female fighter pilot Leavitt.  Not only is this empowering, but it presents ample marketing opportunities for clever taglines about winged eyeliner, looking starry-eyed, and paying more than lip service in the boardroom. 
If you doubt that such a campaign would succeed, consider the following.  In January 2014, Aerie launched its #AerieREAL campaign, featuring models of all sizes, and boasting that it had not retouched the photographs of the women in its ads.  The "risk" paid off.  Aerie has seen a consistent boost in sales since launching AerieREAL, including a 20 percent increase in 2015, a year when many retailers struggled.  Not only was AerieREAL a financial success, it was a PR boon. The campaign was met with a wealth of positive coverage in publications that appealed to Aerie's consumers, like Cosmopolitan, Refinery29, and Buzzfeed, as well as Aerie's investors, like Forbes and Business Insider.  While most of the media aimed at Aerie's consumers focused on themes of authenticity and body positivity, the investor-targeted media pointed out the business savvy of the campaign.  
The themes of empowerment and authenticity that Aerie has captured ... are increasingly important to companies hoping to attract millennial consumers.
Importantly, Forbes pointed out that Aerie's "strategic avoidance of hypersexualization" appeals not to just Aerie's target audience – teens – but also to those teens' parents, who fund a majority of their shopping trips.  Those same parents are unlikely to be thrilled if their teen or pre-teen returns from the mall with a lipstick called Sex Machine.  
The themes of empowerment and authenticity that Aerie has captured in its AerieREAL campaign, and especially their coverage on social media, are increasingly important to companies hoping to attract millennial consumers.  Fortunately for the cosmetic industry, the makeup market is growing faster than ever, due in large part to the proliferation of social media and the popularity of selfies. 
It's time for the cosmetic industry to realize and capitalize on this trend. Not only does it present an opportunity to empower girls and women – it's just good business.  In 2016, it is clearer than ever that millennial consumers want to be inspired.  So let's give our girls something to aspire to.
Calling all HuffPost superfans!
Sign up for membership to become a founding member and help shape HuffPost's next chapter
BEFORE YOU GO
PHOTO GALLERY
Things Every Woman Should Remove From Her Makeup Bag