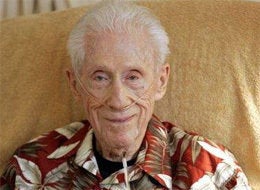 SCROLL DOWN FOR SLIDESHOW AND VIDEO
"Mark Felt, the man who helped bring down President Richard Nixon as the infamous 'Deep Throat' for investigative reporters Bob Woodward and Carl Bernstein, died at his Santa Rosa home Thursday afternoon surrounded by family," the Santa Rosa Press Democrat reported.
W. Mark Felt, the former FBI second-in-command who revealed himself as "Deep Throat" 30 years after he helped The Washington Post unravel the Watergate scandal, has died. He was 95.

Felt died Thursday at a hospice near his home in Santa Rosa after suffering from congestive heart failure for several months, said family friend John D. O'Connor, who wrote a Vanity Fair article disclosing Felt's secret in 2005.

The shadowy central figure in one of the most gripping political dramas of the 20th century, Felt insisted his alter ego be kept secret when he leaked damaging information to Post reporter Bob Woodward.
Click through the slideshow:
Below is video from 2005 of Mark Felt's daughter Joan and grandson Will discussing his life:
Bob Woodward talked to Felt's daughter Joan soon after he passed away:
According to his daughter Joan, her father "was fine this morning" and he was "joking with his caregiver." She said he had a big breakfast before saying that he was tired, and went to sleep.

"He slipped away," she said.

Felt's identity as Washington's most celebrated secret source had been an object of speculation for more than 30 years until yesterday, when his role was revealed by his family in a Vanity Fair magazine article. Even Nixon was caught on tape speculating that Felt was "an informer" as early as February 1973, at a time when Deep Throat was supplying confirmation and context for some of The Post's most explosive Watergate stories.

But Felt's repeated denials, and the stalwart silence of the reporters he aided -- Bob Woodward and Carl Bernstein -- kept the cloak of mystery drawn up around Deep Throat. In place of a name and a face, the source acquired a magic and a mystique...
Below, listen to audio of a meeting on October 19, 1972, when President Nixon is informed that John Mitchell has discovered the identity of the individual in the FBI -- Mark Felt -- who had been leaking information about the Watergate break-ins to the press.
Popular in the Community