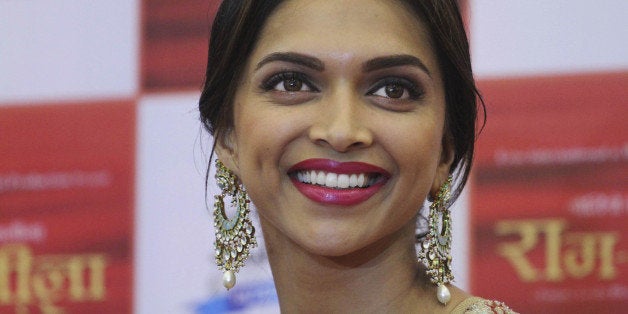 WASHINGTON -- In the eyes of the public, Bollywood actress Deepika Padukone has spent the last two years at the top of her career. She starred in two of the highest-grossing Indian films of all time, picked up numerous awards for her work and embarked on her first-ever world tour.
But Padukone revealed on Thursday that despite all of her success, internally she has found herself battling depression and anxiety. In a piece narrated to Hindustan Times, the actress opened up about struggling to get out of bed, seeking help and the urgency of addressing mental health in India.
"I thought it was stress, so I tried to distract myself by focusing on work, and surrounding myself with people, which helped for a while. But the nagging feeling didn't go away," Padukone said. "My breath was shallow, I suffered from lack of concentration and I broke down often."
It was only after opening up to her mother, Padukone added, that she sought professional help. A psychologist diagnosed her with depression and anxiety and suggested both therapy and medication. Padukone said she was initially resistant to take medication, but relented after receiving a second opinion.
The actress's willingness to speak publicly about her battle is particularly significant in India, which had the highest number of suicides in the world in 2012. According to the World Health Organization, young Indians are most vulnerable to suicide, with 35.5 deaths per 100,000 among those between 15 and 29 years of age. While many factors contribute to the country's high suicide rate, stigma around mental health issues leads disorders such as depression and anxiety to go largely undiagnosed and thus untreated.
Padukone, who is 29, said this is part of what motivated her to take up the issue of mental health, compounded by her own friend's suicide last year due to depression. Her voice comes at a critical turning point in India, where the government unveiled an ambitious policy in October to provide universal mental health services across the country.
The Indian Parliament has yet to approve the measure. In December, the health care budget was cut by nearly 20 percent, frustrating advocates and raising questions about the government's commitment to combating the nation's mental health endemic.
Padukone said she plans to issue her own plan of action to help raise awareness around depression and anxiety in particular, citing the need to eradicate the stigma that has long surrounded mental health disorders in India. "I see people suffering, and their families feel a sense of shame about it, which doesn't help. One needs support and understanding," she said.
In a country where celebrities are nothing short of worshipped, Padukone's revelation could humanize depression for more than a billion fans and give rise to greater advocacy around mental health issues.
She draws a distinction between being sad and depressed, which in many ways encapsulates the message she wishes to send.
"The most common reaction is, 'How can you be depressed? You have everything going for you ... a plush home, car, movies ... What else do you want?'" But depression, Padukone concludes, is "not about what you have or don't have."
CORRECTION: This article previously misstated that India had the highest rate of suicide according to WHO's data. India had the highest number of suicides for the period studied.
Popular in the Community