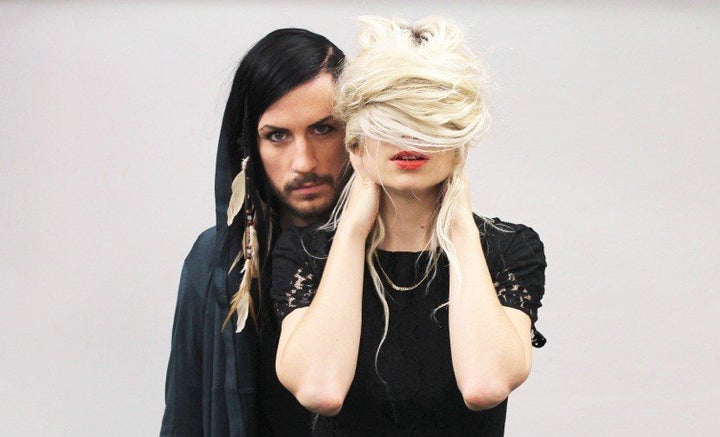 Anyone can tell you who's already made it, but HuffPost Arts & Culture's On Our Radar series is here to tell you who's about to blow up -- and, in some cases, go pop.
Deer Tracks, the self-professed "Northern light electronica duo" from Sweden," is set to release the third installment of their three-part album series, "The Archer," this week. Equal parts uptempo dance beats and folksy lyrical runs, the band is led by the soft vocals of Elin Lindfors and the thrashing guitar riffs and percussive backings of David Lehnberg. Think "The Knife" meets "The Weepies," with a clever, monochromatic visual aesthetic that makes the two musician's appearances just as striking as their music.
We had the chance to speak with Elin and David before the premiere of the "The Archer: PT.3." Here's what the Swedish bandmates had to say about their obsessions with hula hoops, their early love for Pink Floyd and the ups and downs of touring: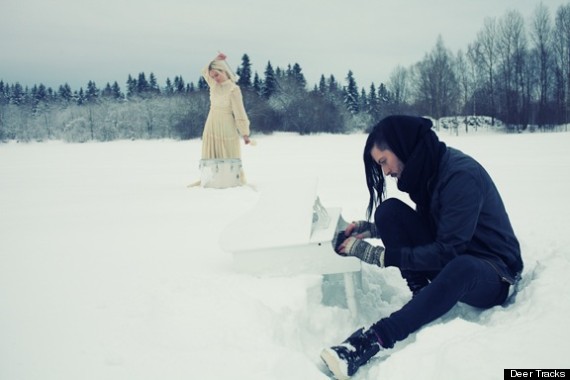 Why does this project matter?
Elin: It matters a lot because we have been working on the trilogy [of albums] for two years now. It's been such a long project, we're excited to complete it.
David: It started out as a project to force us to be creative for a very long period of time. We've been writing songs and creating music for two years, every day. Some days have been busier than others, but we've explored everything that's been happening and we transformed every impression into sound.
Who or what was an early influence on your work?
Elin: For me, I think probably Pink Floyd, because I remember when I heard them the first time -- "The Dark Side of the Moon." I got blown away and after that I never wrote the same way. For the band, I think we would say Portishead and Massive Attack.
David: When I am producing music I am not really absorbing other things. I've been isolated in a nice way, and during the year we were in the studio, I didn't want to get too many influences. It's really our own world and atmosphere. We keep out of hearing what's new or how to sound, and we create our world.
What were the lowest and highest points in your career so far?
Elin: A traumatic thing happened last year. We were going to record a video and it was my idea to take this tiny toy piano that was so beautiful and have David play it out in the snow. I suggested we go further up north and we ended up filming in a snow storm on a skiing mountain. But the camera broke, and after 10 hours of traveling to get there, we didn't want to give up. We lost some things in the snow. It was crazy. Then we had 10 hours to ride back. The video was never made. I guess it wasn't meant to be. We believe the universe has a way of course correcting.
David: The best? Everyday is what you are going to make of it. We try to make the best of evey moment. Find the magic in every moment. The last tour in the US and the tour in Canada were good. And Japan -- that was like coming to the future. Very medivial in the same way.
What are you obsessed with right now outside of music?
Elin: The hula hoop. I just bought one and I'm practicing a lot.
David: I'm prety obsessed with trying to be sober. That sounds depressing, but it isn't. I feel really good and clear. After recording an album for a long time, you've been drinking a bit and you feel like you're getting out of a foggy haze. Like, did we do this?
Name a musician that you are embarrassed about not knowing?
David: I have never listened to Beethoven. I'm not embarrassed. I can admit that I think classical music is too pretentious. It's too much of everything, like a horror-comedy-drama-fiction-action inside something else and inside something else. It's too much.
Elin: I don't agree. I kind of enjoy listening to it. It's a big genre. But I've never listened to Justin Bieber. I've read about it but I haven't listened to it yet.
How would your childhood art/music/theater teacher describe you?
David: I know that I got very low grades in non-music classes. I was busy listening to death metal and punk rock.
Elin: One teacher I had, when I was about 10 years old, was teaching us to play the flute -- the wooden flute. One day I came late and I had forgotten my wooden flute on the bus. So my mother got me a plastic blue flute to replace it, with a Disney logo. After that my music teacher hated me. I think I stil have it, the plastic one.
"The Archer: PT.3" is set for release on February 12.
Calling all HuffPost superfans!
Sign up for membership to become a founding member and help shape HuffPost's next chapter
BEFORE YOU GO