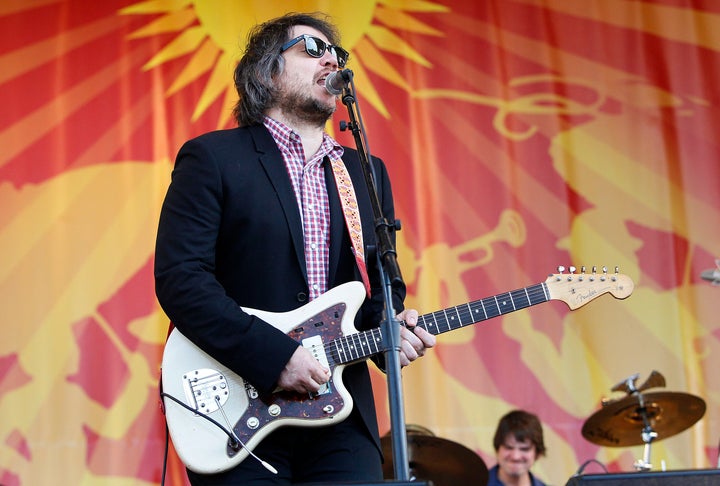 We wanted to do a split seven-inch, so I made up an instrumental track for Regan, aka Busdriver, to sing or rap over. I sent it to him in an email, however, by the time he wrote back, he was so excited about it that that same day, he'd already written, recorded and mixed vocals for the song.

When he sent it back, I realized I'd sent him the wrong song; instead of sending him this Deerhoof unreleased instrumental track I'd made especially for him, I sent him the instrumental part for one of the songs on our album, which was already coming out and had vocals, lyrics, melodies and everything -- we just hadn't recorded them yet. I couldn't believe it, and I was heartbroken -- he'd already recorded, and there was no way at that point that I was going to say, "Well, can that, this is the one I meant to send," 'cause what he had done was so beautiful and I really loved it.

So, out of this totally idiotic mistake on my part came the idea that we would do a whole series of these split seven-inches, with different artists who basically will sing over the instrumental tracks from our album.
The latest in this series features Wilco frontman Jeff Tweedy singing "Behold a Marvel in the Darkness" on the A-side of the album. Everything on the track remains intact, aside from the vocals. It's surprising to hear Tweedy's voice wafting over Deerhoof's grinding riffs, not because it feels out of place, but because it's more at home than you'd expect.
LISTEN to "Behold a Marvel in the Darkness:
The B-side features yet another Tweedy track called "Own It," which is part of his new side project called The Raccoonists -- a project made infinitely more endearing by the fact that Tweedy's sons, Sam and Spencer, are a part of it. According to Pitchfork, the song was recorded in Sam and Spencer's (shared) bedroom.
LISTEN to the scatterbrained "Own It":
There's also a video out for "Own It" with a pretty simple concept -- clips of conductors orchestrating and raccoons being raccoons, with some trippy raccoon imagery kicking in around the 1:20 mark:
Popular in the Community