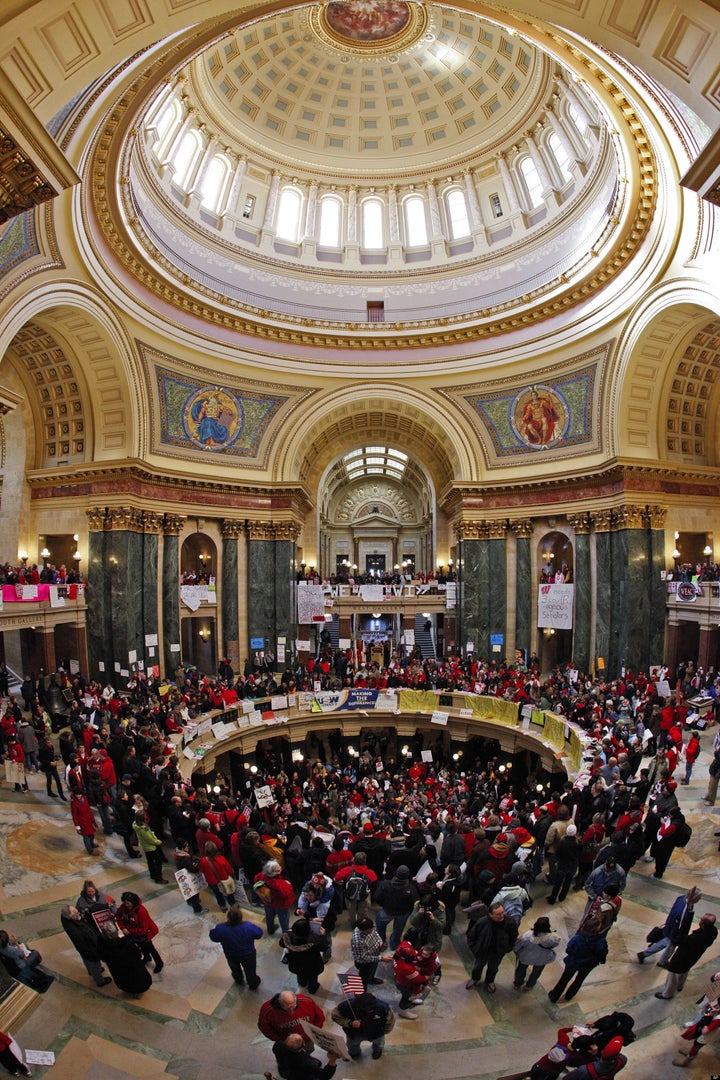 A website being used to help organize protests against Gov. Scott Walker in Wisconsin has been blocked from the Capitol Building in Madison, according to reports.
If you are in the Capitol attempting to access the internet from a free wifi connection labeled "guest," you cannot access the site defendwisconsin.org. The site has been used to provide updates on what is happening, where you can volunteer, and where supplies and goods are needed to support protesters. Administrators of the website were notified on Monday that the page is being blocked
Wisconsin Democrats were quick to blame Walker and Republican lawmakers for causing the outage. Wisconsin Democratic Party press secretary Graeme Zielinski said: "In a direct assault on the First Amendment, Scott Walker's administration is blocking access in the Wisconsin Capitol to opposition websites."
State Department of Administration spokeswoman Carla Vigue said in response to the allegations, "DOA's security software automatically blocked the site, as it does all new websites."
But according to Michael Tate, chairman of the Democratic Party of Website, the DOA explanation is not sufficient, as the site had been working previously but has been blocked in the Capitol Building since Friday.
Tate said of the development, "(Apparently Governor Walker) feels comfortable blocking the First Amendment right of protesters at the exact time that they are exercising their First Amendment right. This is undemocratic and this is un-American."
CNN has audio of Tate responding to the alleged blocking.
Popular in the Community