In 2007, Michael Sandoval, a corporal in the U.S. Marine Corps, was on patrol in Iraq when an Iraqi soldier nearby stepped on an IED. Shrapnel flew, and Michael was hit. He received the Purple Heart, and, the metal still in him, returned to his home state of Georgia.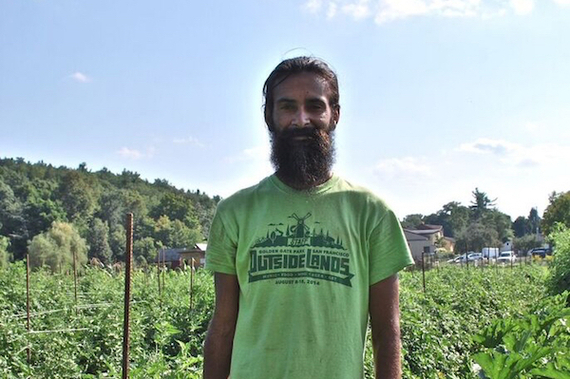 At the end of his first year at the Hawthorne Valley Farm, Michael was asked
to stay on as an assistant manager. They had never seen anyone take to the
work and be as instantly capable and reliable and independent as Michael.
Photo: Heroic Food.
He enrolled in college, where he studied geography. He also had an interest in gardening and agriculture. By his senior year, he had begun poking around the Internet for farmer-training programs, but when he graduated he still wasn't sure what he wanted to do. He and his partner, Marie, had no real direction. Maybe, they thought, it was time to pull up stakes, not put them down. They decided to go on the road -- destination unknown.
They took off in Michael's Ford Focus, which he'd bought with his deployment money. It was May of 2014. They headed west, camping out in a tent. Rain seemed to follow them. By summer's end, the couple had reached Seattle.
Now what? Michael wanted to make a plan, wanted to know what he'd be doing for the winter. He started thinking about those farmer-training programs he'd read about, and decided to apply.
One program, a startup nonprofit called Heroic Food, was looking for its first participants. It was located on a twenty-acre farm near Hudson, New York -- a long way from Seattle, and from Georgia, too.
But the program offered some appealing things: a supportive environment for veterans and their partners; lodging; and instruction in basic farming skills, like mixing soil, seeding, transplanting, weeding, pruning, harvesting, and record-keeping. Heroic Food also pledged to help the applicant get a paid apprenticeship at a nearby working farm.
Michael, a quiet, low-key guy, was excited. But Marie had her doubts. Farming? New York? Didn't it get freezing cold there? Marie hated the cold, and besides, she liked being on the road. Rain or no, she wasn't in any particular hurry for this phase of her life to end. It was like a dream.
But she knew this lifestyle wasn't sustainable. And so she agreed to go east and, with Michael, try her hand at farming. The couple arrived in Hudson in September 2014.
Once at the Heroic Food farm (old white farmhouse, big red barn), Michael and Marie met with Leora Barish, the program's founder. Leora, a screenwriter whose credits include the 1985 hit Desperately Seeking Susan, had grown up on army bases. Her father was a career Army chaplain was disabled in Korea, and when he died in 2012, Barish wanted to honor his memory, something to help veterans. The plight of soldiers returning from Iraq and Afghanistan left plenty of opportunity.
Leora also had a longstanding interest in food justice and sustainability, and when the two problems -- ill-served veterans and imperiled small farms -- crossed their wires in her brain, a light snapped on. Her idea? To build the first residential farm-training program designed exclusively for veterans.
"Farmer training can help returning veterans make the transition to civilian life, heal from trauma, and prepare for careers in a sector that badly needs them," Leora says, noting that the median age of the American small farmer is around sixty. "Soldiers have the kind of fortitude and commitment are really valued and sought after farming. In turn, farming provides veterans an opportunity to be self sufficient, to enrich the health of their communities, and to steward the land they pledged to defend as soldiers.
It's well known that returning veterans face formidable economic, social, psychological, and spiritual challenges. What's less appreciated is the emptiness and despair that many feel when they no longer have a mission to give life meaning and purpose.
"Soldiers are happiest and most themselves when they have a mission," Leora tells me. "When they come home and there's no more mission, they often experience a loss of self and purpose so severe that they can barely function."
Barish had attended conferences of the Farmer Veteran Coalition, which is one of Heroic Food's partners, along with the Hawthorne Valley Association and the Cornell Small Farms Program. Over and over at the conferences, she heard the stories of troubled veterans, some close to suicide, who were brought back from the brink through farming.
"Veterans need work that they can be proud of, a mission worthy of their dedication. They want to nurture, to protect life and health, and to work for peace by feeding people who are hungry - not only in their own communities, but also in the countries where they were deployed and wounded. These are people who hunger for a way to be of value and service."
Michael had that hunger. But when he and Marie got to Heroic Food they were a little overwhelmed. Neither of them knew for certain that farming would be for them. And then there was strangeness of being in a new and different place.
"A new house, new state, new weather, a new area I had to familiarize myself with -- I was very intimidated," says Marie.
That winter, through Heroic Food, Barish helped Michael and Marie take the Farm Beginnings class at the Hawthorne Valley Learning Center, and get jobs at the Farm Store. When the planting season started, Michael started his farm apprenticeship at the Hawthorne Valley Farm. This was key.
In Stephanie Westlund's book Field Exercises: How Veterans Are Healing, the military trauma expert Tia Christopher says, "We've found that when veterans can follow a plant cycle--when they prepare the earth, they plant the seed, they nurture it, they harvest it, and they eat it or they sell it--that process in itself is healing."
This seemed true for Michael, who embraced farm work immediately. He started tending a part of the Hawthorne Valley farm that grows food for the local school and the farm's store. Michael raised leafy greens, root vegetables, broccoli, cabbage, onions, and herbs, sprouting them in the greenhouse and then transplanting them to the field once the ground was warm enough. He learned how to prepare that ground, and how to set up irrigation. Come harvest time, he learned how to prepare the produce for market.
"I like being outdoors, and working with the natural world," says Michael, whose produce is also sold at farmer's markets in New York City, including the Union Square Farmer's Market. "Farming is pretty low stress -- almost none to speak of. It's the first job I've ever had that I don't dread going to. But it can be tiring; the work I do is all by hand. Eight hours a day, moving and lifting. I don't need to work out to stay in shape."
Sometimes, the physical pain from his injury kicks in. That makes the hard work harder. But he pushes through.
"That's just what military people do," Leora told me. "They get the job done no matter what."
Michael and Marie still live in the Heroic Food farmhouse. Barish plans to build eight supportive housing units for veterans in the training program on the property, and bring the farm up to speed so that it can help pay for the cost of running the program.
At the outset, she had reached out to Andrew Burdick, director of Ennead Lab, the research and design advocacy initiative of acclaimed Ennead Architects. Ennead Lab identifies civic challenges and opportunities and proposes innovative design solutions as catalysts for community improvement, a sustainable environment, and urban progress.
The Stewardship Report has known Andrew since he served as a Global Adviser to the J. Luce Foundation, working with us in the reconstruction of post-earthquake Haiti.
Marie enjoys the bucolic setting, despite the cold winters. She has learned some things at Heroic Food. One thing she learned was that she, unlike Michael, wasn't cut out for farming. But she did like working at the store and quickly rose from stock room to cashier and is now, to her own amazement, a floor manager. She has found her place in the sun.
"Michael and I took different paths, and it was alright," Marie says. "I'm glad I knew what I wanted, and that Michael ended up loving what he is doing now -- farming!"
You can see that love reflected in the photograph of Michael above, taken this past summer. He is standing in a field of bright leafy greens. He wears a green T-shirt and gray trousers on his thin frame, and holds a red bucket. His dark hair is swept back. He has a long, curly beard. His mouth is a flat line and his tanned face is impassive, serene, with just a hint of a smile in his brown eyes. He looks as if he has sprung up from the earth he stands on.
Behind him, on either side, receding amid the greens, are metal gardening stakes, each about four feet high and planted firmly in the ground, waiting for the weight of ripe tomatoes, cucumbers, and beans.
America was made strong almost three hundred years ago from the labor of our farmers, and has been protected since by the valor of our soldiers. How truly fitting that our veterans, a population that knows how to put their backs to the plough, can return to this country and have a chance to return to the earth. How American that talented women like Leora can play a vital role in this union, and that Andrew can represent the intersection of Corporate America and social justice by bringing his firm aboard to assist. Heroic Food is particularly well named.
Related
Popular in the Community