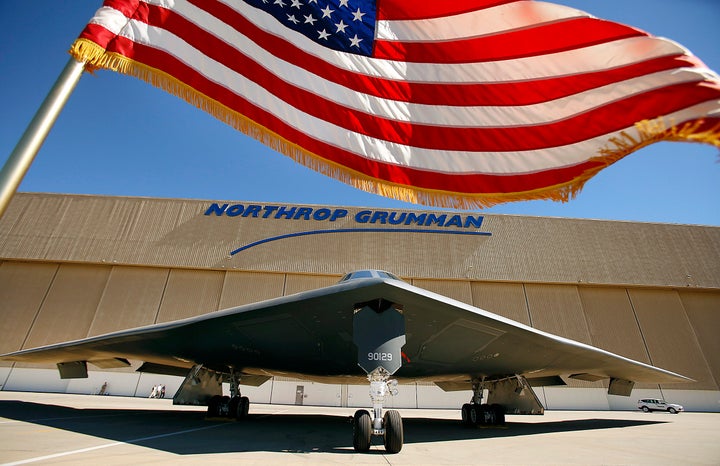 The move came one day after the company pledged to take "immediate action to look into" a troubling report on the employee. 
"We do not tolerate hatred or illegal conduct and we condemn racist activities in any shape or form," the company said in a statement to HuffPost following the Thursday report by PBS Frontline and ProPublica.
The outlets' joint project to identify those who participate in white supremacist demonstrations across the United States yielded the name of one man filmed beating a black counterprotester at last summer's deadly "Unite the Right" rally in Charlottesville, Virginia. 
The employee, Michael Miselis, was identified through photos, videos, social media posts and a visit to his Lawndale, California, home, reporters for PBS and ProPublica said. He is a doctoral student at the University of California, Los Angeles, who also works as a systems engineer for Northrop Grumman, according to the news organizations, which cited interviews with "several" unnamed current and former Northrop employees. 
Company spokesman Tim Paynter did not specify whether Miselis was fired or resigned.
Several unnamed California law enforcement officials told reporters Miselis is a known member of the Rise Above Movement, a Southern California-based group whose members stand against what they call the "destructive social influences" of liberals, Muslims, Jews and immigrants. 
The Northrop employees claimed their employer was aware of Miselis' affiliations and had done nothing.
The U.S. government's Office of Personnel Management, which is involved in bestowing security clearances, referred PBS and ProPublica to Northrop Grumman for comment, which the defense contractor declined to supply before the article was published Thursday morning.  
Hours later, the company issued a statement on Twitter and by email, saying that Miselis' alleged actions run "counter to our values."
"Northrop Grumman is absolutely committed to the highest levels of ethics & integrity in all that we do, & ensuring that our workplace reflects our values of diversity & inclusion," the statement continued. 
R.A.M. members regularly practice martial arts and strength training. The Anti-Defamation League says the group's recruitment videos center on violence, cutting between showing members brawling in the streets and working out.
In Charlottesville, Miselis had bandaged his hands in apparent preparation for conflict and wore a red "Make America great again" hat backward. Footage shows him throwing a counterprotester to the ground before punching him, PBS and ProPublica said.
The outlets say they also spotted Miselis in footage taken from a violent 2017 rally in Berkeley, California. There, he was seen wearing goggles as a defense against pepper spray as he punched counterprotesters.
This article has been updated a statement from Northrop Grumman indicating the alleged white supremacist has left the company.