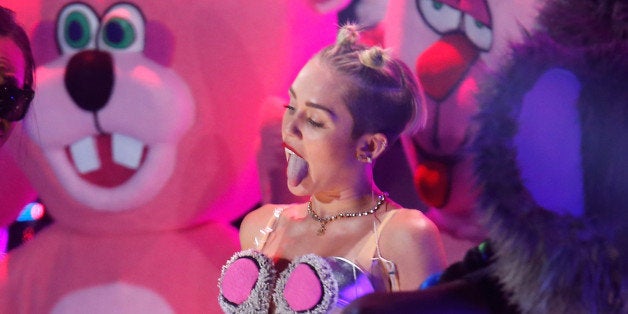 Yes, I know. She twerked. She stuck a foam finger through her legs. She was raunchy and stuck her tongue out and moved like a stripper. And maybe it wasn't the classiest pop performance out there but this obsessive condemnation of Miley Cyrus's VMA performance is classic slut-shaming and a perfect example of how we allow one type of sexuality for men and another type for women.
Her performance has been judged as a one-off -- a desperate attempt to get attention for all the wrong reasons. But how come all this castigation of what she was wearing has failed to mention the larger context of what her clothes were clearly meant to reference -- namely the naked girls in Robin Thicke's "Blurred Lines" video? How come her sexually predatory dancing has not earned her respect for reversing the roles of the sexually dominant males in that video? Has no one noticed that the foam finger was used in the video also? Why is it not empowering that she used the finger the way a male performer might? Why are the same people who were upset about the "Blurred Lines" video because of the clothed male singing "I know you want it" to a naked female now enraged that a nearly nude female was singing to a man "I know you want it"?
Let's explore this hypocrisy a little closer. Cyrus's performance shouldn't be judged by ignoring the context of this song. Fourteen and a half million people have seen Robin Thicke's "Blurred Lines" Unrated video. In it, three beautiful models dance around the suited Robin Thicke, sometimes accompanied by T.I. and Pharrell Williams.
The gorgeous girls are usually topless, wearing only skimpy nude thongs that give the effect that the women are completely naked. Sometimes they're barefoot, often they're in white stripper shoes or more notably platform white sneakers. When the girls dance in the silly platforms, it references a trashy attempt at women trying to appear sexy by wearing ridiculous shoes. And when they do dance, the women don't dance with Robin Thicke. They rarely engage with him at all. Instead, the girls are used as props. They dance by bouncing. They do a shoulder shrug. They don't sing. In fact, aside from a barely audible "meow," female voices are never heard on the track. Close-ups of their faces are often partially obscured by a self-referential hashtag, #thicke. The girls parade in front of the men as the men remind the girls "I know you want it." Sometimes, they hold a goat that covers their breasts, or sometimes they prefer a foam finger for nipple censoring which they also use later to point at Thicke's genitalia. At one point, a girl is using a stationary bike topless. In one of the creepiest moments, Thicke blows smoke in a model's face and she coughs like a young girl being corrupted by a pervert. Or creepier, they use an over-sized mock needle to simulate injecting a drug into the girl's butt. At times, the girls seem to be mocking the conventional notions of what men want to see naked women do. The girls make big gesticulations when wrapping their hair around their fingers to mock come-hither techniques.
As the video progresses, the models' dancing gets sillier -- one of these girls almost looks like she's krunking by the end as if to say she doesn't even have to move sensually to get men to objectify her -- they'll watch her perfect breasts jiggle no matter what she does. After three minutes of this, one girl dances in front of balloons that spell out "Robin Thicke has a big dick" -- the woman jumps around alone as if thinking about Thicke's penis makes her so happy, she wants to jump for joy.
Meanwhile, the lyrics suggest the singer is attempting to liberate a sexually repressed girl who is already involved with another man who wants to keep her sexuality at bay. Or that's likely what he intended them to mean as opposed to igniting controversy over if the song implies something "rapey" with references to blurred lines (as in, does no mean no?) and how he "hates them lines." Perhaps in another time, the song could have been praised for its "celebration" of female sexuality if it were not for the T.I. interlude. T.I. raps about common pornography tropes of male dominance when he says "I'll give you something big enough to tear that ass in two" and adding that the girl wants her ass to be smacked and her hair pulled.
The overall effect of the video is to remind us that women's place in the sexual realm is to be a prop. Liberating a woman to be sexually free, according to Thicke's song, is to have her desire to be sexually submissive; once she enjoys a good spanking, she will no longer be inhibited by her own fear of her true prurient nature. She will also be unafraid to get weird and use a goat to tease a man or spasm naked because as long as she is performing for a man, it leaves the male gaze in the dominant position.
So now, lets get to Cyrus's performance of "Blurred Lines" at the VMAs. She started with a performance of her own hit single "We Don't Stop," which is also a music video with its own share of controversy. (Interestingly enough, both videos were directed by the same woman, Diane Martel -- I can't help but wonder if the decision to have Cyrus in the "We Don't Stop" video on a stationery bike at one point and holding a small goat at another were conscious decisions to invert the connotations of the "Blurred Lines" video by having the star take control of and mock the images created by women in these positions.) Cyrus started with dancing bears and African American women with noticeably larger behinds than Miley, carrying bears on their backs -- a scene from her own video.
While at first this seemed just strange (and possibly racist but I'll leave those discussions to peers better suited to commenting on that, I will note that the same dancers are used minus the bears while African American rappers performed during the Give It 2 U part of the medley), it was also clear this was meant to be tongue-in-cheek. As music festivals are one of the few growing areas of the music industry, people experiencing music while high on Molly, the drug MDMA, and wearing crazy costumes has become part of how people enjoy music. Her mock spanking of other girl's butts may not be tactful or even sexy, but if you haven't seen two girls do that to each other in a club, you haven't been to a club in a very long time. Her performance is a nod to the way young people experience her music.
Next, the medley transitioned to "Blurred Lines" and she stripped down to a nude bra and booty shorts (what used to be called hot pants) and she put on her much-maligned prop, the foam finger. And immediately, she inverted the meaning of the song. Once Robin Thicke appeared, it felt like he was singing back-up to her. And probably to his displeasure, she completely controlled the entire performance. She sang the line to him about "trying to domesticate you" and "you're an animal." Instead of using the foam finger to cover her breasts and tease a man as is done in the video, she used the finger to grope Thicke as she walked around him. When Cyrus twerked, a dance move where the person bends over and shakes his/her butt, against Thicke's crotch in this case, he looked more powerless than at any time in his own video when he's using the models as his prop. Here, she was using him as her prop. And when she sticks the finger through her legs and grinds up against it, it's certainly not tasteful, but at the same time, she's simply a performer simulating sex -- something male performers seem to be able to do with impunity. Elvis's pelvis thrust might have been controversial in the fifties and sixties but that seems to be the last time we worried about the way a man gyrates his pelvis. And yet over half a century later, everyone in the country seems concerned because a young woman is doing it.
The problem with all this of course is that, to get her point across regarding "Blurred Lines," she didn't have to go this far. And once she did, her point got lost for everyone. But her adrenaline was pumping and thousands of people were screaming for and she probably was more focused on enjoying herself while she was up there. While her performance was not nearly as successful a critique as the Mod Carousel video which is a shot-for-shot recreation of the "Blurred Lines" video with gender roles reversed, the vitriolic attacks on her performance have been shockingly misogynistic and out of place. If a 20-year old man had performed the exact same dance moves up there would he be called out of control? Yes, she went a little overboard with her sexuality, but it shouldn't come as a surprise that most girls do around that age. It's similar to the way teenagers rebel against their upbringings by hating everything and trying out the opposite of what's expected of them, only to usual settle, after that phase, somewhere in the middle.
Cyrus is experimenting with her sexuality and there are probably a lot worse ways to do that than to shake your butt on a stage. She's pushing the envelope to an extreme, but she should be allowed to. I do hope that as time goes on, she settles back somewhere in the middle, but this over the top contempt for a female performer is rooted in notions of how far women are allowed to take their sexuality. Apparently, the media has decided she's gone too far, so it's ok to make her ashamed of baring her body and her performance. Instead, we should give her props for being audacious enough to explore female sexuality in a world where she had to expect she would be slut-shamed for it. And we should be lauding her for trying to turn a chauvinist song on its head and make us question if the original video to the song of summer was a chauvinist piece of art. Maybe she succeeded, maybe she didn't. But that should have been the only conversation her performance should have inspired.
Popular in the Community