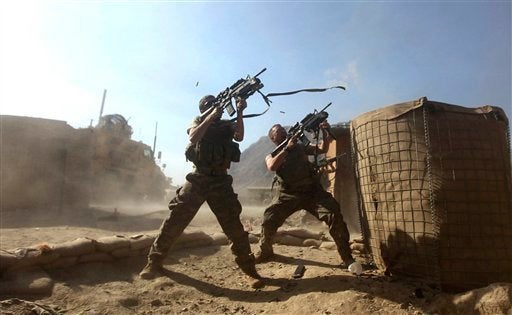 WASHINGTON -- In late 2006, then defense secretary nominee Robert Gates was asked if he thought the United States was winning. In what was one of his first public pronouncements on the war in Afghanistan, he replied bluntly: "No."
A more seasoned Gates was asked the same question Thursday as he met for a final session with the Pentagon press corps before he retires June 30. This time he sidestepped. "I have learned a few things in four and a half years, and one of them is to try to stay away from loaded words like winning and losing," he said. But he insisted, having committed 100,000 troops and $7 billion a month to Afghanistan, "we are being successful in implementing the president's strategy."
Gates, battered this week by growing calls from Capitol Hill to end the war, acknowledged that Americans are just tired of Afghanistan and fed up with calls for patience. Sen. Patrick Leahy (D-VT) fired off a Tweet this week after listening to Gates urge that lawmakers not pull the plug on the war. "I asked Secy Gates and Adm Mullen today about ending the war in Afghanistan," Leahy Tweeted caustically. "I got the same answers in 1975 about Vietnam."
A veteran of the CIA and the Pentagon, Gates, 67, has been famously stoic about criticism of the conduct of the war. One of the "interesting challenges" of his tenure as defense secretary, Gates said Thursday, "has been the responsibility of waging two wars neither of which I had anything to do with starting." He added that "with the exception of the first couple of years of World War II, there has never been a popular war in the United States, in our whole history."
"And in each case it has required the leadership of the president -- Truman in Korea, Wilson in World War I, Johnson initially in Vietnam, certainly the first President Bush in the Gulf War," said Gates, who was deputy national security adviser to Bush at the time.
"People forget that when President Bush said he would reverse Saddam's invasion of Kuwait, [there was] 15 percent public support," Gates said.
Today, public opinion surveys consistently show a majority of Americans oppose the war in Afghanistan and support a drawdown of U.S. troops. This week 24 Senate Democrats, joined by Republicans Mike Lee of Utah and Rand Paul of Kentucky and Independent Bernie Sanders of Vermont, urged President Obama to order "a sizable and sustained reduction" of U.S. troops from Afghanistan. Whatever gains can be made there, the lawmakers argued, do not "justify the loss of American lives or the investment of hundreds of billions of taxpayers' dollars."
According to an Army report issued Thursday, part of the cost is the growing toll of soldiers who commit suicide. Last month there were 21 reported suicides among active duty soldiers, the Army said. They were all male, all enlisted soldiers, and at least eight of them had deployed on two or more year-long combat tours. Since January, according to Army data, 67 active-duty soldiers have taken their own lives, along with 48 reservists and National Guard soldiers.
"Certainly, war weariness after a decade rests heavily on all of us," Gates acknowledged Thursday. "The key is how do we complete our mission as we have largely done in Iraq, in a way that protects American security interests and contributes to stability. We're on a path to do that in Afghanistan."
Gates' assurance that success, however limited, lies ahead in Afghanistan was undercut by a remark Thursday by the senior U.S. commander in southwest Afghanistan, Marine Maj. Gen. John Toolan. In a briefing for reporters, Toolan reported that his troops had seized some 30,000 tons of opium in Helmand Province in the past three months, a haul that deprived the Taliban of some $65 million to $70 million in cash that would have bought weapons, ammunition and other supplies for the insurgents.
That sounded like solid measurable progress -- until Toolan acknowledged that amount seized actually accounts for less than 2 percent of the opium being produced in Helmand Province.
Toolan, who commands combat forces in Helmand, also said that while his troops are steadily pushing the Taliban out of the region, the Afghan national government is not providing the help needed to effectively run local government services. Kabul "needs to step up to the plate," the Marine general said.
Such dismal news from Afghanistan has been a staple for Gates since he took office in December, 2006. But he made clear Thursday he doesn't blame the press. He said he has made a practice of reminding senior officers of the value of "a vigorous, inquisitive and even skeptical press," and asked them not to treat reporters "like the enemy."
Two of his most important initiatives, Gates said, came about when he first learned from news reports of the mistreatment of wounded soldiers at Walter Reed Army Medical Center and the need for heavy armored vehicles in Afghanistan.
"Both of these critical issues only came to my attention through the media," he told reporters. "I have not always liked what I read, and like most in government, I hate leaks. But I have great respect for your role as watchdog."
Popular in the Community