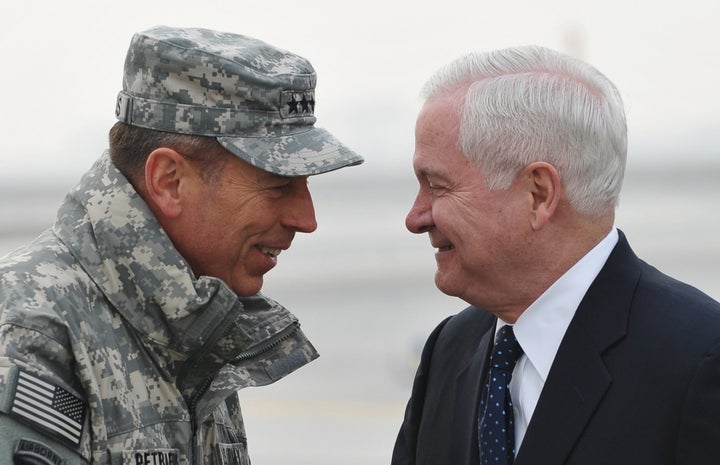 WASHINGTON -- As the United States draws down its military presence in Iraq and Afghanistan, more foreign assistance workers will be needed to go in and help rebuild the war-torn countries.
Yet the FY 2011 continuing resolution (CR) released by the House on Tuesday cuts funding for the State Department and increases it for the Defense Department. House Budget Committee Chair Paul Ryan's (R-Wis.) FY 2012 budget does the same over the next decade.
The Defense Department's funding in the CR is $513 billion, approximately $5 billion above last year's level. Another $158 billion is provided for overseas contingency operations (emergency funding). The war in Afghanistan is receiving $108 billion of that, while the war in Iraq is receiving $50 billion, according to a House Appropriations Committee staffer.
The State Department and Foreign Operations, on the other hand, receive $48.3 billion, which is a $504 million reduction from last year's level and an $8.4 billion reduction from President Obama's FY 2011 request.
Matt Dennis, communications director for Rep. Nita Lowey (D-N.Y.), who is the ranking member of the House Appropriation Committee's State and Foreign Operations Subcommittee, stressed that while the level is not ideal, they were generally pleased with how the deal came out -- especially with the fact that the global gag rule was not reinstated and funding for international family planning was preserved.
"Obviously, we can't declare total victory here. There are lower funding levels than what we would have for a whole variety of accounts," said Dennis, adding, "In this political environment, meeting the President's request was always going to be difficult."
Ryan's FY 2012 budget essentially does the same as the CR -- it boosts Defense Department spending while slashing international affairs. Under his plan, funding for national defense would rise approximately $12 billion each year through FY 2021. International affairs spending, meanwhile, would steadily drop through FY 2017, and then rise again through FY 2021, but it still wouldn't go back up to current levels.
"The Ryan budget is objectionable on a number of levels," said Dennis. "The State and Foreign Operations budget is 1 percent of the federal budget, the diplomatic and development initiatives it supports are critical to our national security. The Defense Department occupies a much larger piece of the budget, obviously, and any honest discussion efficiencies and cost-savings has to include the Defense Department."
Ryan's office did not immediately return a request for comment.
The Huffington Post put together a graphic showing the spending levels proposed in Ryan's budget:
Former State Department spokesman P.J. Crowley argued that the State Department is essentially facing a double cut. Not only is Congress trimming money from this year's budget proposal, but it's also creating a new, reduced baseline for future spending.
"The actual cuts in FY 2011 and anticipated reductions [in] FY 2012 come as international responsibilities for the Department of State and USAID are actually expanding in places like Iraq, Afghanistan, Pakistan, Yemen and Egypt," wrote Crowley in an email to The Huffington Post.
"There is simply no way to execute current overseas contingency operations plans at these budget levels," the email continued. "Our programs for Iraq and Afghanistan will have to be reduced. We will not be in as strong a position to influence current events in the Middle East. The choices that Congress is making are upside down. At a time when military requirements are ending in Iraq and beginning to transition in Afghanistan, defense spending is going up. As these responsibilities are shifting to the civilian component of our national security strategy, funding for diplomacy and development is going down. This makes no sense."
On MSNBC's "Morning Joe" on Tuesday, NBC News Chief Foreign Affairs Correspondent Andrea Mitchell also commented on the difficult situation that the State Department will find itself in.
"[W]e're talking about doing more diplomatically," said Mitchell. "You've got the Middle East in turmoil. You've got the State Department and the U.N. stepping up to the plate more in Libya through NATO and letting the French and the U.N. do it in Côte d'Ivoire -- the Ivory Coast."
"Yet at the same time, in this short-term budget deal, you're cutting foreign aid," she continued. "You want our soldiers out of Iraq. You want our soldiers out of Afghanistan. That's what most Americans would say -- maybe evenly divided, but I think that's where public opinion is divided. So it's supposed to become a more civilian, diplomatic operation. You're going to have to protect these diplomats going out in the field in Iraq, and we don't have anyone to do that. We're going to have to pay contractors."
The FY 2011 CR also includes a prohibition on pay raises for foreign service officers and a $377 million cut to U.S. contributions to the United Nations and international organizations.
Ryan's budget blueprint does accept Defense Secretary Robert Gates' identification of $178 billion in savings over the next five years. But just $78 billion would be applied to deficit reduction -- the other $100 billion would be spent elsewhere in the military. Lawrence Korb and Laura Conley at the Center for American Progress point out that Gates' plan "only slows down the rise of projected spending, rather than producing a much-needed reduction in the budget topline."
The cost of the war in Afghanistan will be hotly debated during an event on Thursday, coming just a few days before Americans' taxes are due. The event will feature a bipartisan group of lawmakers discussing the cost of the Afghanistan war, along with veterans and representatives of groups like the Liberty Coalition and Sojourners.
The group Rethink Afghanistan, meanwhile, has created a war calculator, allowing users to figure out how much of their federal income taxes went to pay for the war in Afghanistan this past year. They can then send the information directly to their lawmakers.
"The authentic annual national security budget approximates a staggering $1.2 trillion," said constitutional lawyer Bruce Fein, who served as associate deputy attorney general under President Ronald Reagan and will be a speaker at the event. "That military opulence is making the United States less free, less safe, and less prosperous. Our global projection of military force and assertion of a uniquely American unilateral right to commence war against any other nation under the banner of 'regional stability' or the 'credibility of the United Nations Security Council' creates more enemies than it eliminates."
UPDATE: 9:16 p.m. -- In Tuesday's State Department briefing, acting deputy spokesperson Mark Toner addressed the budget cuts:
Q: On the CR, in your view, is State taking a disproportionate hit compared to what other departments are?

TONER: Well, look, it's these are austere times, and we recognize that, and we're, right now, just kind of assessing what those hits are and where they'll be taken, and I can certainly try to get more information for you on that. But I think there's a recognition that, as Tom Nides said when he was up here, that we had already prepared a lean budget for lean times. And so we recognize the times in which we are operating, and we're going to do everything in our power to make sure that we maintain our core functions.

Q: You've got to have some idea of what this will actually mean. Like $377 million less for the United Nations, where was that money supposed to go? What would – who would that have impacted?

TONER: Again, I – there's a lot of figures being bandied about. We're, at this point, still sort of assessing where it's going to come from and what exactly programs that are going to be affected, and I'll try to get more details for you on that.

Q: But the House Appropriations Committee made it very clear, $194 million for food assistance is going to go away. So those are real people. What's the impact going to be for those people?

TONER: Look, I'm not denying that these are going to have – these kinds of cuts are going to have an effect on our ability to carry out our programs effectively, but we are going to do our utmost to ensure that that's minimized.
Popular in the Community